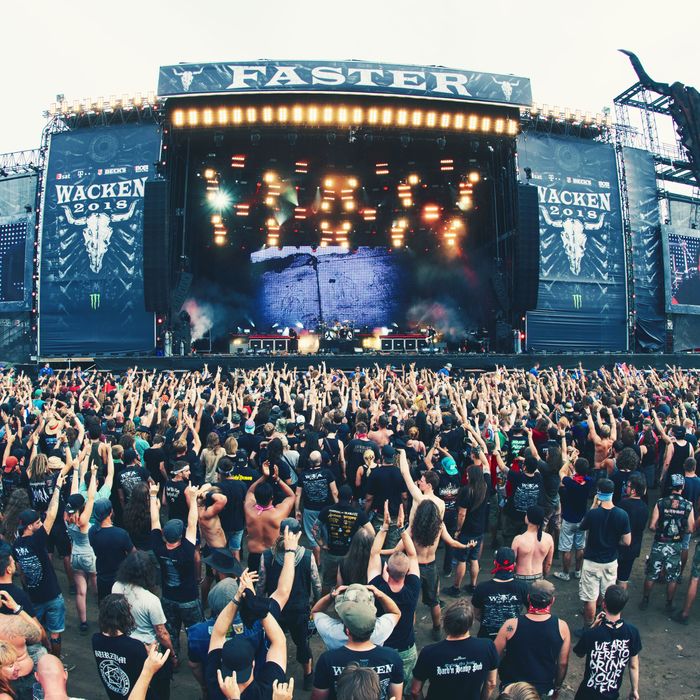 Wacken Open Air festival.
Photo: Daniel Reinhardt/picture alliance via Getty Image
In Germany this weekend, the script for an off-color buddy comedy wrote itself: the Washington Post reports that two elderly men (who could be played by Robert De Niro and Tommy Lee Jones) escaped their retirement home in the rural district of Dithmarscher, and traveled 25 miles to Wacken Open Air, the world's largest heavy metal music festival. Nice.
Authorities told the German radio broadcaster Deutsche Welle that the retirement home noticed the pair had gone missing on Friday, and alerted police. After presumably engaging in a series of wacky adventures and humorous mishaps, the two were eventually located at the Wacken at 3 a.m. on Saturday, where they were "disoriented and dazed." While it is unclear how long they were there, according to police, the men were "intrigued with the metal festival."
"They were then taken to the medical tent on the festival site and were sent back by taxi at around 6:30 a.m.," Peter Berndt, a spokesman for the Itzehoe police department told the Washington Post on Monday. "We had to explain to them why they had to go home — but in the end, they went back voluntarily."
He added that Robert and Tommy the men "were reluctant to go home, so a patrol car accompanied the contracted taxi as a precaution."
They were not the only seniors to enjoy this year's lineup at Wacken, which included Judas Priest, Danzig, Children of Bodom, Dying Fetus, and Witch Taint. On Monday, the festival tweeted a picture of one satisfied guest with the caption "Because you're never too old to rock." Maybe she could be played by Helen Mirren.