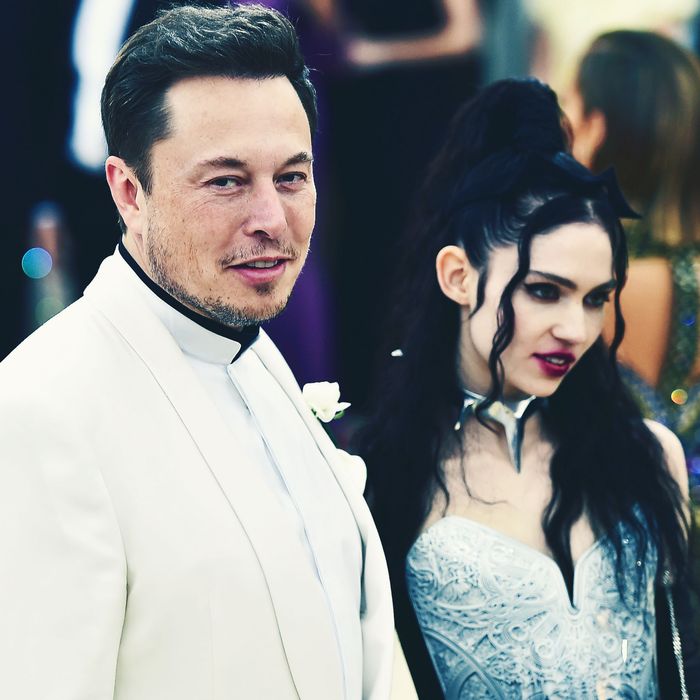 The happy couple.
Photo: Theo Wargo/Getty Images for Huffington Post
Elon Musk has had a rough few weeks. Excruciating, actually. He sent a rash tweet suggesting he's taking Tesla private — at $420 per share, a move he says was motivated by "karma" and not because he was "on weed" — which prompted an SEC investigation and sent Tesla stock tumbling. Then, Azealia Banks, who claims she spent a whole weekend alone in his mansion, accused him of doing acid before he sent the fated $420 tweet, and also of being a "beta male" who "took steroids and got hair plugs to convince himself he was an alpha." The billionaire has also been the subject of recent news after calling a Thai cave rescuer a "pedo." But perhaps his prediction that "the worst is yet to come" is prescient.
In a new excruciating development, Musk and his girlfriend Grimes have appeared to stop following one another on Instagram. Musk also unfollowed the other half of Grusk™ on Twitter early Sunday. This is a big move for the couple, who met because of Musk's joke tweet involving an artificial-intelligence thought experiment. Grimes still follows him, however, which could indicate hope for reconciliation — or maybe she just hasn't gotten around to unfollowing yet.
When asked for a comment by Business Insider, a spokesperson for Musk declined, and Grimes's representative did not respond. Could this be trouble in Gruskland? Has Grimes's master plan for interplanetary domination been thwarted? We can't know for sure, but at the very least, let's hope someone gets Elon some weed.