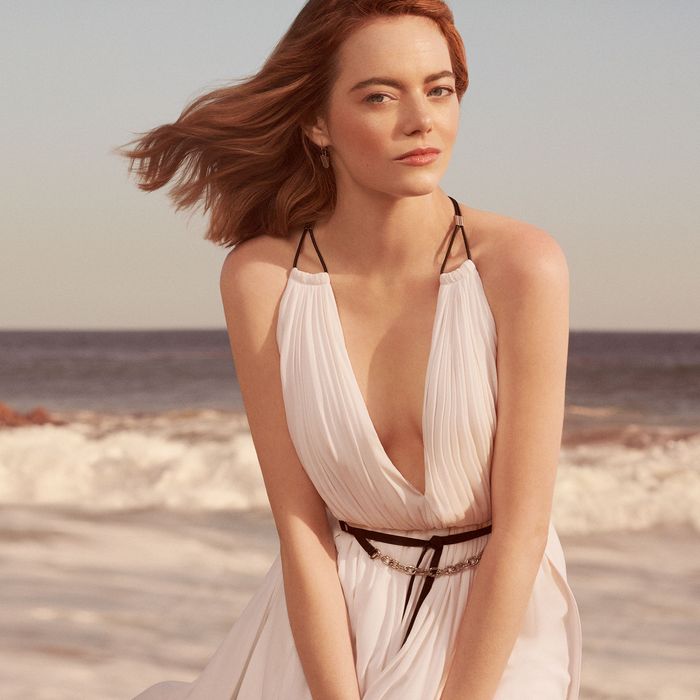 Photo: Courtesy of Louis Vuitton
Emma Stone, who garnered a Best Actress Oscar for her portrayal of a dream-following ingenue in La La Land, is a befitting spokesperson for Louis Vuitton's new fragrance, Attrape-Rêves. People often describe scents as being dreamy, but this scent takes it literally — it means "dreamcatcher" in French. Stone stars in the soon-to-be-released film ad, directed by fellow Oscar-winner Sam Mendes.
Right now, all we have is this photo of Emma Stone kneeling in a flowing, Grecian-inspired white dress on the beach, so let's speculate on what two Oscar winners and a legendary fashion house can put together:
A reenactment of the opening scene from Grease, with Emma Stone as Sandy and the perfume bottle as Danny.
The live action Little Mermaid movie, but only the part where Ariel wobbles around on land in a upcycled sail dress.
Castaway, but from Wilson's perspective.
All of these could be equally plausible. Once the short film and fragrance are released in September, we will have our answers. Until then, you can dream of wearing Attrape-Rêves up and down the beach, waiting for Sam Mendes to call, "CUT!"