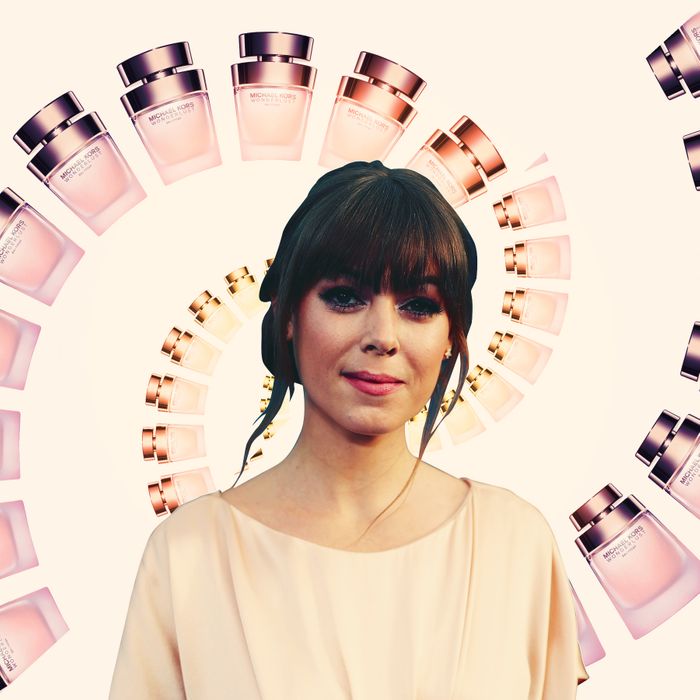 Jenny Cipoletti.
Photo-Illustration: Photos: Getty Images
Call it the Proust effect: Memories are often triggered by smells. Scientific studies confirm that out of all the senses, smell offers the best recall. In Scent Memories, the Cut asks people about the scents they associate with different times in their lives. Next up is Jenny Cipoletti: fashion blogger, world traveler, and creator of lifestyle website Margo & Me. She has partnered with Michael Kors for the launch of his new fragrance, Wonderlust Eau Fresh. The perfume, described as "fresh and flirty," has notes of pink grapefruit, white peony, and pamplewood. The Cut spoke with Cipoletti about pancakes, tanning lotion, and puppy breath.
My first scent memory is: The smell of hot, wet pavement, the kind that's just been rained on in the summer. Whenever I smell that it just brings me back to my childhood. That, or the smell of jasmine vines because they covered the walls of the house I grew up in.
Happiness smells like: As cheesy as it sounds, peonies. But for a special reason! On the first trip to Paris that I ever took with my husband, we stayed in an Airbnb that we called "the Love Shack" because it was such a tiny hole-in-the-wall Parisian-style apartment. There was a little flower market down the street where we got these peonies, and I had never seen peonies that size in my entire life. They just filled that entire apartment with the strongest smell. Whenever I smell peonies they take me back to that amazing little apartment and that happy time in my life.
Love smells like: Love goes in so many directions, but the biggest way to my heart is to cook for me. Growing up, my grandpa would always wear this big chef's hat and cook pancakes for us, so I would say love smells like butter. My husband now does it for us on the weekends, so the scent of butter is connected to a very lovey, homey feeling that I had growing up and also later in life.
Friendship smells like: Maui Babe tanning lotion. In my teenage years and early twenties, my girlfriends and I would lather Maui Babe all over ourselves and bake in the sun for hours during the hot summer days.
Heartbreak or loss smells like: Drowning your sorrows in a bottle of red wine!
Regret smells like: Because I don't regret much, this is a tough one. I would have to say there is nothing worse than the regret of drinking too much tequila. The next morning, that smell is something you REALLY regret. [Laughs.]
Vacation smells like: When I travel, I like to bring something with me that has a clean and citrusy scent to it. It reminds me of summer trips. Whenever it starts to feel even remotely warm outside, I whip out my summer fragrances faster than my summer clothes.
Success smells like: A fresh leather bag. I'm a bag girl, and not necessarily a shoe girl. So if I'm spoiling myself because of something exciting that just happened, I'll go and treat myself to a new bag.
Sunday morning smells like: Puppy breath. I'll lay in bed for hours with my French bulldog, Margo, just rolling around and procrastinating and not getting out of bed. That and the smell of (Le Labo) Santal 26, the candle that sits right by my bedside.
Monday morning smells like: I don't work out on the weekends, because that's my time to not do anything. So when I start my week, I like to do it at my yoga studio, which smells like a mixture of eucalyptus and geranium. Whenever the elevator door opens into the yoga studio that smell just hits me in the face like, "Yes! New week, recharge, starting now."
My home smells like: Rosemary and basil. My husband's a cook and he's Italian, so he's always cooking with a combination of rosemary and garlic. There's nothing better.
A pleasant surprise smells like: Red roses. I love what red roses stand for, and it doesn't even have to be a special occasion for my husband to surprise me with red roses.
If you could have one smell on your hands forever, what would it be and why? Lavender is one of my all-time favorite scents; there is something so soft and centering about the fragrance. Whenever I see some growing in the wild, I grab it and rub it all over my hands so I'll smell like it throughout the day. I also like to leave it in little pockets in drawers around my apartment or in cabinets so when I open them I get a whiff.
I smell like: It's normally my hair product. I wear an Oribe texturizing spray that has a really distinct smell to it.
If you buy something through our links, New York may earn an affiliate commission.