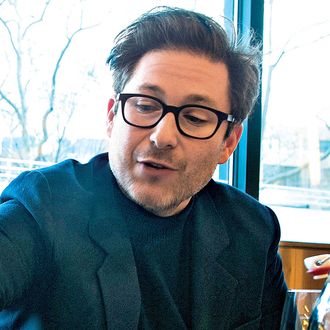 Thomas Carter.
Photo: Jody Wissner/New York Magazine
Today in a report by Eater New York, restaurateur Thomas Carter was accused of a history of verbal abuse at his restaurants Estela, Cafe Altro Paradiso, and Flora Bar. In response to the allegations, Carter, through a statement provided by PR rep, says that he will take time off from the restaurants. The statement reads, in part:
I am concerned and deeply embarrassed by the allegations made by some employees who were hurt and offended by my crude and offensive language … I will be taking several months away from Matter House restaurants to reflect and continue the leadership and workplace training that has resulted in vast improvements in my choice of words and in our culture over the past year."
Carter opened Estela with the chef Ignacio Mattos in 2013. The restaurant almost instantly became a critical darling and industry favorite, landing on the World's 50 Best Restaurants list first as a runner-up in 2015 and then the actual list in 2016. The pair would subsequently go on to open the Italian Cafe Altro Paradiso in 2016, followed by the more Estela-esque Upper East Side spot Flora Bar in 2016.
In comments to Eater, former Cafe Altro Paradiso sommelier Nathan Lithgow said, "with Thomas, it's a question of power dynamics." Another former employee, who reportedly worked in management, tells the website, "Thomas has a tendency to speak to his staff in a way that makes them feel totally powerless."