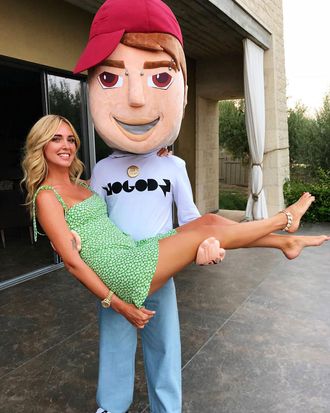 Chiara Ferragni and a mascot-version of Fedez.
Photo: @chiaraferragni/Instagram
Even if you're not familiar with Chiara Ferragni, a.k.a. The Blonde Salad, you really should know about her wedding this weekend. Ferragni's probably the world's best-known fashion blogger, and one of the highest paid. Last May, she got engaged to Fedez, an Italian rapper who was born Federico Leonardo Lucia, onstage during one of his concerts.
Now, the wedding weekend is finally here (we don't know when, exactly, the wedding date is, just that it's happening this weekend). Ferragni is known for her bold style, but her wedding takes it over the edge. This is what we've seen so far and keep in mind, it hasn't even happened yet.
Everything is branded "Ferragnez." It's a portmanteau of Ferragni and Fedez. Not only is this their wedding hashtag, but it was also the branding on their private plane they used to transport their guests. Which reminds us…
They had a #sponsored plane transport their guests to the wedding destination. This morning, a plane full of Ferragnez family and friends took off to go to Noto, Italy. The plane was #suppliedbyalitalia. Guests got Ferragnez-branded Pringles on the flight. Another plane two days ago (also #suppliedbyalitalia) took Ferragni and her son with Fedez, Leo, to Noto.
There are giant Chiara and Fedez cartoon mascots running around with them .This is the best detail. Chiara and Fedez have been turned into cartoons, which were then turned into mascots. Two people are following around the wedding party in these costumes for photo ops. Follow the mascots at @CFmascotte.
The brides and bridesmaids dresses are, of course, custom. Ferragni will wear a Dior couture gown designed by Maria Grazia Chiuri. Her bridesmaids will wear Alberta Ferretti gowns made with sustainable fabrics. Ferragni confirmed both on her Instagram.
The wedding will be held in a palace. Ferragni and Fedez will tie the knot at the Palazzo Nicolaci di Villadorata. According to Vogue Italia, it's a Baroque building with 90 rooms and many, many balconies that overlook the city. Here is Chiara in the Palazzo during a Dior fitting.
The after-party is reportedly Coachella-themed. The three-day celebration will be at the Dimora delle Balze boutique hotel. Local media reports also say Paris Hilton received an invite to the fête.
There will be a documentary film crew on-site. It's a real-life rom-com! Well, kind of. The wedding will kick off the filming of a documentary about Ferragni's life. Filming will continue after the wedding, too.
This Labor Day Weekend, do yourself a favor and watch this wedding unfold on Instagram. Between the branded Pringles and the mascots, who could ask for anything more?