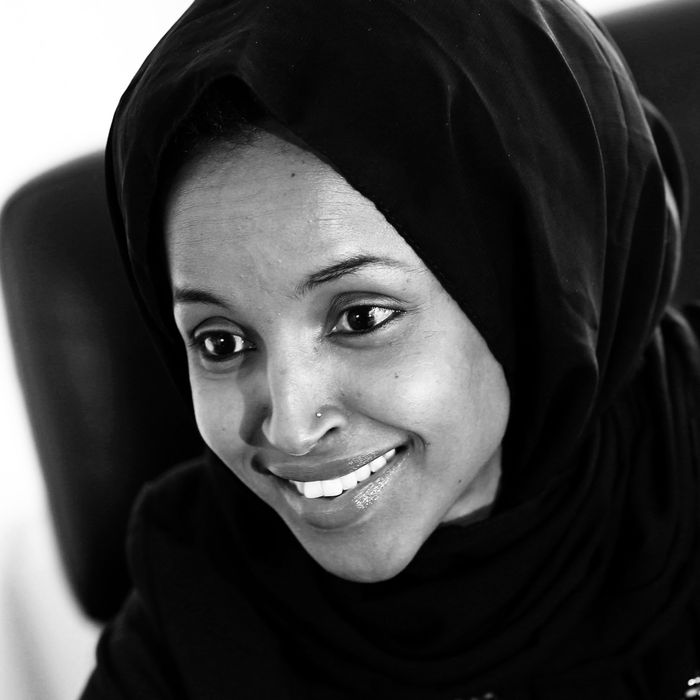 Ilhan Omar.
Photo: Jim Mone/AP/REX/Shutterstock/Jim Mone/AP/REX/Shutterstock
Ilhan Omar is set to make history after winning a seat in Minnesota's Fifth Congressional District, likely becoming the first Somali-American in Congress. Here's what we know about her.
What's her political background?
The former refugee gained traction two years ago, when she became the first Somali-American elected to a state legislature in Minnesota by defeating a 22-term Democratic incumbent. Because her district, which encompasses Minneapolis and its surrounding suburbs, is reliably liberal, she is widely expected to take the House seat.
Why is she a big deal?
Not only would Omar be the first Somali-American to hold national office; she would be joining Rashida Tlaib — a Palestinian-American who won her Democratic primary in Michigan and will be running unopposed — in becoming the first two Muslim women in Congress.
A record number of Muslim Americans — at least 90 — are running for office in this year's midterm elections.
What's her story?
Omar, 36 and a mother of three, is the youngest of seven children, the Independent reports. At 8 years old, she fled Somalia with her family due to the country's ongoing civil war, then spent four years in a refugee camp in Mombasa, Kenya, surrounded by tens of thousands of others. She came to America at age 12 and settled in Minnesota, where she learned English by watching American TV.
"In my last race, I talked about what my win would have meant for that 8-year-old girl in that refugee camp," Omar said in her victory speech. "And today, I still think about her and I think about the kind of hope and optimism all of those 8-year-olds around the country and around the world get from seeing your beautiful faces elect and believe in someone like me."
What's her platform?
Omar is a progressive Democrat advocating for the institution of a living wage, access to affordable housing and health care, debt forgiveness for those struggling to pay student loans, and the abolishment of ICE and protection of DACA, per her campaign website.
According to Al Jazeera, she told voters she would fight against President Trump, saying that she would have been affected by his proposed travel ban.
The politician ran a grassroots campaign, rallying more than 1,000 volunteers to reach out to 100,000 voters across the district.
"Tonight, we are celebrating because we engaged and empowered our community and we won," she said in a statement. "Our campaign staff, our volunteers, and the people of the Fifth Congressional District are the inspiration we need to get up every day and fight for a democracy that guarantees a more just and equitable society."