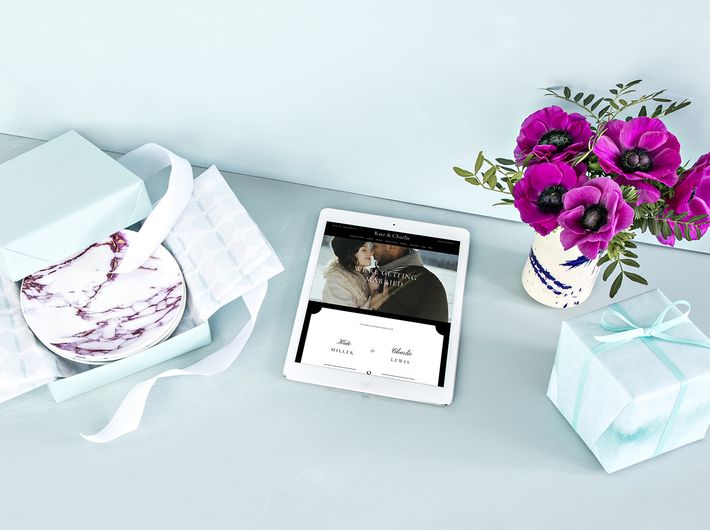 "The wedding website is really for your guests, not about you," says Annie Lee, principal planner and founder of the boutique firm Daughter of Design. Her company plans 20 to 30 destination weddings and other events every year around the world, from the U.S. to Europe, Africa to Asia. Below, she shares expert advice on how to make a tasteful (and helpful) wedding website using a free, all-inclusive planning service like Zola, as well as how to master your presence online as a couple before, during, and after the wedding. Use this as a digital-savvy guide for all your questions–and then all you need is a wedding hashtag.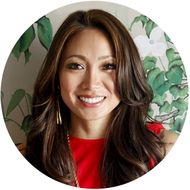 How to build your wedding website
"When your guests look at the website, they care about: what are they going to wear, where are they going to stay, how are they going to get there," says Lee. "Convenience is everything, and the wedding website is your info depot, where you direct guests so you don't have to answer questions individually."
On Zola, couples create easy-to-build wedding websites in three steps: First, you pick a design from one of more than 100 free templates. (A botanical-inspired template called Eastwick is Zola's most popular.) Then you add wedding details, your story as a couple, photos, a Zola Registry where guests can shop directly on the site, and a FAQ page with more info such as travel and hotel arrangements. If you start with one template, fill in your information, and prefer a different design later, you simply choose the new template and all details will remain the same, so you never have to start again from scratch.
Finally, you can share the website with guests on social media or include the link on save-the-dates. Guests can be asked to RSVP to individual events like welcome drinks, the wedding ceremony, and the morning-after brunch, directly on the site. Zola wedding websites can be password-protected or made public but hidden from internet search engines. You can manage your website with the Zola Weddings iPhone or Android app, and Zola's customer service agents are available to help both couples and guests.
Lee's last word is a reminder to treat it like any site: Don't launch it before it's complete. "If your website says 'coming soon!' don't send it to people yet," she says—or risk losing them forever.
The do's and don'ts of posting engagement photos to social media
Do show a picture where both you and your future spouse are looking at the camera and equally shown. "If it's a bride and groom, women tend to post [photos] where it's her at the front, and he's just a prop in the background, where you see the back of his head or his eyes," says Lee. "It's like an ad for perfume, and he's just the male model in it!" Don't post multiple photos of a similar shot, she advises. "I know, you can't decide which one's better: this one where your chin is a little angled up, or this one, where you're looking straight on. Choose one!"
Save-the-dates and invitations: using digital vs. paper, and when to send both
"I'm okay with sending digital save-the-dates if time is of the essence, and you can link to the website," says Lee. But she thinks it's still taboo to send digital invitations, and advises sending those in paper. Zola recently launched both save-the-dates and wedding invitation paper designs that are styled to match the look of your wedding website.
As for timing, you can send save-the-dates as soon as you have the venue booked—ideally not more than a year out. "If it's like two years out, you look crazy," Lee warns. "Eighteen months is borderline."
Paper invitations should be sent six to eight weeks before the wedding. "If it's a destination wedding or you have a lot of people flying in, scoot it up to ten to 12 weeks," Lee adds, "especially if there's a lot of planning, travel, or if people have to get visas."
How to build the best wedding registry—and whether to accept cash, gifts, or both
"I like that on Zola, you can opt to collect cash or gifts," says Lee. She adds that while the service is agreeably discreet about the option of receiving cash, it's smart to also make a registry with specific items. Many couples may already live together and share basic items like kitchen tools and linens, but Lee notes: "You want to start collecting some heirlooms and nicer pieces that you can have for a long time. You don't want your granddaughter to be like, 'This was my grandmother's [discount] plate.'"
Other tips she shares are to include items at a range of different price points (to accommodate all of your guests' budget levels), and to never put any kind of wish list in print. "That looks like you're asking for gifts," she explains, while "it's more socially acceptable to list a registry online."
How to share wedding photos with your guests
After the wedding, you can email guests a link to your photographer's album as well as share photos on your wedding website. "All photographers will send you links to their albums that already have a marketplace linked to it," says Lee. "So if they see a picture of their family at your wedding, and they really want that print, right away on the side there's an option for them to purchase it directly from the photographer." Similar to sharing your engagement photos on social media, avoid posting multiple iterations of the same photo.
This is paid content produced for an advertiser by New York Brand Studio. The editorial staff of The Cut did not play a role in its creation.