Two somnambulant Kylie Jenner doppel­gängers stand on a seamless white backdrop and duck-face for a photographer at the in-house photo studio of Fashion Nova's headquarters outside Los Angeles. They could be twins, if you don't look closely: the same tanned skin, long hair, and big, dark eyes. Both have lips so plump they look filled, lashes so long they must be extensions, and cheekbones so highlighted the gleam can probably be seen from space.
For those who didn't just order the "Casual Lover" spandex crop top and matching skirt, immediately put it on, whip out their iPhone, take several belfies and post them to Instagram with no less than six hashtags, the look the Kylies are trying to achieve can seem impossible to re-create at home. What these models are capturing is the very specific vibe of Fashion Nova, the ultrafast fast-fashion brand that offers streetwear with high stretch content to women 16 to 35. It has become one of fashion's fastest-growing apparel brands by marketing almost exclusively through Instagram, where its 3,000-person network (and growing) of loyal influencers called Nova Babes model the clothes and generate word-of-mouth popularity and sales. It's widely known as the brand of choice for Instathots — as the people who post an infinite number of sexy photos on Instagram are known in internet parlance. Rapper and Fashion Nova ambassador Cardi B even immortalized the brand in song: "I could buy designer but this Fashion Nova fit." The line has become the unofficial company slogan and frequent Instagram caption.
These are clothes made for social media: meant to be worn once, maybe twice, photographed, and discarded. To keep up with that metabolism, the shop offers an obscene number of new styles — around 1,000 a week — that promulgate a particular aesthetic of which Kylie Jenner is a spirit animal. I recently bought the "Buenos Aires" strapless romper after she wore it to Coachella and posted it on Instagram. She got 5 million likes; I have yet to muster the courage to wear it in public. Clothing and accessories have names like "Curves for Days" or "Cute But Salty" or "Internet Famous." Most everything is priced under $50 and of slightly dubious quality, and everything is designed to effectively flaunt snatched waists and lower bodies that look like sets of parentheses.
To observe the Kylies' photo shoot is a decent lesson in the Fashion Nova style — clothing that is worn with a mind-set that treats gravity like a suggestion, not physical law: Kylie One is in one of the brand's popular athleisure looks: burgundy leggings that accentuate both camel-toe and extreme butt curvature and a gray speckled sports bra. Big Sean blasts as she arches her back to adequately display under-boob that threatens to fully pop out of the bottom of the bra and the deep valley of cleavage that threatens to emerge from the top. Kylie Two wears one of Fashion Nova's dressier looks: a skintight canary-yellow velour skirt and matching tank top. She pouts and looks back over her shoulder, lazily letting her ass do the work of selling the outfit.
What's being shot today will be available on Fashion Nova's website in one to two weeks, for someone to order and then Instagram with hashtags (#fashionnova, #novababe, #thickstagram), as fast as you can say "free two-day shipping" or "Postmates" (if you live in Los Angeles). The company is privately held, so no one knows how much it actually sells, although a recent Business of Fashion article reported that the brand's social media exposure is greater than that of H&M and Zara combined. In 2017 Fashion Nova was the fourth-most-searched fashion brand in the United States, ranking after Gucci, Louis Vuitton and Supreme and before Chanel, Saint Laurent, and Dior. Its Instagram following is 12.6 million, more than ASOS (7.3 million) and Nasty Gal (2.7 million) and close to half that of H&M (26 million). It's already expanded to include three different lines in the past year and a half: Fashion Nova Curve, its plus-size offerings; Fashion Nova Men, which serves the guys who slide into your DMs with photos of themselves wearing gray sweatpants tight enough to accentuate their more photographable lower extremities; and, most recently, a Mommy and Me collection for Nova moms who want their toddlers' gear to complement their own. Now every man, woman, and child can unleash their inner thot.
I discovered Fashion Nova the same way most have: somewhere in 2014, as influencers and personalities took over real friends on my Instagram feed, I kept noticing women wearing Fashion Nova — I'd always click, sometimes screenshot to buy later and then, never buy — it felt like another H&M or a Nasty Gal, except wearing the clothes required an even stronger desire for exhibitionism. Then singers and performers and celebrities started wearing it. I spotted a music video where teen rap personality Bhad Bhabie held up a Fashion Nova bag as a flex instead of the standard Louis Vuitton or Gucci. Cardi B dropped her famous line. I started recognizing it on women on the street — seeing crochet pants or checkerboard printed leggings and immediately ID'ing them as Fashion Nova. Eventually the brand identity was so strong, saying "they like Fashion Nova" called to mind not just a distinct look, but a personality type. Before my very eyes, as documented on Insta feeds, Fashion Nova went from a forgettable brand to an inescapable cultural force.
Fashion Nova has become so pervasive largely because it's the sartorial reflection of the culture that's been created and celebrated on Instagram, the one in which hip-hop saturates mainstream culture; in which Fenty Beauty drops are like national holidays; in which thicc thighs are the new thigh gap; and in which women — like myself — are fascinated by the personal style and Instagram-built careers of Cardi B and Jenner, who was recently given a Forbes cover in honor of the $900 million beauty empire she promotes heavily on the platform. Fashion Nova may have previously been a uniform of Instathots, but it's evolved into more than that. It's a brand that celebrates body positivity and caters to races and sizes that fashion's old guard is just starting to pay attention to.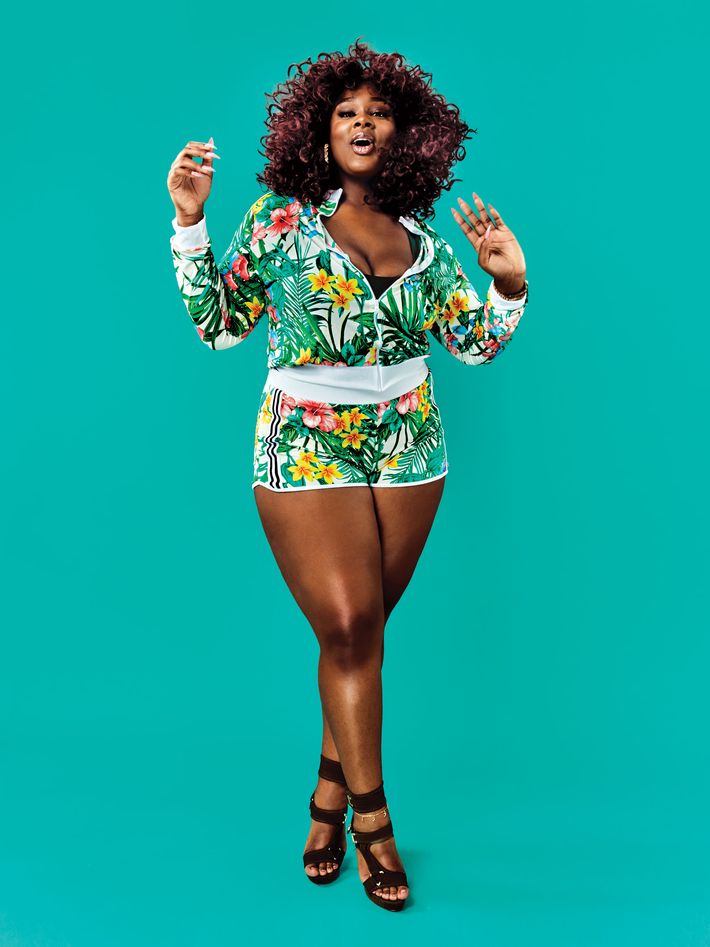 When I meet the brand's CEO, Richard Saghian, one late afternoon in June, I'm dying to know what the brainpower behind the company thinks is the reason Fashion Nova has its teeth in the culture right now. When I ask, he just laughs, self-consciously, "I don't know. We sell really dope shit?"
For a brand so closely associated with Instagram, it's surprising to learn that Fashion Nova started as a mall brick-and-­mortar in the land of Hot Topic and Auntie Anne's. Saghian, a soft-spoken Iranian-American L.A. native, was 25 when he opened his store at the Panorama Mall in the San Fernando Valley. He learned the trade from his family, spending Saturdays after college walking the floor of their store, talking to the customers. No matter what they asked for, he'd have it in stock by the following Saturday. "If they wanted high-waisted jeans, I'd bring 'em high-waisted jeans, more white denim, more distressed," he explains. He became his own trend forecaster, hanging out in clubs in Miami and combing celebrities' social-media accounts. Eventually he was full of so many ideas he decided to start his own store.
His first best sellers were high-waisted jeans that fit a variety of body types and cost $35 (they are still Fashion Nova's most popular item). In 2013, he launched the Instagram account, where he posted items for sale in his stores — of which he then had five. He gained 60,000 followers in a year. By the time he launched an online shop in late 2013, he says, the brand was so popular, everything sold out in the first day.
I meet Saghian, who's wearing a distressed Dolce & Gabbana denim button-down, jeans, and red sneakers, in the conference room of Fashion Nova headquarters, a warehouse that feels less start-up and more Forever 21 at the end of the day. He asks a member of his publicity team for a Red Bull, then pauses and muses aloud whether his beverage choice will be on the record. He opts for water instead. He's joking with me, sort of, but the interview sets him on visible edge. While he sells clothes for people who love to bare as much as humanly possible on social media, he himself prefers extreme privacy. Every interview he's given — Vice, WWD, BuzzFeed — there's a moment where he expressed discomfort with being interviewed or just bluntly said: "I rarely give interviews," like he's the Howard Hughes of spandex clothing. When asked questions about, basically, anything: his life, why the company is called Fashion Nova, if it is Thursday or Friday, Saghian deflects. "Can I answer that later," he asks, or switches to a tenor precisely calibrated for giving a Powerpoint presentation at an investor lunch.
"I'm trying to drive traffic to the site and not to myself. Don't put the focus on me, it's about the customers," he almost begs at one point, putting his hands up in front of his face. And he's right. It's not Saghian's figure that will sell body-con dresses with more cut-outs than fabric. But it is his business instinct (or love of privacy) that made him realize who would: the women — and men — who were already out there fanatically posting their best outfits and broadcasting their obsession online. Enter, the Nova Babes.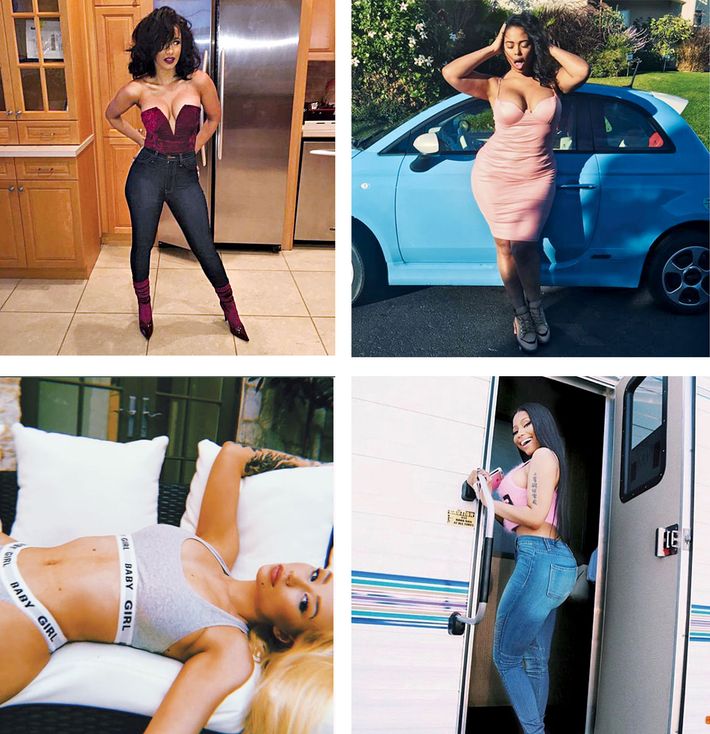 The Nova Babes are an evolution of a practice that already existed — people who love a brand or wear a brand would tag themselves, either because of their pure love of the clothes, or their desire to gain more followers, or even — dare to dream — their hope of getting some free swag in return. With a simple hashtag and a self-timer every babe can be a Nova Babe, says Saghian. But Fashion Nova does seem to have preferences. They favor "natural" photos, taken from life — or at least staged in such a way that they seem like snapshots. They accept artifice so long as the love of Fashion Nova is genuine. These shots should portray a Champagne-flute sort of life and a reality-TV star disposition toward sharing it. The Nova Babe wants to be seen, collect those favs, soak up those comments.
Her skin can be any shade, her hair any style, her body any size, she can live anywhere in the world, though Atlanta, Dallas, and Australia are particularly popular, according to geotagging. She goes everywhere and does everything: clubbing in Las Vegas or eye-fucking the bathroom mirror at a club in Atlanta, playing in the surf on an L.A. beach, sitting by a pool in Miami, mugging in front of iconic tourist Instagram playgrounds. Some are at music festivals, others are getting ready in hotel room mirrors, squatting in front of nice cars. Some are pregnant, others are just holding a piece of fruit, like in a Renaissance portrait, for some reason we'd like to know, but won't. They are all out there Living Their Best Life, in Fashion Nova.
There are a handful of poses that pop up with regularity: In bathing suits, it's on her knees, legs spread, like a puppy on hind legs waiting for a treat. In clothes, it's usually a "look back at it" over-the-shoulder glance, the better to show off her butt. Makeup is done, lips are parted, sometimes in a smile, but eyes are narrowed. Someone from Fashion Nova is always lurking in the comments, with a "slay!," or "dat ass!," or "don't hurt 'em!" in praise.
As long as she had been aware of the existence of Nova Babes, Taryn Hines (@tarynforever) knew she wanted to be one. It's the Nova Babes who are the real face of the company, recruited by the brand's social-media team, which pores over the thousands of photos under #novababe. To get selected is a high achievement, one Hines worked for. "I was just like, 'I really want to be a Fashion Nova ambassador.' I create like mini goals to achieve, and that was one of my mini goals." A Buffalo native, with two jobs (an office receptionist by day, and a home-care assistant at night), Hines aspires to become a model, she tells me. A lot of Nova Babes are in it just for the likes and Instagram fame, but many see it as a way to launch careers in entertainment or fashion. We're sitting in a makeshift dressing room while she bakes and highlights for an hour and 20 minutes, applying streaks and layers of foundation for maximum face. At one point, she's strategically applied so much of a lighter-color foundation, it looks like she's in whiteface, but, she says upon seeing my confusion, the base will make her wide-set almond eyes pop and her jawline emerge more sharply than a switchblade.
She's been wearing Fashion Nova for two years, but last September she started trying to get noticed. She'd email and DM the company's social-media team and tag pictures of herself in a range of outfits — some sporty, some cute, some conservative (yes, you can), most sexy. Finally, for Valentine's Day she went all-out, posing with a giant teddy bear, on a bed, in one of the brand's lingerie sets. A month later, she become an ambassador.
"Obviously, I jumped up, like, 'Finally! I got on the page! Finally,'" she squeaks, holding her fists up in triumph. Hines's eventual goal is to make her way into the Fashion Nova corporate office and start modeling for the website, and from there get signed by an agency. She takes a break from applying makeup and looks at me, fully focused on what she says next. "I honestly think anything is possible. I honestly do. I just feel like prayer to God and following your dreams and not giving up on 'em," she says, eyes wide, hands patting her heart.
There are celebrities who rep for Fashion Nova: Cassie, Iggy Azalea, Kylie Jenner, Amber Rose, Nicki Minaj, Dascha Polanco, and of course Cardi B, who reportedly makes $20,000 a month doing it and will release her own line with the brand in November. Soon, model and former internet sensation Jeremy Meeks, a.k.a. the "Hot Felon," will get paid to wear Fashion Nova Men. But while celebs obviously push sales (the Cut reported that a single Kylie Jenner gramdorsement can result in $50,000 worth of sales), it's the Nova Babes, and the sense that anyone dedicated enough to the brand might get plucked to be one, that's built its devoted following.
"It's not just the stereotypical Instagram model — the one that has fake boobs and a fake butt and models for Fashion Nova," says Tabria Majors (@tabriamajors), another Nova Babe. "I have friends that post for them. They're not models. They're not Instagram-famous. They're just ­regular-ass girls wearing Fashion Nova." Majors became a Nova Babe in 2016. The company had just launched Fashion Nova Curve, after realizing larger girls in its clothes got more likes on Instagram, but when the website featured straight-size models for some of the looks, Majors complained online. Fashion Nova representatives responded and later asked Majors to model for the brand.
Majors is a full-time model, so her Instagrams are advanced level, but hers are among my favorite in the entire library of #novababes. She's beautiful and a little goofy in the way she goes about her Instagram. She just recently finished a trip to Paris where she took pictures of herself in the Louvre in Fashion Nova and referenced Beyoncé and Jay-Z's "Apeshit" in the captions. Majors has that ability to quiet the sort of self-consciousness that keeps most people from working for the shot. And it is work.
Some time ago I bought a white bathing suit and decided to take a picture in it. I was in a hotel in Miami, I was sun-kissed, I looked amazing. It took several how-to articles, a bottle of shimmer lotion, and 30 minutes of twisting, Exorcist-style, in the mirror before I landed the photo — me, white bathing suit, cheeks out, looking back at it, pouting — my best Instathot moment. If you think that's excessive, it's nothing compared to what Hines does. She tells me she wakes up at 2 a.m. sometimes overcome with ideas for how to style an outfit. She thinks about wigs, about scenery, about environment. She's stopped traffic, alienated friends. "Honestly, I sometimes think I'm crazy in my head," she laughs. But it doesn't matter. "I'm gonna get my shot. I do not care."
I was never brave enough to post my bathing suit shot on Instagram — I instead sent it to about a dozen friends and two potential fuckbuddies, and the comments I got back from them were enough to sustain my self-confidence for, like, months. I can only imagine what it's like to be a Nova Babe.
Nova Babes don't typically get paid — they get clothes, followers, and discount codes. If a photo is really good, it will make it onto one of the Fashion Nova Instagram pages, or the site's home page under "Shop Our 'Gram." Recently, almost as thanks, Fashion Nova picked ten Nova Babes from an Instagram contest: Anyone could enter by tagging themselves. Winners were chosen at random and flown out to Los Angeles for a photo shoot, full glam, time with the Fashion Nova team, and two nights of dinner and clubbing. But for most, the recognition is compensation enough. Nova Babes are celebrated, and catered to. "Shout-out to the Iranian guy," another Nova Babe, Kenya "Kiki Khristine" Morris (@_kikikhristine), says when I tell her who started the company. "You know, for real, because don't y'all think it's more plus-size girls that want to look and feel sexy and nice. Other designers be like really missing out with the bread."
Morris, more so than the Kylie dupes I'd observed in-studio back in California, is the platonic ideal of a Nova Babe. She's vibrant, she loves her body, and knows when and how she looks good. She is 24 years old, a makeup artist and aspiring singer from Atlantic City, who moved to Queens six years ago. Two summers ago, she discovered Fashion Nova through Instagram. "I came across it when I seen a plus-size girl wearing these good-ass clothes. And I'm like, 'Oh, where she get this shit from?'" What grabbed her eye was the fact that Fashion Nova doesn't make a separate plus line — there's no range of baggy dresses and Bermuda shorts — the company just extends its sizes of the regular offerings of bike shorts and bra tops. She spent a whole summer in Daisy Dukes and crop tops, fishnet shirts, tagging herself looking fly. Eventually someone from Fashion Nova DM'd her for an ambassadorship.
I meet Morris during the photo shoot for this story, for which she modeled, among a suitcase-full of other outfits, a bright green two-set (a popular type of Fashion Nova outfit, two coordinating clothing items for the price of one). The direction: Do exactly what you'd do for an Instagram, which is basically, everything.
She flips her big hair, laughs her big laugh, unzips the zipper on the top to show off her big boobs. She drops into a rap squat, pops up into a waist-whittling side pose, she dances to "Barbie Tingz" by Nicki Minaj, she laughs with an invisible group of friends, so convincingly, I start laughing with her. It's a master class in Instagramming. By the end, I'm dying to order a bright green two-set, too, just so I may capture some Kiki in my own life. "I'm extra as fuck," she shrugs, admitting that she mastered her angles just by practicing in the mirror, fresh out of the shower.
Every week and a half or so Morris and Hines and the other babes get to pick four to six free items to style and post. Others just get 20 percent off their orders for now. It's like a golden ticket to Willy Wonka's candy factory. There is always something — or many somethings — Morris wants to buy and wear right away and post. It's the first time she's found a brand that offers her all the styles she could ever want, in her size. And if something doesn't quite fit — like the mauve ruched dress that will not stay down — it doesn't really matter, she'll have something to replace it next week. "Every plus-size girl's not conservative, you know? We wanna let shit hang out too. So, I want my belly to be out too. If you have that confidence, do it, why not?"

The weekend I visit Los Angeles to go to Fashion Nova, the BET Awards and corresponding fan-con are taking over the city. I visit the convention center early in the afternoon. We're barely an hour from having had breakfast and already several spontaneous line dances have broken out. I swear not one person was safe from doing the "Cupid Shuffle," like it was 9 p.m. at their cousin's wedding. In other words, the day is blissfully blacker than black, and right there, in the melee of line dances, warring DJs, and food stands, is the Fashion Nova booth. I join a line of women, some men, waiting to collect a free fanny pack and some coupons.
I start asking people why they love Fashion Nova so much. It's basically the same answer all the Nova Babes gave me: inclusive sizing, sexy styles, cheaper than cheap. But one fan, wearing a pair of Amber Rose x Fashion Nova leggings and some Air Maxes, has an addition: "The brand clearly is for black people. Whoever makes it loves black women's curves."
It is easy to underestimate what Fashion Nova is. The clothes are disposable, so perhaps the brand might appear dismissible. But even if the clothes aren't made to last more than two washes, what it's come to represent culturally certainly will. Intentional or not, Fashion Nova is emblematic of a democratization of fashion. It's a brand perfectly responsive to the desires and needs of real women — women of color, women who are not sample size and who will likely never be blow-your-paycheck-on-Gucci rich. In short, women who were so used to being overlooked by fashion, they were eager to throw money and loyalty at a brand that not only sells to them but that built the brand identity around them. Now they are calling the shots and forcing fashion in a different direction.
Right now — and hopefully forever — black culture doesn't have to be made digestible to white people to succeed on a huge scale. Virgil Abloh can become artistic director at Louis Vuitton. Kendrick Lamar's DAMN. can win a Pulitzer, and a brand that sells spandex streetwear that seems perfectly designed for thicc black girls can become a crushing success. I am someone with thighs that rub together so much they could start a fire, and the butt to match, and to know that I can slip into a pair of jeans by a brand that treats my body type like the body type, feels vaguely revolutionary, if not just convenient. And if you don't have the natural goods, the shop offers several types of butt-lifting shapewear so you may try and accomplish what the Nova Babe already has.
*A version of this article appears in the July 23, 2018, issue of New York Magazine. Subscribe Now!