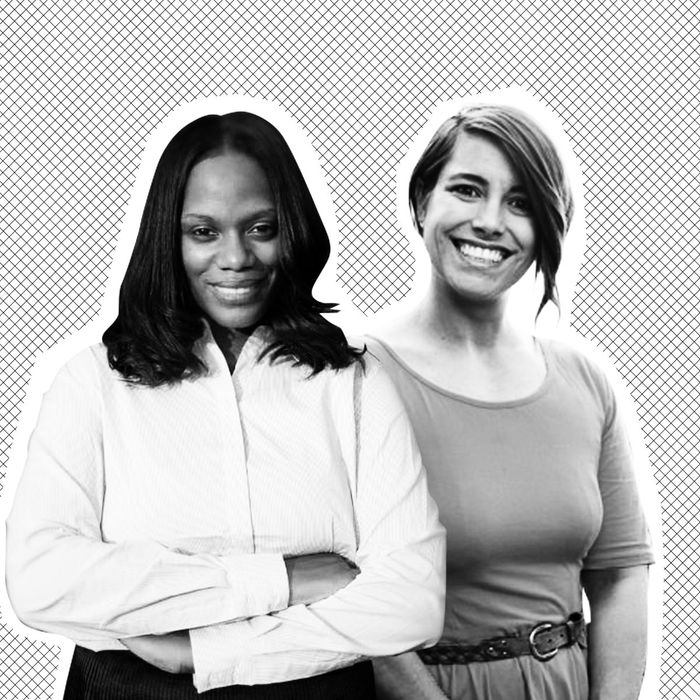 Photo: Courtesy of Summer Lee for PA, Sarah Innamorato for State Rep
One afternoon earlier this summer, Crystal Grabowski was carrying a sign that read "Not An Abortion Provider" down Pittsburgh's Fifth Avenue. She was headed for Women's Choice Network, a crisis pregnancy center located near the University of Pittsburgh campus.
Crisis pregnancy centers are mostly faith-based organizations that counsel women not to end their pregnancies.
Lately, they've been in the news due to a Supreme Court decision that upheld such centers' rights to withhold information about abortion from their clients. Clarence Thomas, the conservative justice who authored the opinion, wrote that, under the First Amendment, the state of California couldn't determine what information such centers provided — effectively allowing them to market themselves as abortion providers while, in a deceptive bait-and-switch, distributing only literature and advice opposed to abortion.
"If you Google 'Pittsburgh abortion,' this clinic comes up at the top of the list," she told me. Grabowski, who is 29 and works in health care, also heads the local committee of feminist socialists, a group of 40 or so members of the Democratic Socialists of America, which, in Pittsburgh, is one of the most vibrant chapters in the nation. Over the past year, the feminist socialists have met every month to brainstorm creative ways to defend women's rights. Along with Sophie Wodzak, the committee's secretary and a working mom, Grabowski had come up with an innovative action, which was part of a nationwide campaign called "exposefakeclinics.org."
In late June, Grabowski and Wadzat decided to flip the script — both on crisis pregnancy centers, and on anti-abortion protesters who gather outside of clinics, waylaying women. If those who opposed abortion could stand outside clinics carrying signs to attempt to disrupt the procedure, then why couldn't pro-choice advocates adopt similar tactics? After all, Clarence Thomas had just defended the First Amendment principle of free speech in relation to CPCs and religious conservatives. Didn't the First Amendment apply to everyone? So Grabowski and several others stood quietly outside, with their signs and pamphlets informing women about where they could find affordable health care. Trying to be respectful of the clients, the protesters weren't shouting so much as street-canvassing; unlike anti-abortion protesters, they didn't want to interfere with women seeking help.
Through the window, Grabowski watched the center's workers take pictures of her and the others. She was worried that she might become the subject of serious doxxing, but instead, the center posted her photo and those of other "sour-faced protestors" on Facebook. "Those who oppose our mission are very unhappy with recent headlines," they wrote. "Cuts in Planned Parenthood funding, a victory in the Supreme Court, and now a new vacancy!"
This kind of tactic may seem, at first, like an act of political theater. But what is perhaps most remarkable about Pittsburgh's feminist socialists is that they are among the vanguard actually rising to power and national attention, in the long aftermath of the 2016 election. In Pittsburgh, the D.S.A. endorsed two millennial powerhouses, Summer Lee and Sarah Inamorato, state-legislature candidates who won landslide victories that foreshadowed Alexandria Ocasio-Cortez's recent win in New York. In Western Pennsylvania, where I covered these races in real time, Lee and Inamorato's campaigns seemed at first like crazy long shots. Both were young first-time candidates calling out ineffective but deep-pocketed incumbents. Then these millennial feminists won, heralding a new era that foregrounded national issues, like health care and environmental justice, on the ground in small, local races.
We hear a lot, these days, about women's advocates and activists who do their thing on the national stage. But the battles surrounding women's rights don't play out exclusively, or even heavily, in Washington, D.C., or on Fox and MSNBC. As a Rust Belt City and a blue island in a conservative and rural red sea, Pittsburgh is a real-world battleground for Roe v. Wade. In the city alone, there are at least 21 crisis pregnancy centers. This number is particularly high when one compares it to the number of abortion clinics in all Western Pennsylvania: four. This illustrates just how vital women's health care is as both a political and a practical issue. Women come from all over the Rust Belt and from Appalachia for abortion services that are dwindling and nearly impossible to procure in more conservative rural areas. And what they often get is a place like the Women's Choice Network, sending them home in shame with a purse full of pro-life pamphlets.
But these activists I've been following in Pittsburgh aren't just focused on everyday problems — they're also strategically visionary. Averse to promoting themselves on Instagram or co-opting #MeToo to sell key chains and onesies, they're about identifying the gamut of interwoven structural inequality and working communally to solve them. I've found it thrilling — lately, especially, as a bulwark against the dismal, daily political slog — to follow an emergent activism that doesn't rely on hashtags and #pussygrabsback T-shirts, or any other trappings of late capitalism. Unlike liberal feminists, who focus principally on issues of gender and representation, feminist socialists see themselves as calling for a much more profound redistribution of power, particularly when it comes to class and race.
"I picture all of us as a tree," Crystal Grabowski said. "Liberal feminism wants to cut the trunk and be done with it, but there are roots to this tree." She went on, "Racism, capitalism, imperialism — these big institutions have had power for so long. We really have to dig up the roots."
Digging up these roots begins with the fight for women's reproductive health — an issue that disproportionately affects women who are poor and of color. It irked Grabowski that on social media such centers often spoke about targeting women "at risk" of abortion, which included students and women living in poverty. Health care was a human right, and should be available to everyone, the D.S.A. argued. "You can't have socialism without feminism," Grabowski told me. The inverse, she implied, was also true.
As women fighting for the rights of working people, Pittsburgh's feminist socialists have much in common with nearly a century of little-known Appalachian feminists whose lives Jessica Wilkerson chronicles in her astonishing new book, To Live Here You Have to Fight, How Women Led Appalachian Movements for Social Justice. 
I discovered Wilkerson's work while researching women in Appalachia for my recent book, Amity and Prosperity. Over many years of working as a reporter in southwestern Pennsylvania, I'd learned firsthand about the role that women played in supporting their families in hard times and keeping small Rust Belt economies afloat. Beginning in the '60s and '70s, when the bottom fell out of the steel industry and the coal mines dwindled, fathers, brothers, and husbands lost their jobs. For the first time, earning a paycheck fell to women, and they left home in droves to work. Many became housekeepers or took care of the children of more affluent families; others found careers in the burgeoning medical-care industry.
Pittsburgh survived the post-industrial collapse by relying on a new economy fueled by what's termed "meds and eds." As nurses, cleaners, and paid caregivers, women formed a ready army, supporting their families by working long hours in low-paying jobs. Most, however, weren't really challenging the system as much as trying to survive within it. Still, given the conservative communities from which many came, the shift in earning paralleled a new era of empowerment for Appalachian women.
Through Wilkerson's work, however, I learned that this history was older and far more radical than I'd understood. As a historian, Wilkerson, too, was surprised by what she found. "When I started this history going to archives, people kept saying to me that you're not going to find Appalachian women in the feminist movement," she told me. But Wilkerson proved them wrong.
Beginning nearly a century ago, she found abundant evidence to support the fact that Appalachians formed a vanguard of women fighting against systemic injustice. "Appalachian feminism insists upon an understanding of class oppression," she writes. "Which operates within a capitalism that thrives on racist and sexist social structures. It requires listening to women whose feminism is rooted in their daily experiences and charting feminist movements that will transform society for all women, not just those in positions of relative power."
Wilkerson has spent her lifetime listening to Appalachian women at kitchen tables before she was even old enough to be conscious she was doing so. Born in East Tennessee, she grew up in a family with a long history of union organizing. Her great-grandmother worked two jobs as a cafeteria worker and a dairy farmer. Her grandfather was raised in poverty, then made his fortune as the owner of a window factory. Every year, her family made a pilgrimage to Dollywood to pay tribute to its owner Dolly Parton, whose mythic rags to riches tale mirrored that of her own family. Wilkerson, who is 37, remembers the pride with which her grandfather ferried her around in the back of his white Lexus.
When Wilkerson moved away in her 20s to attend graduate school in history at Sarah Lawrence in New York, her grandmother Laverne cautioned her about the dangers of too much learning. Education could cost young Jessie her identity. "Don't ever forget where you come from," she told her granddaughter.
In her book, Wilkerson recounts the lives of remarkable women over the past century, beginning with Frances "Granny" Hager who took on the coal companies to fight against the injustice of black lung disease, which killed her husband. She cites Mary Harris "Mother" Jones, who became "the miner's angel," leading a union fight for labor rights in the 1920s that included both white and black miners.
She writes about the role that folk song has played as protest in Appalachia, including the work of Sarah Ogan Gunning, the 1930s author of "I hate the Capitalist System."
They call this the Land of Plenty

To them I guess it's true.

But that's to the company bosses.

Not workers like me an' you.
Woody Guthrie called Ogan's songs "deadlier than rifle bullets."
In hollows and coal patch towns, many rural Appalachian feminists were more visionary than the liberal elite in distant cities. They understood that different forms of injustice were interrelated, because they lived them. For nearly two centuries, beginning with early white settlers driving Native Americans off of their land, Appalachia, like most of America, has been a land marked by racial violence. Following emancipation, African Americans arrived in Appalachia to mine coal as an alternative to sharecropping and to escape the worst of the deep south's Jim Crow laws, but few found ready welcome and most eventually moved north.
By the 1960s and '70s, some Appalachian feminists were working across racial lines in a fight against systemic poverty. They marched in Martin Luther King's Poor People's Campaign, launched in 1968 to draw poor rural whites and blacks together to call for an end to the system that trapped them in poverty alongside one another. King's vision revolved around the idea that an era of civil rights had become an era of human rights. In a 1967 letter to his followers, King wrote, "We must see now that the evils of racism, economic exploitation and militarism are all tied together … you can't really get rid of one without getting rid of the others … the whole structure of American life must be changed."
Racism, economic exploitation and militarism — 50 years on, Appalachian feminists are still out to change the whole fucked up structure of American life.
In Pittsburgh this spring, Summer Lee modeled her efforts to bring disenfranchised black and white voters together on King's Poor People's Campaign, and succeeded. Both she and candidate Sarah Inamorato are also inspiring because their political visions are personal: they're based on their own tough life experiences. Summer Lee was raised in poverty in Braddock, one of Pittsburgh's ailing steel towns along the Monongahela River. A brilliant young attorney, Lee graduated from Howard University Law School and returned home to take on the legacy of environmental injustice that has allowed the steel industry to pass on its costs to the town's predominantly African-American community. Here, in Appalachia, fights over land have long been intertwined with fights for basic rights.
On the other side of the Mon River in Pittsburgh, Sarah Inamorato grew up as the child of a father addicted to opioids, a crisis that runs particularly rampant in Appalachia, where a history of heavy labor and injury has led to over-prescription. His addiction sent her family on a downward economic spiral that nearly drove them out of the lower middle class. Inamorato managed to make it through college and to become the first woman in her family to own her own home. Still, she remained painfully aware of the precariousness of health care that led her to campaign on a Democratic Socialist platform of single-payer health care for all.
To women like Grabowski, the battle for women's health care doesn't involve solely abortion, but also access to information about health — access more readily available to those who are better off and better educated. As Professor Wilkerson points out, the notion that health care is a human right isn't new in Appalachia; it's part of a longstanding tradition of grassroots women speaking — and singing — of their own experiences to call for change.
Like so many other aspects of grassroots protest coming to the fore once again in Appalachia, the 1930s protest songs of Sarah Ogan Gunning have a contemporary equivalent in "Rising Appalachia," a band I discovered on Spotify while poking around for a soundtrack late one night to keep myself finishing my book. In "Resilient," Leah Song and Chloe Smith, who are sisters, sing, "I trust the movement … I'll show up at the table again and again and again. I'll close my mouth and learn to listen."