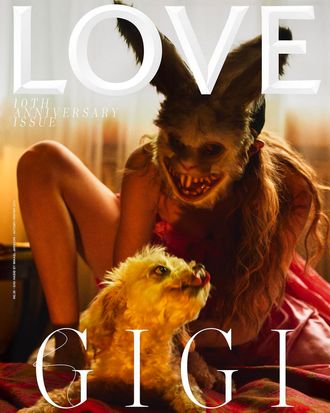 Today, Love magazine previewed the cover of its tenth-anniversary issue, which features model and personalized Nutella fan Gigi Hadid in a nightmare-inducing, Donnie Darko–esque rabbit mask, petting/gripping a small, scraggly, nervous-looking dog who didn't ask for this.
In an Instagram post, Love wrote that it's "The golden hare in the golden hour," and also that it's Gigi Hadid "as you've never seen her before," which is true at least for me personally. I've seen her "embracing gender fluidity" and boxing and kissing Zayn Malik and "gearing up for the race," but I've never seen her wearing a demonic bunny mask and harassing a dog.
Finally, a beauty standard I can realistically live up to.