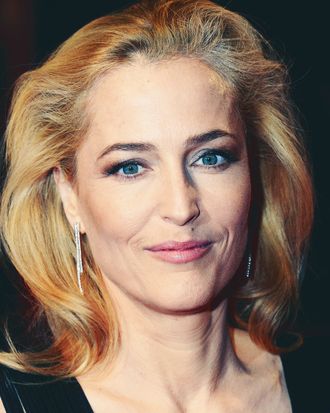 Gillian Anderson.
Photo: Dave J Hogan/Dave J Hogan/Getty Images
On Wednesday, actress Gillian Anderson announced that she's decided to dabble in fashion design. On September 1, the X-Files star and British silver fox will debut her collaboration with the online retailer Winser London. It is set to include a "boxy" turtleneck sweater and a "swing coat." So, count us in.
"I'm so thrilled to finally be able to share my new Winser London capsule collection!" Anderson wrote on social media. "I want to live in them and I hope you do too!"
Although Anderson is not a trained fashion designer, she clearly has strong opinions about style. "I love boxy sweaters that you can hide in but that still hint at your silhouette," she explained in an Instagram post featuring her chocolate-colored Winser London turtleneck. "Also being small, so many sweaters are too long for me so it was really important to me where this sweater sits on the hip. It was also vital that the roll neck did not either feel too bulky and saggy or too constricting but that you can still get your head through it!"
Honestly, we could talk to Anderson about turtlenecks all day. In the meantime, we can't wait to wear this one on a first date.