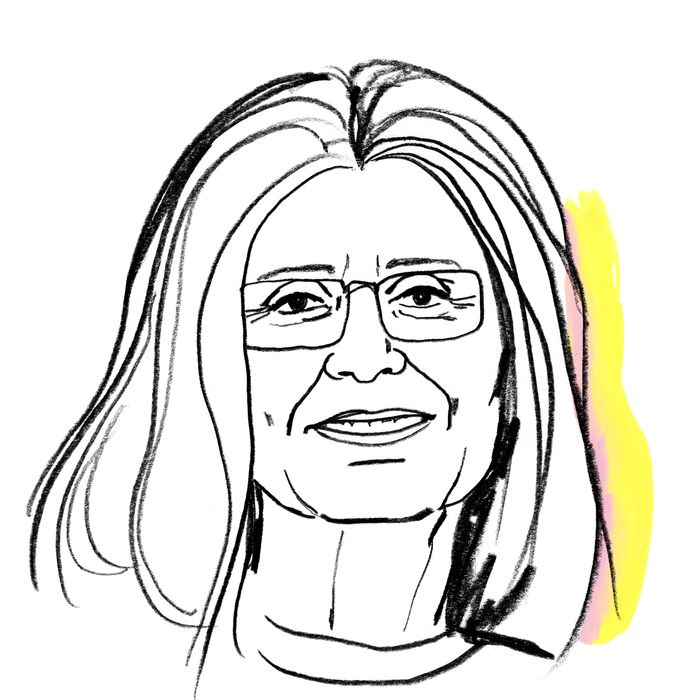 Illustration: Lauren Tamaki
"Most people must work to live, but some of us live to work," Gloria Steinem told me over the phone when I asked her about work-life balance. And for Steinem, at least, that appears to be the case. The 84-year-old writer, lecturer, and activist has been fighting for gender equality and reproductive justice since the early 1960s, and today she's regularly working at least 12 projects at a time. One of New York Magazine's first columnists and a co-founder Ms. magazine in 1972, Steinem was recently appointed to the female-led advisory board of Vice Media and serves as an executive producer on the upcoming film based on her best-selling memoir My Life on the Road, starring Julianne Moore. Much of her work is also behind the scenes — when the Cut caught up with her in May, Steinem described recent efforts to alert contacts at the U.N. about the arrests of Saudi activists.
Today, Steinem appears in a new campaign celebrating the collaboration between self-described "social justice beauty brand" the Lipstick Lobby and unPrison Project, a nonprofit that provides literacy coaching and life-skills training to incarcerated women and their children. All of the net profits from the Lipstick Lobby's In the Clear lip balm will be donated to unPrison Project.
Here, Steinem shares how she makes time for her multitude of projects, the utilitarian reason she adopted her signature look, and why you'll never catch her holding a designer purse.
On what her schedule looks like these days:
Here's how I think of my life — I have a big stove, one of those big, old-fashioned iron stoves, and there are 11 or 12 different pots on the stove. One pot is boiling over, one needs salt, one is a new recipe. I'm constantly going from pot to pot. There are writing projects, groups that I care about and I'm on the board of, there's a lot of traveling — I spend a third to half of my life on the road — there are political emergencies and campaigns, many different pots. At any given moment, there are 12 projects in my life.
On a typical morning:
There is no typical morning for me. I may be getting up to make a plane or I may have a deadline, or I may be going out to breakfast with a friend or I may be going around the corner to get a chai latte, which I'm hooked on.
On how she prioritizes:
Poorly — prioritizing has to do with deadlines. I've always been a writer, so I need deadlines to get things done. Right now, I'm sitting here updating Outrageous Acts and Everyday Rebellions, a collection of essays that was first published in 1984, and has just been translated in French, and is now being republished in English with a preface by Emma Watson.
On what she keeps in her bag:
I've discovered a great kind of bag called the Healthy Back Bag. It's a shoulder bag which comes in three different sizes. I have the medium and it has enough compartments to fit everything I need: a cell phone, a notebook, eye drops, lip gloss, three kinds of glasses. Some bags cost a fortune, and I don't understand that. Unless it has four wheels and a motor, I don't know why someone would pay so much for a handbag.
On packing light:
I take with me as little as possible when I travel. I carry as little as possible, in life as well as in travel. I have evolved kind of a uniform. Black pants, black sweater, and different belts. I kind of equate changing my belt with changing my clothes. Without thinking about it, over the years, I gradually stopped wearing skirts. I realize now I don't have any dresses in my closet. I only have pants. Only occasionally — to a fancy evening event — would I wear a long skirt.
On what she would tell herself as a recent college graduate:
I would say do what you love, because each of us has unique interests and talents, and the more we can follow them, the more effective, happy, and successful we will be. I want each of us to have a roof over our heads and enough food to eat — those things are important — but aside from those, money is boring, and as you may have noticed, groups of people based on money are boring.
I've had the luck to do work I love, and I'm mostly working with friends, so I've never had to think about a work-life balance; I've never had a 9-to-5 job. My father had two points of pride — he never wore a hat (which in his generation, he was supposed to), and he always worked for himself. In that way, I was lucky to inherit this understanding that you don't have to have a 9-to-5 job.
On why she partnered with the Lipstick Lobby and unPrison Project:
I had known [the CEO and founder of the unPrision Project] Deborah Jiang-Stein because she had gotten in touch with me, and I visited a women's prison in Minnesota with her to learn about her project of bringing children's books into prisons, so women have something to talk about with their kids when they visit. Deborah herself was born to a mother in prison and was adopted, so she has been carrying on this very important, compassionate, effective project and I could see how powerful her presence was and how important the books were.
On how she defines success:
It's the moment when you feel you are doing something you care about, that you can be honest, and that you're able to live in the moment.