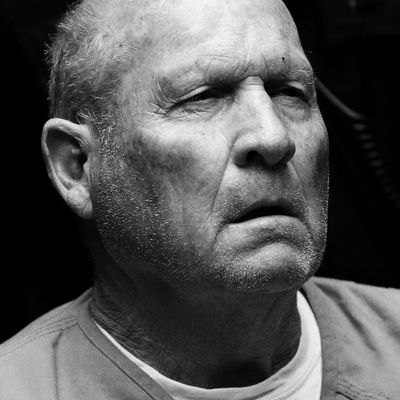 Joseph DeAngelo in court.
Photo: Rich Pedroncelli/AP/REX/Shutters/Shutterstock
On Monday, the suspected Golden State Killer will be charged with what is believed to be his very first murder, CBS News reports.
Joseph DeAngelo, 72, is accused of fatally shooting Claude Snelling in Visalia, California, back in 1975. Snelling's daughter, Elizabeth Hupp, was 17 years old when he was killed, and says that a masked intruder broke into their house and dragged her out of her bedroom; when her father intervened, the intruder shot him and fled. "I'm just very happy that he's caught," Hupp told CBS about DeAngelo. "He's a very evil person."
Per Tulare County district attorney Tim Ward, DeAngelo will be facing murder in the first degree and firearms charges. DeAngelo has already been charged with 12 other murders.
He's believed to have committed the murders, as well as at least 45 rapes and 100 burglaries across the state of California between the years of 1975 and 1986. Along with the Golden State Killer, this serial killer and rapist was also known as the East Area Rapist, Original Night Stalker, the Diamond Knot Killer.
The case ran cold for years, though the late crime writer Michelle McNamara is widely credited with renewing public interest in it through her best-selling book, I'll Be Gone in the Dark. The FBI reopened their investigation in 2016, while DNA collected through a genealogy website finally helped police link DeAngelo to the crimes. He was arrested in late April, after spending 30 years undetected.