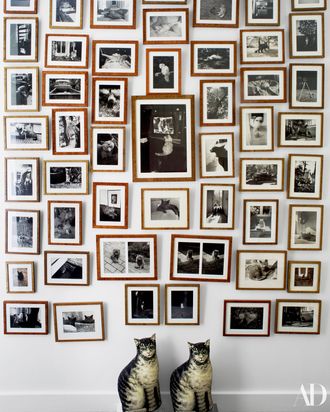 Photo by Eric Boman for Architectural Digest.
I'm not a cat person, but Grace Coddington's cat wall is objectively amazing.
On Thursday, Architectural Digest blessed us with a "rare glimpse" inside the Vogue fashion editor's East Hampton home, where she lives with her partner, French hairstylist Didier Malige, and her two Persian cats, Pumpkin and Blanket.
Life in Coddington's "charmingly laid-back cottage" sounds like a dream. Malige prunes the bushes in the front yard while Coddington putzes around in her garden clogs. It's a place where you can "put your feet up," she says. Rugs are "scattered." Pillows are "thrown." There is something called an "eating house" in the back.
Even Coddington's display of priceless photographs by names like Helmut, Annie, and Irving is casual. And it pales in comparison to the home's real pièce de résistance: a wall dedicated to photos of Coddington's cats, past and present, all taken by Malige. Each frame is so perfectly tilted that you have to wonder if the wall is truly "unfussy," or the fussiest thing in the whole entire world.
Coddington claims that, like everything in her home, the cat stuff is a happy accident. "I can't help it that people, including myself, are always bringing in cat memorabilia," she explains.
In addition to the cat shrine, Coddington's walls are also covered in fax messages she and Malige have sent to each over their 35 years together, which are "often written in the voices of their cats." Wow.
Your Pinterest could never.