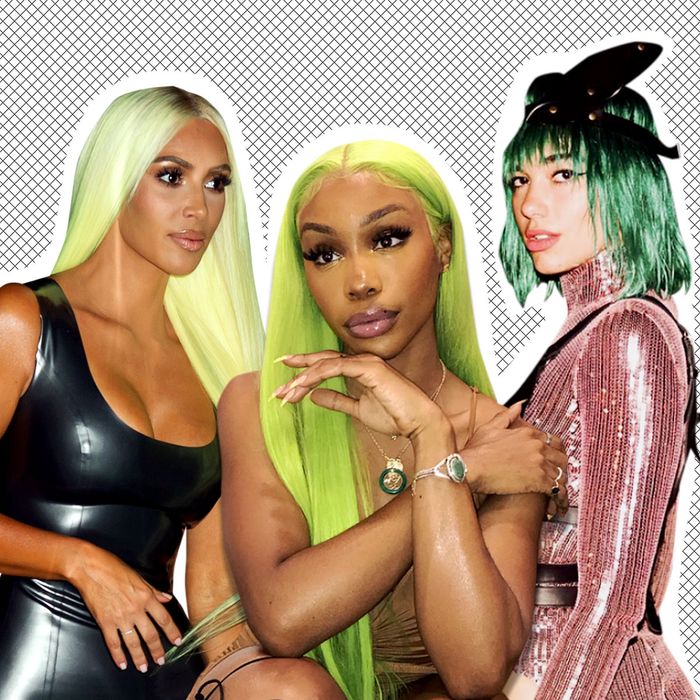 Photo: SplashNews, @sza/Instagram, @dualipa/Instagram
There's a new hair trend in town and it's a legitimately interesting one that hasn't existed since the beginning of time: green hair. Variations of the shade — including light lime green, bolder slime green, and darker kelly green — have popped up on Kim Kardashian West, SZA, and Dua Lipa all within the last week. Traditionally, it takes three to make a trend, and the aforementioned participants all have Instagram followers numbering in the millions, so this shift in style may truly be one to watch.
It's still a little early to tell, but it seems like green hair isn't meant for day-to-day wear. Green hair is a way to celebrate. SZA debuted her green hair to commemorate CTRL's 2.3 billion streams, while Dua Lipa rang in her 23rd birthday with a green bob. K.K.W. wore her take in Miami to honor her matching lime-green Lamborghini in the days leading up to 2 Chainz's wedding, yet another celebration. Coincidence? I think not.
Another bright side of the green-hair trend: the ability to succinctly caption corresponding Instagrams with green emoji like the sliced cucumbers, the kiwi, the avocado, the crocodile, the T. rex, the snake, or the happy frog face. Kermit is somewhere flailing with joy.