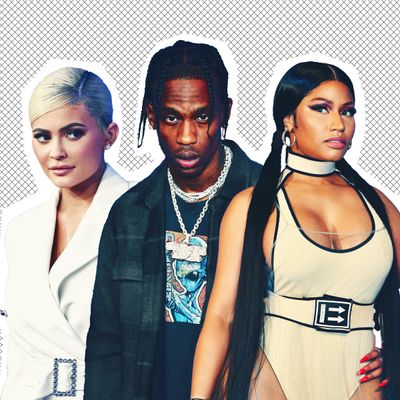 Kylie Jenner, Travis Scott, Nicki Minaj.
Photo: Getty Images
At any given moment in time, Nicki Minaj is feuding with at least one other celebrity, whether that be over perceived disses or awards-show nominations or simple misunderstandings. And while no drama from this week can eclipse whatever's going on with Azealia Banks, Grimes, and Elon Musk, the ongoing feud between Minaj and Travis Scott has been steadily growing as everyone from Kylie Jenner to Ariana Grande has gotten involved. Below, a guide to this week's second-best celebrity drama.
So how did this all start?
The public feud started on Sunday, August 19, when Scott's Astroworld took the No. 1 spot ahead of Minaj's new album, Queen, which prompted an aggrieved tweetstorm that took Scott and Jenner as its victims. Apparently, Minaj was upset with Jenner for promoting her fiancé's Astroworld tour packages — which include tickets, T-shirts, the album — to her 113 million fans on Instagram. Because of this, Minaj argued that Scott's sales via Jenner shouldn't count toward his Billboard ranking because Jenner suggested that Astroworld concertgoers may be able to see baby Stormi from afar.
"I put my blood sweat & tears in writing a dope album only for Travis Scott to have Kylie Jenner post a tour pass telling ppl to come see her & Stormi," Minaj tweeted. "lol. I'm actually laughing."
And then things got weird at the MTV Video Music Awards.
What happened at the VMAs?
So Jenner and Scott were supposed to sit almost directly behind Minaj at the VMAs, which took place the day after Minaj's tweetstorm; before the awards show, though, the couples' seats were mysteriously moved. (TMZ reports that Scott requested this.) While Jenner and Scott were clearly trying to avoid a run-in with Minaj, Jenner found herself in dangerous proximity to the female rapper on the red carpet, prompting her to do an incredibly obvious U-turn away. And then after Scott's performance that night, he bragged, "Astroworld, No. 1 right now!" which was almost certainly a jab at Minaj.
The following day, Minaj joked on her Beats 1 show, "Queen Radio," that the real beef was between her and Jenner's 6-month-old daughter. She probably wasn't teasing when she later declared that "Travis Scott gets Hoe N*gga of the Week by a landslide," though. Eek.
So Minaj and Jenner are feuding?
Actually … no. On Thursday, Minaj told her fans, "For the record, I fucking love Kylie, and that's not gonna change," on "Queen Radio." "She has been put in an awkward situation."
But wait, when did Ariana Grande get involved?
On Wednesday, Grande was promoting her new album, Sweetener, at the Vic in Chicago, where her manager predicted that the LP would "100 percent" debut at No. 1 — a dangerous comment to make on the heels of the Minaj-Scott drama.
"We got three days left," Grande replied, jokingly. "You don't know what Travis could pull!"
After people online started insinuating that Grande was low-key insulting Scott, she took to Twitter on Thursday to quickly remove herself from the ongoing feud.
"i adore travis & kylie and i love the astroworld album a joke issa joke watch the video, stop using me for clickbait so i can come online n celebrate my number one too pls ! hip hip hooray !" she tweeted, before reiterating in another tweet that nothing she says should be taken seriously.
So is the drama over, or …?
Considering Grande's album took the No. 1 spot, it looks like it — unless Minaj is ready for round two.