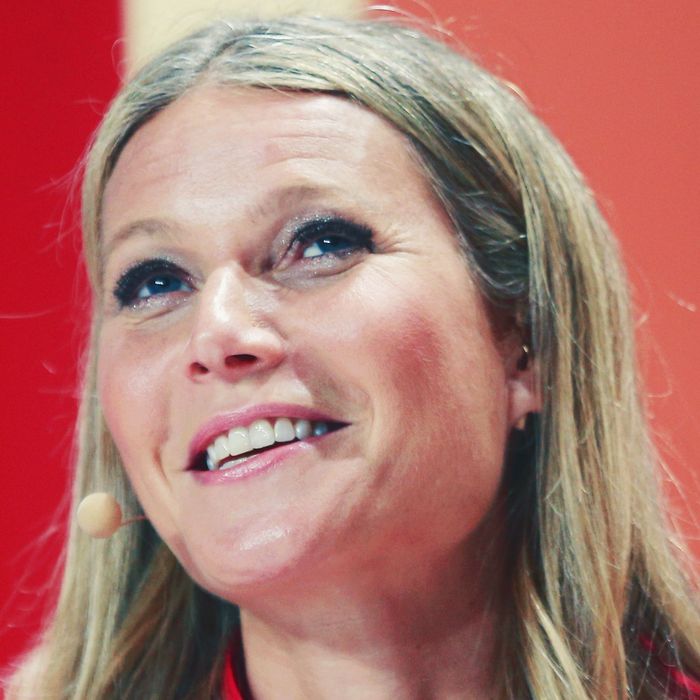 Gwyneth Paltrow.
Photo: Rich Fury/Getty Images for Girlboss
As I'm sure you know by now, there are events in life that force you to pause and take stock of what's truly important. Deaths, births, good news, bad news, presidential elections. Events that, at least for a small period of time, allow you to see clearly that it isn't the day-to-day stressors of your job that matters, nor the petty family infighting, nor opportunities lost or blown. It is instead: love, kindness, and above all, the ability to pay with Apple Pay, a mobile payment and digital wallet service by Apple Inc. that allows users to make payments in person, in iOS apps, and on the web.™
I don't mean to scare you, but Gwyneth Paltrow, the woman who once saved someone from dying in the September 11th attacks by almost running them over with her SUV, recently had one of these experiences. Per the inimitable "Page Six":
We hear the Goop goddess risked embarrassment this weekend in the Hamptons when she realized she forgot to bring her credit card with her while shopping.
I should have warned you to ask your children to leave the room before reading. If all is clear, or if your children are particularly brave, please continue:
A source tells us Paltrow was at high-end clothing store Blue & Cream in East Hampton with her 14-year-old daughter, Apple, when she realized she didn't have a way to pay.




"She was mortified," says a witness.
I'm sorry. I hate to bring you stories like this, but I do think it's important — particularly in these times — to remain informed. To catch you up, "Page Six" heard that Gwyneth Paltrow risked embarrassment this weekend (August 11, 12) when she forgot to bring her credit card with her while shopping at the clothing store Blue & Cream ("the brainchild of entertainment marketer Jeffrey Goldstein who defined the B&C lifestyle by appealing to the Hamptonite's Jet-set existence") with her 14-year-old daughter (Apple). She was mortified.
Like My Best Friend's Wedding, at three-quarters of the way into this story it is still unclear how it could possibly have a happy ending. Please continue, "Page Six":
We hear a crisis was averted with Paltrow using Apple Pay through her phone.
Oh, thank God. Oh, glorious relief. My heavy heart is lifted and I can smell the sweetness of the earth once again. The scales have fallen from my eyes and the weight of the credit card has fallen from my purse in what seems like a planted act of advertising but in fact may just be gossip about Gwyneth Paltrow in the Hamptons. Thank you to Apple Pay, thank you to Apple Daughter, thank you to phone. We are rejuvenated and we rest easily in the light of Tim Cook.
Amen.