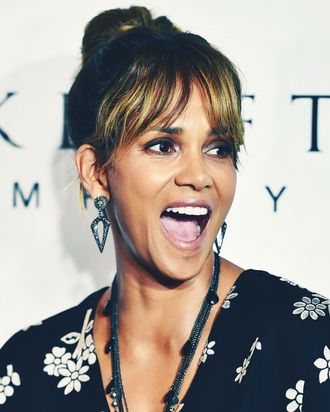 Halle Berry.
Photo: Alberto E. Rodriguez/Getty Images
Halle Berry has graced the cover of magazines, starred in movies, and appeared on posters. One of those posters made its way into a young Prince Harry's boarding school dorm room at the prestigious Eton College.
A photo circulating on the internet of Prince Harry as a teen in his dorm room reveals, in amongst the typical decorations of a tapestry, a CD player, and a photo of his mother, several posters of scantily clad women.
One of those women was Halle, and it did not escape her notice. "Ok #PrinceHarry, I see you!" Halle tweeted, tagging Missy Elliot in the reference to her lyrics the "don't I look like a Halle Berry poster?"
It's safe to assume that Prince Harry's current home with wife Meghan Markle is bare of such posters. Though maybe they have a Hamilton poster?