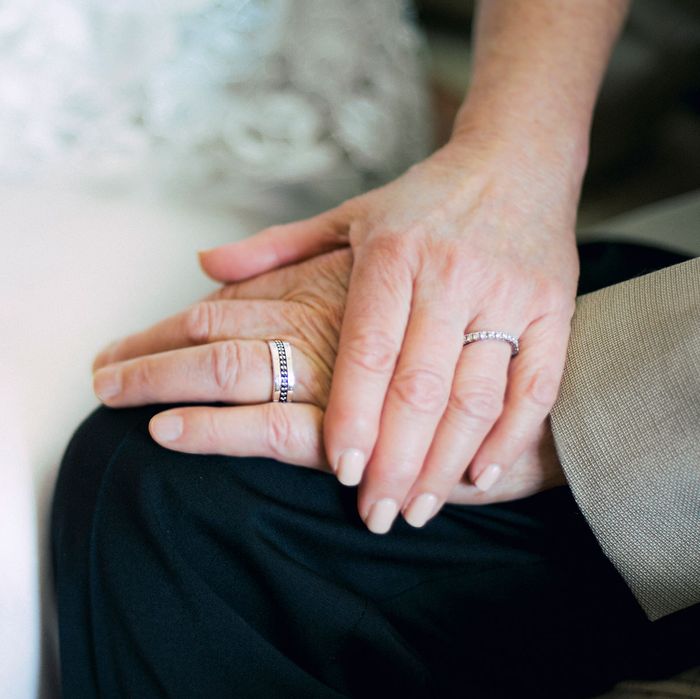 Photo: Linda Raymond/Getty Images
Look, I know what I like in a New York Times "Vows" column: horse girls with dark family secrets, a couple with an insane age gap and a shared obsession with wolves, an insufferable YouTuber who calls his bride "Babyfist." But despite this installment having precisely none of the above, I still enjoyed it.
The story starts with Martin Schmidt, a 36-year-old adopted man who was inspired to seek out his birth parents in 2014. He found his birth mother, Michele Newman, now 53, living in Hawaii. His birth father, Dave Lindgren, now 55, lived in Wisconsin. Here, a fact about Dave:
A self-proclaimed milk and cheese obsessive, he is also certified as a master cheese maker through the University of Wisconsin, specializing in Cheddar, Monterey Jack, mozzarella and provolone.
Michele and Dave had dated in high school, when they both lived in Wisconsin, but broke up before Michele even knew she was pregnant. There was no animosity between them, but they hadn't been in touch at all — until Martin reached out. This prompted the two of them to reconnect and meet up again. Dave visited Michele in Hawaii, Michele moved back to Wisconsin, and the rest is history — Martin officiated their wedding in early August.
You can read the full remarkable story here.