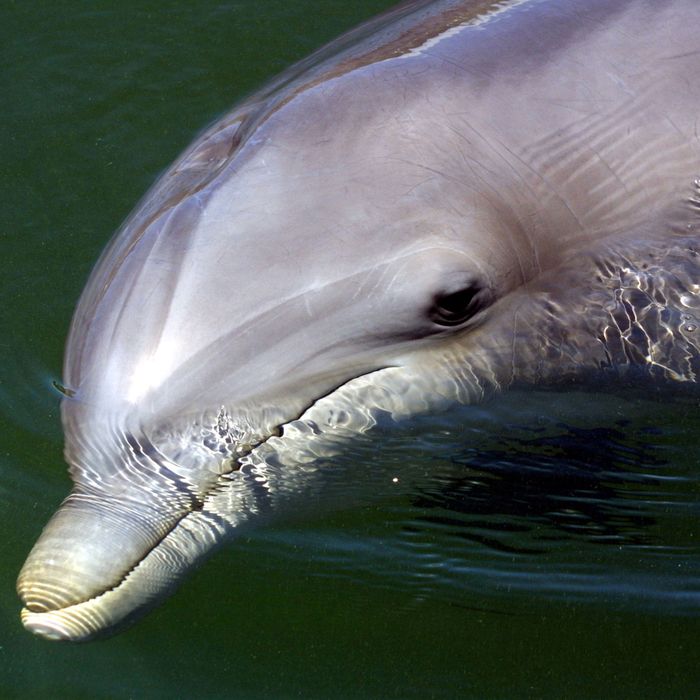 A dolphin, but not THE dolphin.
Photo: Joe Raedle/Getty Images
It may no longer be the Cut's official Horny Week, but its impact lives on in the form of a dolphin named Zafar, who has reportedly been wreaking havoc on the French seaside village of Landévennec.
As the Telegraph reports, the once-idyllic village in Brittany has recently banned swimming on its beach because of Zafar's aggressive horniness. The dolphin has been trying to rub up on locals and tourists; he also apparently tried to stop some swimmers from going back onto the beach — to the degree that he used his nose "to push one woman out of the water and up into the air." And what about boats? Well, per the Telegraph:
The beast, often clearly in a state of sexual arousal, also often tries to rub up against kayaks and other small boats.
Before the horniness kicked in, locals and tourists were "amused" by the three-meter long dolphin. The Telegraph notes that the dolphin would "suddenly turn up and frolic around" boats, and occasionally even "let swimmers grip onto his dorsal fin and go for a ride with him." But then, of course, Zafar got horny, and playing with the animal became complicated.
"Swimming and diving are banned on the village shoreline … whenever the presence of the dolphin is confirmed," said a new bylaw issued last week by the mayor of Landévennec, Roger Lars. "Approaching within 50 metres of the dolphin is also forbidden," said the text.
Lars (the aforementioned mayor) stressed that the new rules are just to "to ensure people's safety." But one Breton attorney, Erwan Le Cornec, has called the ban "excessive" and said that he plans to take legal action to have it overturned, as dolphins so rarely actually attack humans.
In a statement to the Telegraph, Le Cornec said, "The mayor wants to make dolphins look like almost ferocious beasts, completely unpredictable and likely to drown people. If you were to apply these rules across the board, whenever a pedestrian approaches a dog, even if it is on a leash, all the mayors in … France should issue bylaws banning pedestrians in town."