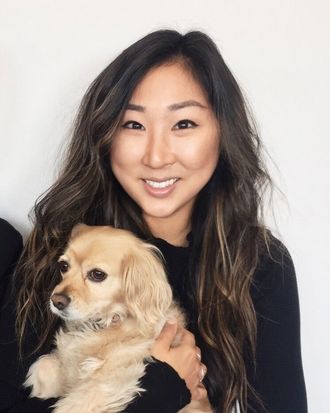 Do you ever see someone on Instagram and think, Why is your skin so good? We do, so we started asking. Welcome to Why Is Your Skin So Good. Want more skin care? Join our Facebook Group, the Beauty of It All.
"Water, water, water!" Clara Jeon, co-founder of Chapter 2 Agency, tells me when I ask her about what she does to keep her skin so good. "I must go through 4–5 liters of water a day — actually, probably more. It's become a running joke in my office."
Jeon balances out all that hydration with a routine that's inspired, at least in part, by her mother. "I think when you have a Korean mother who has a mini-fridge in her bathroom to keep her serums and face masks cold," she says, "you come out of the birth canal with a skin-care routine."
But she also believes in keeping it simple. Just because your mom has a ten-step routine doesn't mean you can't have a five-step one. Read on for her favorite products.
"I like this because it doesn't lather. It almost feels like a balm that you put on your face and then wash off. And I don't feel dry after!"
"I believe in splurging on moisturizer because you really use it day in and day out and it's really important for your routine. I use this Sisley Ecological lotion. I've been using this for years, I use it every single day without fail. It's super light and it has a little bit of a funky smell, but I don't mind. It keeps you moisturized, and I have sensitive skin and it doesn't irritate my skin at all."
"I actually got recommended this by my mom. I keep things pared down because I'm usually on a pretty brutal work-and-travel schedule. But one thing I learned from her is always wear sunscreen. This one is a lot thicker than a lot of popular SPFs on the market right now, because it's almost like a makeup primer. And once it's on, it stays on. Even my dad wears it when he golfs!"
"This is from a Korean brand called Whamisa and I love it because it's almost like an eye serum. It's liquid and so light and you can just put a little dot under each eye. I've been using it all spring and summer."
"If I get a pimple, I'll put a dot of this on it and go to sleep, and usually by morning it's drastically smaller. If I do it for two days, it's usually gone."
If you buy something through our links, New York may earn an affiliate commission.