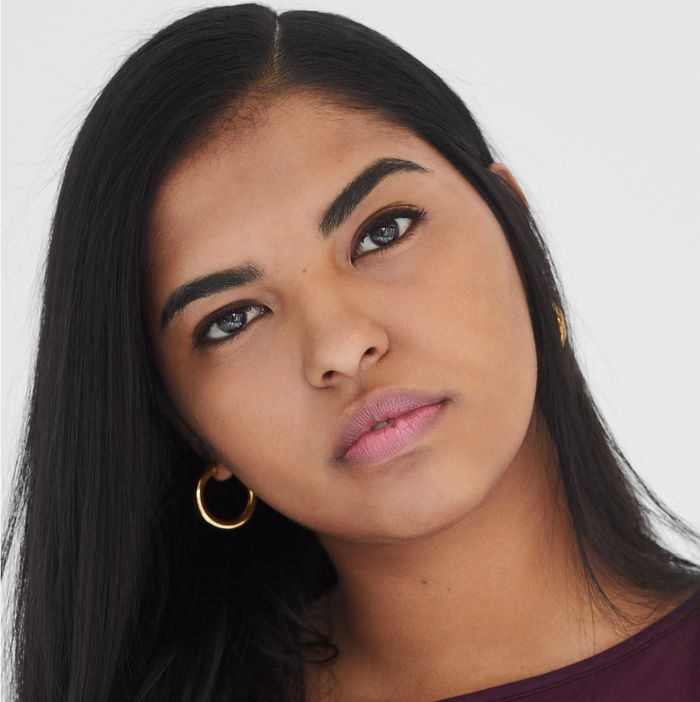 It seems easy: To apply eyeliner, you draw a line. Can you draw a line? Sure. Can you draw a line reaally close, without blinking, wobbling your hand, or jabbing a pencil into your eye? That's a bit harder.
To explain how to properly apply eyeliner to make your eyes look more sultry and defined — without causing any bodily harm — the Cut turned to Meghan Markle's favorite makeup artist, Daniel Martin. Here are his tips and tricks for getting the best, straightest, non-smudged eyeliner.
Watch the Video
Step One: Draw a Line (Straight, If You Can)
Tilt your head back so you can look at your eyelid. Take an eyeliner pencil (Martin likes Make Up For Ever Aqua XL Eye Pencil) and draw a line as close as possible to your top lashes. Start and end your line based on where you see lashes. Are you basically on top of your lash line? Do you see your lashes moving back and forth as you're drawing? Then you're doing it right.
Some people try to draw a line in one go, but Martin's recommendation is to use a light, sketching, back-and-forth motion. "It's much easier to make it straight" that way, Martin says. It's also a better way of working the pigment into the root of the lashes. You don't have to make the line too thin, either — you'll see why in the next step.
Step Two: Blend the Liner Into the Lash Line
Are you surveying your handiwork and realizing your line is a little wonky? It happens. This step will take care of that. Take a brush with a flat, blunt edge and blend it two ways: Down into the lash line and also across. This is a safeguard measure to correct any wobbliness, but also to really ensure that your eyeliner will be as close to the lashes as possible.
Step Three: Curl Your Lashes
It's an optional step, but curling your lashes helps open up the eye and make it look bigger. Martin likes curls after you draw on the eyeliner — it helps you to see where you may have left gaps.
Step Four: Add Mascara, Too.
Yes, I know this is really about eyeliner. But mascara and eyeliner are both working toward the same cause: Making your eyes look great. Here, Martin is using Dior Iconic Overcurl Mascara.
Step Five: Line Your Lower Lash Line
Here's a trick from Martin. When you're lining your lower lash line, don't start at the very edge. Instead, start a quarter of the way out, like where your pupil begins. As you blink, any bottom liner will transfer down the line. "Your eyes naturally tear and move the liner," he says. This is how you prevent your lower lashline from smudging.
Step Six: Line Underneath Your Lashes
Sorry for the eyeball picture! But this graphic image is here to show you just how much you need to get into your lash line for this next step. Really get in there: Lift up your eyelid and repeat step one, but at the base of the lash. This makes your lash line look even stronger. (Note: If this is too much for you, feel free to skip. You'll still look good.)
The Finished Result
Photography by Maxime Cardol
Produced by Liane Radel
Styled by Lindsay Peoples
Makeup by Daniel Martin at The Wall Group
Hair by David Colvin at The Wall Group
Model Ingrid Pereira de Madeiros at Muse Models