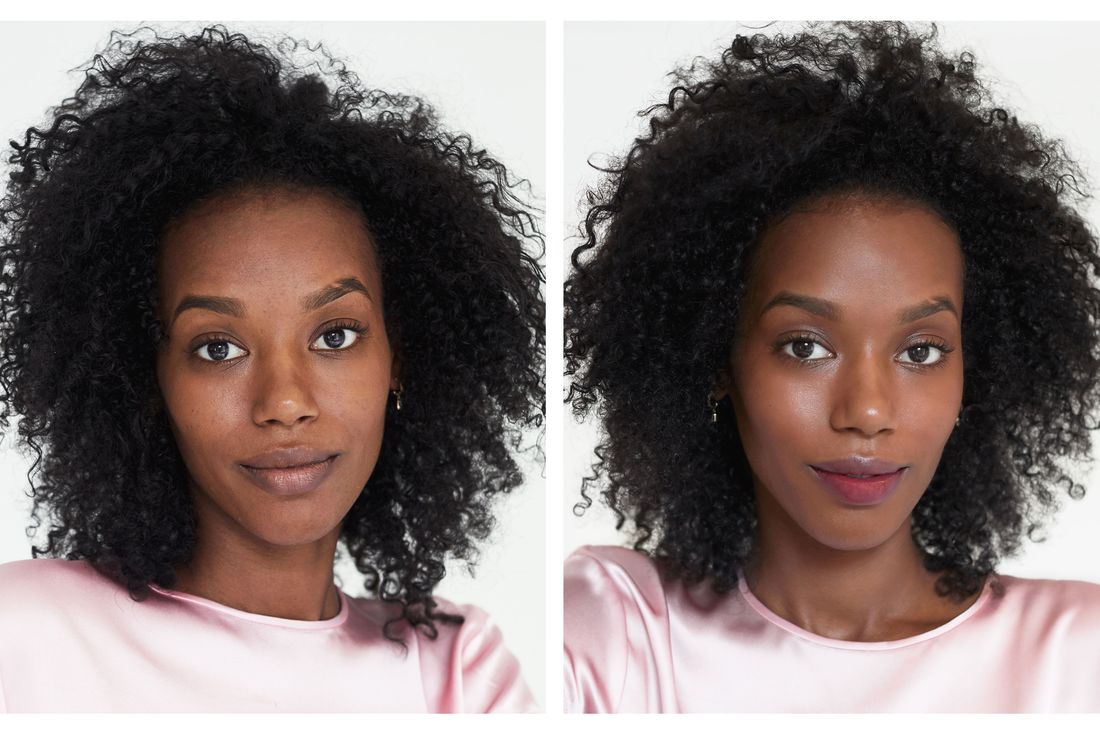 Like ballet, good writing, or taking a selfie, "no make-up make-up" is something that looks effortless but isn't. It can actually take a considerable amount of skill, and a considerable number of products, to make it look like you're barely wearing anything on your face.
Makeup artist Daniel Martin — who did Meghan Markle's makeup at her wedding — is good at making it all look easy. He's already showed the Cut how to do no-makeup-makeup for freckles and uneven skin, and now he's showing us how to do it for darker skin tones. Read on for his tricks for makeup that looks glowy, bright, and natural.
Watch the Video
Step one: Pick two different shades.
Makeup artists know that for most people, especially those with darker skin, the face can be made up of multiple tones. Try two shades — one for the perimeter of your face, the other for the rest. The perimeter shade is generally the same color as your neck, while the other matches your T-zone. They shouldn't be more than one to two shades apart.
Step two: Apply your perimeter shade.
Moisturize first, always. Then imagine drawing a halo on your face that goes from forehead to chin. Take your perimeter shade and apply it starting from your hairline to about a half-inch out. In this case, Martin is using a liquid foundation shade (Dior Backstage), which he blends in with a brush.
Step three: Apply your other shade everywhere else and blend.
Next, apply a light layer of your secondary shade everywhere else with a brush. Use a sponge to gently buff in and blend where the two shades meet so that there isn't a line of demarcation. It shouldn't look like you're using two different face tone shades. Martin is using Flesh Beauty's Thickstick Foundation, which he also uses here as a light concealer.
Step four: Dust on a warm powder.
To make sure that your skin doesn't look flat, Martin recommends using a color-corrective powder with a hint of warmth or peach to it. He uses a fluffy brush, flicking off the excess (this is important — you want a very light coating), and then gently brushes it over the T-zone — under the eyes, on the nose, the nose's edges, the chin, and the forehead. This lightly sets the foundation and reduces shine. Here, he uses Make Up For Ever Ulta HD Microfinishing Pressed Powder in Peach.
Step five: Try an orange concealer.
On darker skin tones, uneven skin tone doesn't show up as red. It's often a purple or mauve-ish color, so a green or beige concealer won't work. Instead, use an orange concealer to knock out any darkness from spots or discolored areas. Martin is using Laura Mercier Flawless Fusion Ultra Longwear Concealer in 3W and 4N.
Step six: Use a coral blush.
We've said it before, but don't overlook coral. For darker skin tones, Martin likes using a bright peachy-pink color to brighten the face. To figure out where to apply the blush, smile. Apply and blend out at the apple of the cheek, moving to just a bit below the temple. You don't want to start too close to the nose, because no one wants a red (or coral) nose.
Step six: Finish with a bit of mascara and a tinted lip balm.
To round out the natural look, add a bit of mascara and a raspberry-toned tinted lip balm. Raspberry looks especially pretty on darker skin tones.
The Finished Result