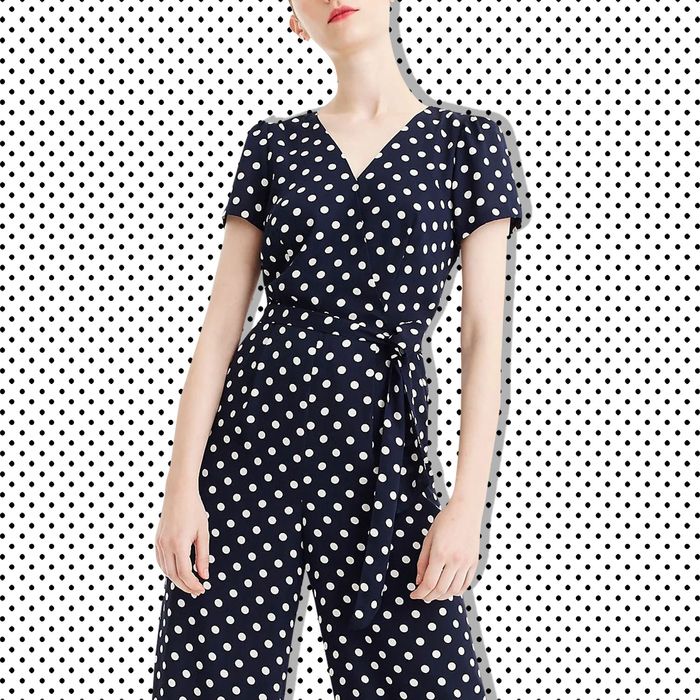 Photo: Courtesy of the Retailer
It was possibly Monse/Oscar de la Renta designers Laura Kim and Fernando Garcia who ushered in the polka-dot renaissance. For pre-fall 2017, the duo turned their eye to polka dots, playing with color and scale, and now we can't get them out of our heads. One year later, the trend is still going strong — it's big on the runways and bigger on Instagram. Every blogger you follow probably has a wrap-dress, jumpsuit, or ruffled top covered in dots.
While the pattern is normally associated with vintage-inspired clothes that can skew cheesy or twee, it doesn't have to look that way if you choose wisely. Keep it current: a fun wrap dress or trendy off-the-shoulder top does the trick. Or look for simple shapes like an A-line skirt or well-cut pants to make a basic feel fresh again. And you don't have to stick to the classic black-and-white combination either — there are plenty of of fun color options out there. Scroll ahead for ideas on how to get in on the trend at every price point.
The Cheap (But Still Chic!) Way to Wear It
This dress is perfect Instagram bait. It could be Reformation, it could be Realisation Par, but it's actually Amazon.
Available in sizes XS–L.
The Vintage-y Classic
With dainty buttons and shirred sleeves, this dress stays true to polka dots' vintage roots. Add a modern spin with some Birkenstocks.
Available in sizes 12–20.
The Modern Blouse
We've loved pajama dressing since Jenna Lyons first brought the look to Fashion Week way back in 2016 (memories). In bronze, this blouse feels energetic rather than drowsy.
Available in sizes 12–20.
The Designer Version
If a brown dotted blouse is really speaking to you, Diane von Furstenberg makes one, too.
Available in sizes XS–L.
The Best Detailing
The little bows at the cuff are roughened up by the asymmetrical cold-shoulder.
Available in sizes 14–28.
The Office-Appropriate Pants
These silk trousers feel playful rather than cutesy.
Available in sizes 0–12.
The Date-Night Dress
A little lace takes a white kimono dress from daytime to date-time.
Available in sizes 12–24.
If You Want to Go All In
Full-on dots is a bold look, but a jumpsuit makes it seem so accessible. Wear it with white sneakers for full-on comfort.
Available in 00–16.
If You Just Want Color
Hey maximalists, thanks for sticking with us through all the navy, black, white, and brown. Neon green is still a little baby of a trend (see: Blake Lively and Kim Kardashian West) so you'll be on the cutting edge in this skirt.
Available in French sizes 34–42.
The Versatile Crop
As we head into fall, we're looking for long-sleeve crops that can be comfortably worn with high-waisted jeans. Nanushka has delivered.
Available in sizes XS–XL.
The Slip Dress
Normally, Creatures of Comfort specializes in clothes that are just this side of ugly. This sweet polka-dot dress is the exception.
Available in sizes 2–6.
If you buy something through our links, New York may earn an affiliate commission.