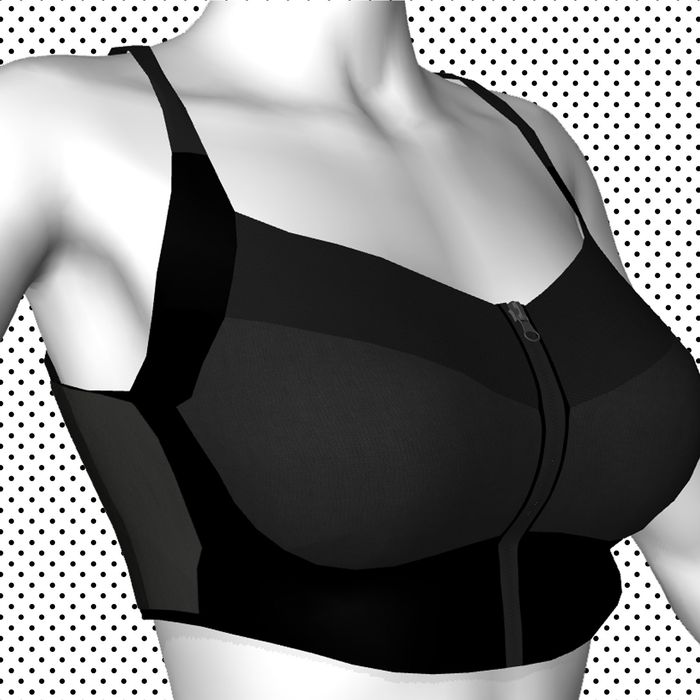 We've all heard the statistic that 85 percent of women are allegedly wearing the wrong bra size. I guess there's no denying that if you're hurting day after day, you probably need a new bra. But maybe it's not your fault. Maybe it's the bra's fault.
Enter Bloom Bras, a self-proclaimed "revolutionary" new sports bra that promises to lift (not squeeze) your breasts while distributing their weight comfortably across your back. Founder Else Kaye partnered with NASA and "celebrity corset designer" Camilla Huey to change the way we wear sports bras. As a skeptic, I was ready to be disappointed. But as someone who has felt emboldened to take on the world after trying on a good bra, I was ready to be seduced.
The Bloom Bra is shaped like a bustier and made of a fabric that's softer and smoother than most sports bras. There's no underwire, but the fabric under the cup does the heavy-duty lifting — and my boobs did feel rather gravity-defying (thanks, NASA!) It also zips up the front, which is a big plus for me. I've always wanted to have a front-zip bra so that my bosom could cascade out of it when someone took it off me.
But when I put the bra on, I looked like sad Jay-Z on a jet ski. It's not Bloom Bras's fault that plus-size bras notoriously have so much material. But boy, is this thing big.
Bloom bras are sized differently from the average bra: I'm normally a 46D, making me a Bloom size 8 (sizes run from 28D to 50K). They're also highly adjustable, with easy-to-use straps that don't dig in and unfortunately life jacket–like strings that can cinch the cups. An upside to all the extra fabric is that I wasn't spilling out anywhere. Let's be real, most of my size-D heft is just back fat pushed up in there, and this sturdy bra made the push extra easy.
While I liked the front zip, I had to work to make sure I didn't have a uniboob going on because of it. I also had to make sure my nipples weren't too visible (a negative of the soft fabric).
Also, the extra material gives you some pretty weird lines under your shirt. Now, you might be saying, "That wouldn't be an issue if you just didn't wear a shirt." And sure, the bustier shape does seem to indicate that you can wear the bra as a top, but that's just never going to be something I do. I want to have my ladies supported, feel sexy, and wear an oversize T-shirt over the whole thing, and I don't think that's too much to ask.
What about actually working out? The Bloom Bras website talks about how your size fluctuates throughout the month. Conveniently, I exercised in this thing before, during, and after my period, thus proving their point. When I ran on the elliptical during my period I felt like my boobs were bouncing around way too much for a sports bra. But then the next time I tried adjusting the cups corset cinchers (post-period) and everything felt fine.
If you have a big tummy like me, the material under the bra sits on the top of it very (I would say) unsexily. Before I worked out, it annoyed me, but as soon as I started moving around it was fine. When I lifted weights I really liked the way the mesh showed off my strong back. The mesh also soaked up the sweat perfectly in this unforgiving humidity. (For biking I didn't notice the bra at all. Am I biking wrong?)
So were all the bells and whistles worth it? Not for me, but for those who don't wear a top over their bra or who notice their boobs fluctuating in size throughout the month, it might be a good investment. It definitely lifts well and adjusts easily. And after working out, I did get to unzip the bra and let my breasts cascade out — which was, honestly, pretty priceless.
If you buy something through our links, New York may earn an affiliate commission.