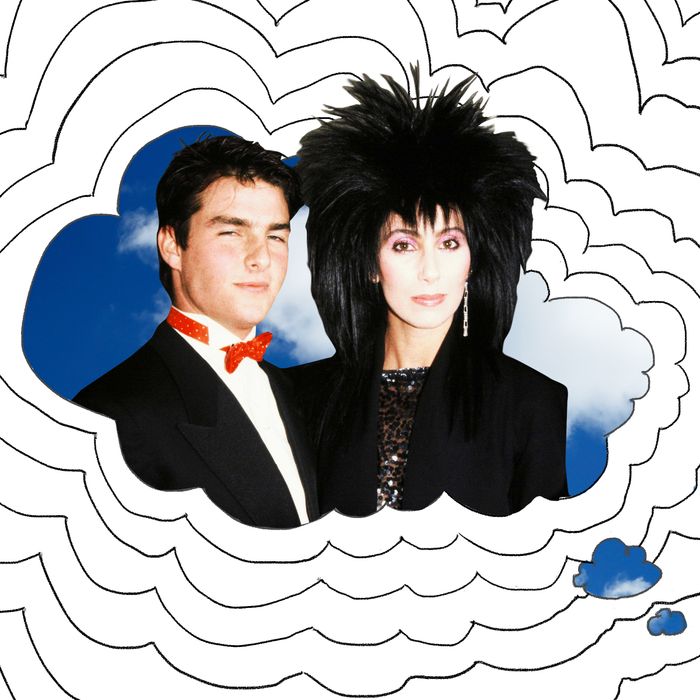 Photo-Illustration: TRIPPETT/SIPA
I Think About This a Lot is a series dedicated to private memes: images, videos, and other random trivia we are doomed to play forever on loop in our minds.
Cher, now 71 Earth years old, has had her share of mortal lovers. The more widely known among them are Sonny Bono and Gregg Allman, but her man roster contains some true outliers like Gene Simmons, Val Kilmer, and Tom Cruise. Yes, Tom Cruise: they were linked in the mid-'80s, when Cher was 38 and rocking a very large, feathered hairdo, and Cruise was 23 with the same haircut he's always had.
One detail from their time together that's always stayed with me is that Cruise was apparently exceedingly good in bed. Although this was most recently brought up by James Corden while Cher was visiting the The Late Late Show, I learned it the same way I've learned a lot of salacious celebrity prattle: Bravo television personality Andy Cohen. Cohen has given us many gifts (The Real Housewives reunion shows, namely) but his most underrated contribution to the pantheon of pop-culture gossip is arguably the juicy tidbit he got from Cher in 2013 on Watch What Happens Live. While playing an invented game called "Truth or Cher," Cohen asks her where Cruise fell on her list of best lovers. She responds with: "he was in the top five." Cohen seems shocked because, "that's a list!" and because, Tom Cruise. Cher's a straight shooter, a teller of truths. Anyone who's had the privilege of reading her Twitter feed can confirm this. Assuming that Cher would never lie to us, we must accept this as truth too.
I don't know why this troubles me so much. Tom Cruise is good in bed — so what, who cares? I do. I care. Tom Cruise is rumored to audition his girlfriends and make his wives sign marriage contracts. I have a hard time imagining him having sex with anyone, nor do I want to. Plus, Cher is Cher. Tom Cruise needs a last name.
By 38, Cher was a formidable performer with a three-decade long music career and a few notable acting roles under her belt. At that same time, Cruise was just starting out, having recently been in The Outsiders and Risky Business, and about to star in Top Gun. If you've seen a Tom Cruise interview, there's a robotic fanaticism to him that seems like it would make it hard to be in a serious one-on-one relationship with him if you held any opinions counter to his, while Cher's known for speaking her mind. To her credit, Cher did make a point of telling Oprah in 2008 that she only knew Tom, "in a certain way," which could mean that she knew Cruise before he was a couch-jumping Scientology fiend, or that they had a true soul bond and made sweet, sweet love together.
During that same interview, Oprah asked Cher about a date she went on with Cruise, and Cher corrected her, saying, "that was a long date — I lived in his apartment." She talks of him fondly, the way you might remember your wholesome high-school boyfriend. She even says he was a little traumatized by the bullying he faced as a student. In short, it seems that there was an innocence to Cher's rendezvous with Cruise that endeared him to her forever. The disconnect for me is in the vastly different man Cruise seems to be now — an L. Ron Hubbard–loving mega celebrity from whom Katie Holmes escaped nearly a decade ago. Where '80s Tom Cruise was sad he'd been bullied, 2018 Tom Cruise is the most important member of a church that allegedly ranks people according to class, treats them accordingly, and forces those who misbehave to do literal dirty work as punishment.
I'm glad Cruise was a good boyfriend to Cher. And I'm glad she dated him before he had adult braces and got carried away by the spaceship of Scientology. After all, in 1985, he was on the precipice of turning into a bonafide Hollywood golden boy. I can appreciate that Cher was on-trend, getting a piece of that fresh man meat just as everyone else wanted one.
Where would Tom Cruise be right now if he had continued to date Cher? Where would Cher be? Thankfully, we'll never know. A couple years after they broke up, Cher went on to play my hero, Loretta Castorini in Moonstruck, winning an Oscar for the role. And Tom played Maverick in Top Gun, which helped him become one of the biggest movie stars of our time. He still hasn't won an Oscar.
Writing this piece has forced me to reconsider the idea of a man I had long let calcify in my mind as lame. I've accepted that there's something in him Cher liked, and have come to the conclusion that, like many men, Tom Cruise could very well be good in bed but lame in life.
Plus, dating young Tom Cruise aligns nicely with Cher's tenet on men, which she kindly shared during a 1996 interview with Jane Pauley. A man is "like dessert," says Cher. "… absolutely not a necessity."