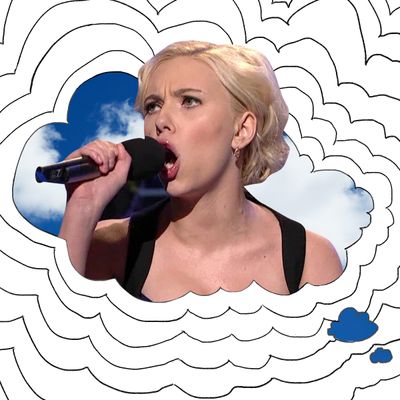 Photo-Illustration: Courtesy of NBC
I Think About This a Lot is a series dedicated to private memes: images, videos, and other random trivia we are doomed to play forever on loop in our minds.
As nobodies, I think we often underestimate the difficulty that comes with celebrity. The famous have wealth, dinner reservations, and likely excellent in-network dentists, yes, but with their myriad opportunities come danger. The loss of privacy; the need to fight for sustained success in a field that prizes youth even more than every other field; an increased desire to post career-ruining tweets. It's a pity. But the saddest fame-related peril of them all is, of course, the ability to embark on large-scale vanity projects.
The vanity project most consistently on my mind — more than Jessica Biel's bygone children's restaurant; more than Hugh Jackman's circus musical; less, admittedly, than Donald Trump's presidency — is Scarlett Johansson's inexplicable 2008 Tom Waits cover album Anywhere I Lay My Head. Since its release a decade ago, no week in my life has gone by without occasion to recall the fact that Scarlett Johansson once released an album comprising almost entirely Tom Waits cover songs in addition to one original song ("Song for Jo"). When I see Scarlett Johansson in the news: Damn, remember Scarlett Johansson's Tom Waits cover album? When I see Tom Waits in my Apple Music library: Damn, remember Scarlett Johansson's Tom Waits cover album? At bedtime, when I tuck myself under the covers: oh my god … remember Scarlett Johansson's Tom Waits cover album?!
The album was released to (phrasing it as sunnily as possibly) mixed reviews. It has a score of 58/100 from review aggregator Metacritic, and was summed up by Pitchfork thusly: "The only thing we've learned about [Scarlett Johansson] is that she really, really likes Tom Waits." The musical style is a crowded, muddied indie pop, as if the Cocteau Twins were produced by someone attempting to achieve a Phil Spector–style "wall of sound" after only having heard the words "wall of sound" but without listening to any examples. The bones of the songs themselves, often layered under Tom Waits signifiers — jaunty tuba, wailing bagpipes, respectful organ — are, of course, great. Tom Waits is great. They absolutely succeed in making you think, I should listen to the Tom Waits version of this.
Though you can tell the heavy instrumentation is supposed to signal dreaminess and emotion, it mostly signals a need to drown out Johansson's lackluster vocals. It is particularly unfortunate for Johansson that one has no choice but to compare her voice to Wait's, whose breathy Cookie Monster style grabs your collar while you're crying into your whiskey and grumbles that life will try to drown you in sadness, but there's love to be had if you're willing to fight for it. What you can hear of Johansson's tells you, mostly, "I'm singing this Tom Waits song at a party, and don't you sort of wish I would stop?"
I hate to be so harsh. Especially considering that the simple fact the album exists has provided me with a great amount of joy. But the truth remains that Scarlett Johansson simply did not need to attempt a Tom Waits cover album. For one thing, she has a successful career otherwise. For another, Tom Waits is not dead. He's still out there making his own albums; one does not need to honor him in this way. (It reminds me of a Neil Young tribute concert I once attended, which closed with Patti Smith announcing that it felt like Neil Young was "in the room with us right now.") (He wasn't.)
This lack of awareness about what she need not do portended a number of Scarlett Johansson's recent unfortunate choices (participating in Ghost in the Shell's whitewashing, wearing a Marchesa gown to the Met Gala, accepting a role as a transgender man in Rub & Tug when everyone was already upset at her for participating in Ghost in the Shell's whitewashing and wearing a Marchesa gown to the Met Gala). But this early misstep, simple and harmless, remains a fond remembrance for me. A Tom Waits cover album. Why?
And truly — what?