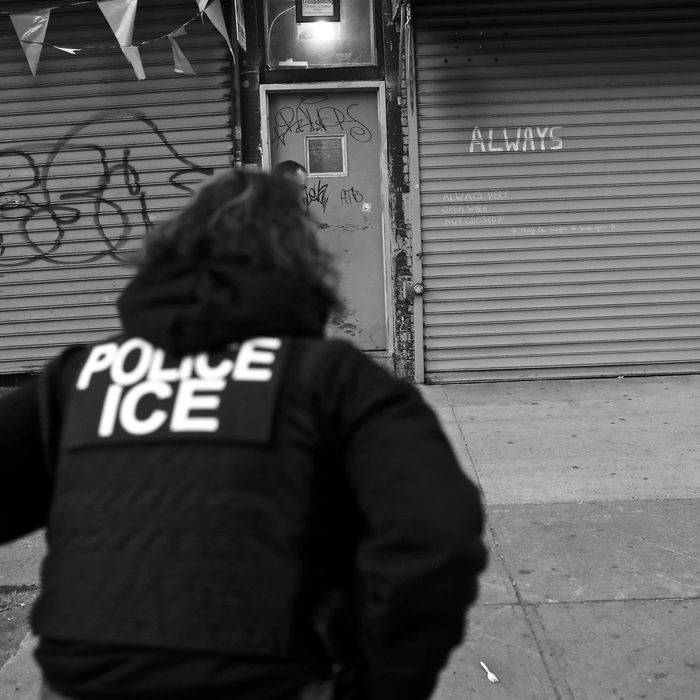 ICE.
Photo: John Moore/Getty Images
On Wednesday, ICE officials detained Joel Arrona-Lara while he was driving his pregnant wife, Maria del Carmen Venegas, to the hospital. Arrona-Lara was reportedly held because he was unable to produce ID, and was arrested at a gas station he and his wife were stopped at, according to the New York Times.
Venegas, who had a scheduled cesarean section, then had to drive herself to the hospital, where she had gave birth to a baby boy, alone. Arrona-Lara has been in the United States for ten years, but is Mexican citizen. The couple are the parents of five children.
Venegas was devastated that her husband was arrested. CCTV footage from the gas station shows her in tears as ICE agents put Arrona-Lara into an SUV. "My husband needs to be here," Venegas said to CBS2. "He had to wait for his son for so long, and someone just took him away."
Activists were infuriated by the arrest of Arrona-Lara, especially in light of the fact that Venegas had to drive herself to the hospital. ICE claims the arrest was a matter of national security, and that Arrona-Lara had an outstanding warrant for murder in Mexico.
According to Emilio Garcia Amaya, the couple's lawyer, there's been no evidence to corroborate ICE's claim. "According to the family, he has no criminal history in Mexico, and we did our own search through Mexican channels and we didn't find anything under his name," Garcia Amaya told the Times.
Arrona-Lara is still being held in detention. A GoFundMe has been set up for the family.