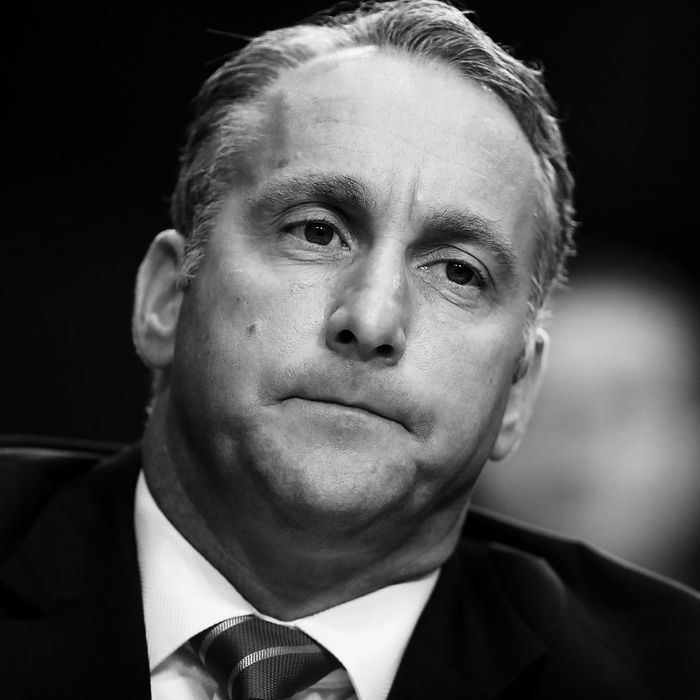 Matthew Albence, a senior ICE official.
Photo: Chip Somodevilla/Getty Images
At a Senate Judiciary Committee hearing on Tuesday, officials scrambled to defend their efforts to separate — and then reunite — thousands of immigrant families in the wake of Trump's "zero tolerance policy." When asked to describe the detention centers in which migrant children and their parents are being held — facilities in which immigrants are thrown in cages, forced to sleep on the floor with little food and medical care, and reportedly treated like animals — a senior official for Immigration and Customs Enforcement (ICE), said the facilities are "more like a summer camp than a jail."
"These individuals have access to 24/7 food and water," said Matthew Albence, ICE's head of enforcement and removal operations. "They have educational opportunities. They have recreational opportunities, both structured as well as unstructured. There's basketball courts, there's exercise classes, there's soccer fields that we put in there. They have extensive medical, dental, and mental health opportunities. In fact, many of these individuals, the first time they've ever seen a dentist, is when they've come to one of our centers."
It seems Albence's version of all-American summer fun involves cages rather than bunk beds, limited bathroom access, and notoriously cold "iceboxes," the widely used term for border processing facilities. Perhaps "extensive health opportunities" excludes a 4-year-old girl with a fever detained in Texas, whose mother was told by an officer that she "should have thought about that before."
The remark raised eyebrows from Senator Mazie Hirono, a Democrat representing Hawaii, who asked officials whether they would send their own children to these so-called "family residential centers."
Albence also praised the "tremendous effort and success" of family reunifications, "despite the myriad false allegations and misinformation that are propagated daily." I guess the Fake News Media has been routinely hiding all the smiley photos of migrant children throwing darts and roasting marshmallows by the fire.