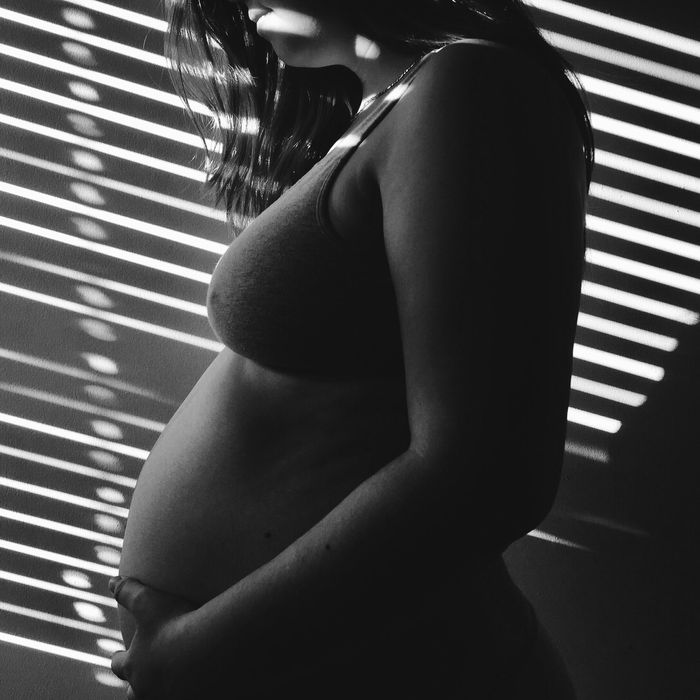 Photo: Daniel Esparza / EyeEm/Getty Images/EyeEm
A heavily pregnant woman is currently being held in an immigration detention center in Texas, where she has little access to basic prenatal services, according to a report in the Daily Beast. She has displayed a slew of worrying symptoms in the past week, advocates say — including fatigue, abdominal pain, and "serious vaginal bleeding."
The woman, who was not named because of her immigration status, arrived at the Dilley family detention center in Texas on July 27 with her three children, all of whom are under the age of 12; she had traveled to the U.S. with her husband as well, but he was sent to another ICE facility after they were apprehended at the border. She is currently 32 weeks pregnant — nearly halfway though her third trimester.
Katy Murdza, the advocacy director of the Dilley Pro Bono Project, which is representing the woman, says the woman has received prenatal vitamins but no ultrasound, as the facility doesn't have a gynecologist. "She's worried about what would happen if she went into labor here," Murdza told the Daily Beast. "We're an hour and 15 minutes from San Antonio. That's where the closest major hospital is."
Under previous administrations, ICE had a general policy of releasing pregnant women by default, except when the circumstances were "extreme." In March of this year, the agency announced that they'd be rescinding that rule and no longer automatically releasing pregnant women from government custody. In that same announcement, however, ICE maintained that "generally, absent extraordinary circumstances, ICE will not detain a pregnant alien during the third trimester of pregnancy." This case seems to be a direct violation of that.
And it's reportedly not an isolated incident: Murdza told the Daily Beast that her organization has seen three other women in their third trimester being held in detention; she also said she'd seen women with high-risk pregnancies kept in government custody.
For these women, the situation is dire. Last month, a BuzzFeed investigation revealed the horrifying ways that immigrant detention centers fail to care for pregnant women. Five pregnant women told the outlet that they'd suffered miscarriages due to the facility's abysmal conditions, and some said they were shackled around the stomach.
A spokesperson for ICE declined to comment to the Daily Beast, citing a policy of not commenting on specific cases, but said the wording of its policy was "not absolute" and left room for exceptions. The woman's baby is due to be born on September 19.