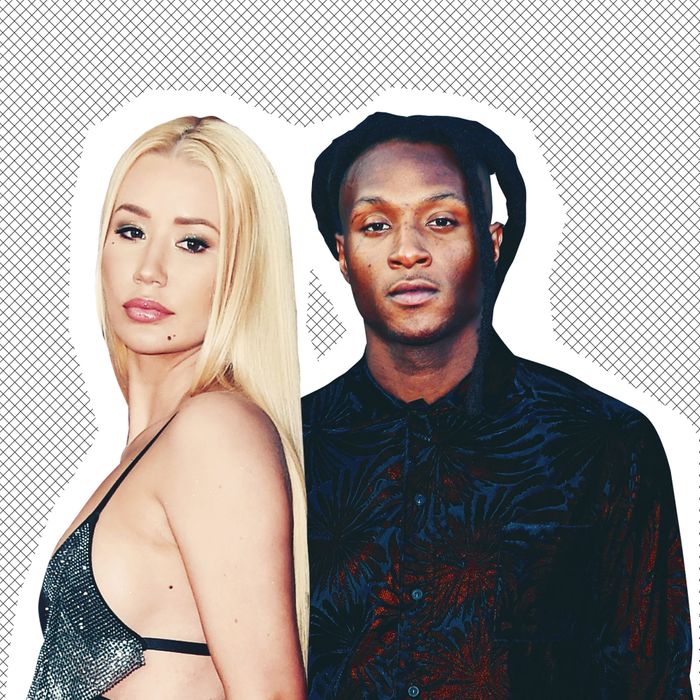 Iggy Azalea and DeAndre Hopkins.
Photo: Getty Images
The reports are, unfortunately, true: The New York Post confirms that Iggy Azalea and DeAndre Hopkins have broken up after having a passionate "one-day relationship." Below, a comprehensive timeline of all that transpired between them.
One week ago: Hopkins captioned an Instagram post, "My Aussies call me a legend," to which Iggy responded, "I could think of a few other things to call you." (Editor's note: Damn!!!) In the comments of a second post, which a fan shared to Twitter on August 6, Hopkins replied "yes, Indeed," when asked whether he was Azalea's "boyfriend."
August 8 (two days ago): During a classic game of True or False with Miami's Y100 radio station, the "Fancy" singer proclaimed that she and the NFL star were in an official relationship by saying, "Yeah, we're in a relationship."
August 10: Alas, all good things do come to an end. In a series of now-deleted tweets, Azalea took to Twitter to break the bad news, writing, "I have come to the conclusion I am going to be alone forever."
In a follow-up post, she elaborated on her emotional state. "I am completely fine with that," she wrote. "I have a routine now. I watch movies alone in the shower n shit … it's nice."
Hopkins, too, penned a now-deleted tweet: "Y'all know I can care less about social media, but ya boi is SINGLE!!!"
Best wishes to both of them as they attempt to heal their wounds.