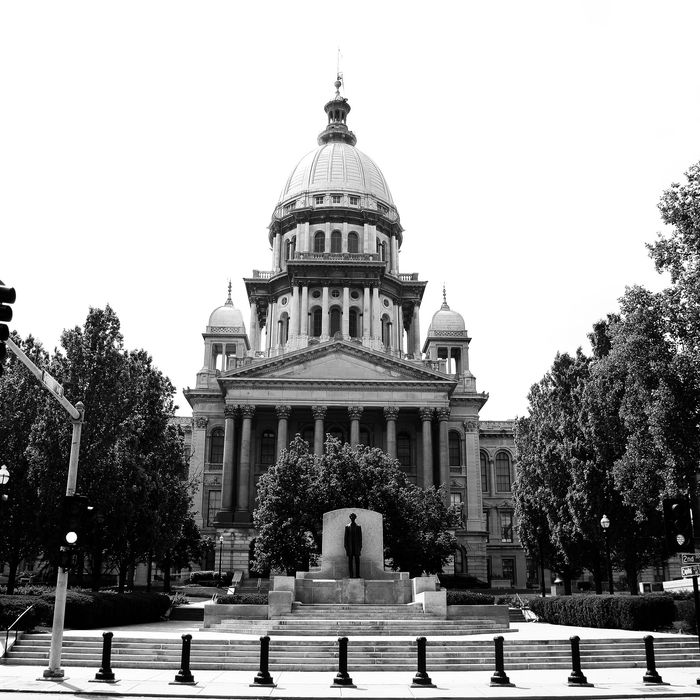 Illinois State Capitol building.
Photo: Raymond Boyd/Getty Images
First-term Illinois state representative Nick Sauer has been accused by an ex-girlfriend of making a fake Instagram account with nude photos of her in order to catfish men.
Politico obtained a complaint filed by Sauer's ex, Kate Kelly, with the Office of the Legislative Inspector General. In it, Kelly accuses Sauer of using the fake Instagram account to "to catfish other men using my privately shared naked photos. Nick would use this account to direct message men with my photos to engage in graphic conversations of a sexual nature. The men believed they were communicating with me and Nick shared private details of my life."
Kelly told Politico that she and Sauer started dating long-distance in 2016, after matching on Tinder. She said she moved from California to Chicago to be closer to him, but that they broke up in March 2018 when she found out he was dating other women.
After a brief reconciliation attempt, the two separated again, and in July, a man reached out to Kelly on Instagram to tell her that "he had been communicating for four months with someone pretending" to be her.
In her complaint, Kelly says her employer helped her try to figure out how long the fake account had been active, and that they determined Sauer started it shortly after they started dating. She also claimed Sauer admitted to setting up the account, writing in the complaint that he "came to my house & confessed to catfishing men with my photos for 2 years to at least 8 men. He was unable to provide the names and begged that I let it go."
Instagram has since taken down the account.
So far, no charges have been pressed against Sauer, who is a member of the state House Sexual Discrimination and Harassment Task Force, and faces reelection in November.
Updated, 08/01/2018, 2:35 p.m.:
Illinois State House Republican Leader Jim Durkin said in a statement on Wednesday that Sauer would be resigning from his seat following the troubling allegations against him, the Chicago Daily Herald reports.
"The allegations that have come forth against Rep. Nick Sauer are troubling," Durkin wrote in an email. "He will be resigning from office Wednesday. We should allow the proper authorities to conduct their investigations."
Illinois governor Bruce Rauner also called for Sauer's resignation on Wednesday, and said, "That's the right thing for him to do."