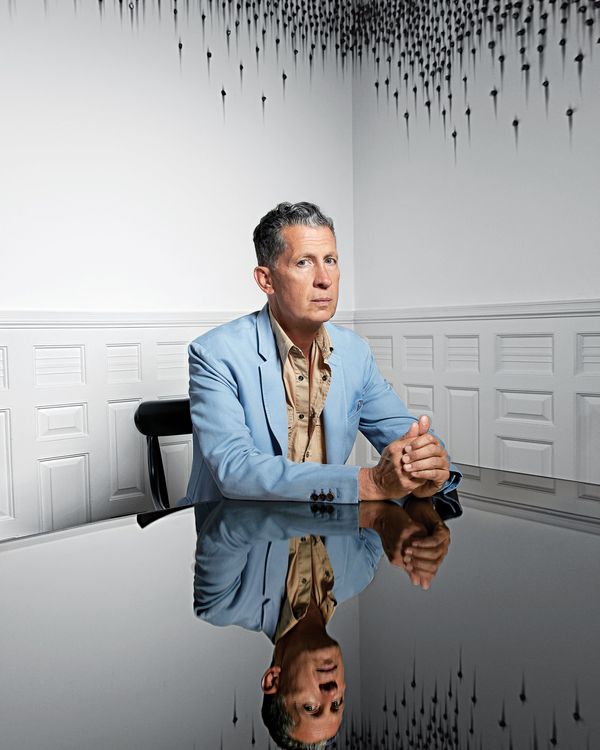 W
editor Stefano Tonchi at home.
Photo: Mackenzie Stroh
Stefano Tonchi, editor of W magazine, has had just about enough, albeit in an unmussed, well-mannered, and not terribly bothered sort of way. It was the afternoon of August 9, the day after the magazine's owner, the once mythically flush publishing firm of Condé Nast, had called a companywide meeting to run through various ways to save itself (most of which has already been leaked) after losing $120 million last year. Back-office functions were to be merged, seven of the company's 23 floors at 1 World Trade Center would be sublet, and three magazines — Golf Digest, Brides and W — were going to be sold. Tonchi had asked me over to his exquisite midtown apartment to explain how the news was "quite liberating in certain ways." W, you see, isn't being dumped: It's more of a conscious uncoupling. It just wasn't working anymore. And he wanted to give me his pitch for why, in an #influencer-dominated, finger-swipe age, W is, or could be, a viable brand for someone new (and, presumably, rich) to make a fresh start with.
But first, the apartment: It has 14-foot ceilings, and all of its circa-1885 moldings and leaded-glass windows are intact. There's a subdued Catherine Opie photograph in the foyer, a David Salle over the fireplace, and a gorgeously weeping Teresita Fernandez installation studding the walls of the dining room. The art world's favorite architect, Annabelle Selldorf, did the renovation. Tonchi and his husband, the art dealer David Maupin (the artists in the house tend to be represented by Lehmann Maupin), bought it seven years ago, after they had their twin girls and no longer fit in their place on West 12th Street. "We couldn't find anything downtown," he says. "And up here everything was on sale." Later, Tonchi mischievously shows me an empty apartment on his floor, wires dangling from the ceiling, papers scattered on the floor. He's clearly fascinated by the building's haunted opulence.
With a circulation of 460,000, W has always been a yacht compared to Condé Nast's big-circ consumer cruise ships like Vogue, Vanity Fair, and Glamour. He tells me that even after Vogue editor Anna Wintour took over as the company's artistic director in 2013, she was too busy trying to juggle digital business models to pay W much mind. So even if it didn't get "Anna-fied," as most other titles had, it also didn't get new resources. "If you cannot invest in it, or if you don't believe in it, or if it's not part of the large picture of what the company is going to be in the future, then why don't you sell it?" Tonchi says. "I mean, W was not the kind of magazine that you close. It has a great market share, it has a great history, great archives." And, he insists, even now, it's not a bad business.
W was founded in 1972 as an offshoot of the fashion trade paper Women's Wear Daily, the personal fiefdom of John Fairchild (who died in 2015). Fashion was then the domain of the sort of stylish, quasi-aristocratic people who wintered in Marrakech. If WWD was covering the business in Paris, Milan, and Seventh Avenue, W was its glamorous, flippant sister, the one who actually wore the clothes and went to the parties. In the forward to the coffee-table book, W: The First 40 Years, Fairchild wrote that the idea of the magazine was "to talk about fine living, which today sounds like a dumb phrase." W fixated on, and venerated, what Fairchild called "fashionable savages," which fit with the sensibility of the disco-era elites, from Jacqueline Kennedy Onassis to Nan Kempner to Calvin Klein.
By the time Tonchi arrived in 2010, from T, the Times style magazine, that era was long over. "Society became Hollywood," he says, and, in partnership with his editor-at-large, Lynn Hirschberg, as well as stylist Edward Enninful, he turned W into a kind of avant-garde celebrity magazine. (Enninful left to edit British Vogue last year.) There was also a great deal of coverage of the fancier precincts of the art world. The impish stories of the Fairchild era gave over to a more generous ethos, where everyone they covered at the very least got the benefit of the doubt. Gimlet eyes were no longer so welcome.
In addition to writing, Hirschberg, as deft a fame whisperer as there is, makes what they call "screen test" interview videos, which have become one of the magazine's successful digital franchises and one of the many reasons Tonchi thinks that a post-Condé W can make it on its own. W, he says, made a decision a couple of years back to focus its digital presence on Instagram. (It has a respectable 3 million followers, though Vogue has almost 20 million.) One post-print idea they are experimenting with is what they call an Instazine, a sponsored Instagram Story that's become a popular way of monetizing the app.
Meanwhile, early this year, W, which now publishes eight times a year, abandoned the pretense that it must come out on a particular month, renaming the issues "volumes" and clustering them around advertising's peak months in the spring and fall. "If I can have two or three September issues, why shouldn't I?" Tonchi says, paging through a proof of the second September issue, which is written and photographed entirely by women, and about women. "Inside that company," he says, "they don't want to talk about how to sell copies, or how to repackage magazines. They think that the future is digital subscriptions."
By now, Hirschberg has arrived, too, wearing sunglasses, with her wiggly pup. I ask her if she's hoping to be a part of the post-Condé W's future.
"Of course."
"She's my other wife," says Tonchi.
"We were married in some other lifetime," Hirschberg agrees. "Another world." She wants to know what we are talking about. I say how Condé Nast didn't support W. "They had priorities," says Hirschberg. "Having said that, sometimes I think they were very shortsighted in how they decided to focus on the future of the company. But that is just my opinion."
So who might be a suitor? Someone with experience in publishing would be ideal. Penske Media, which runs Rolling Stone and already owns Women's Wear Daily, however, has reportedly passed on it. Alternately, "a group of investors, a private-equity or luxury group, with deep pockets and interest in entering in the entertainment, art, and fashion world. For many of these groups, including digital and e-retail companies, it is all about access, authority, and influence. And W has those in excess!" He'd love to move it to L.A.
"I believe that W can be so many things when you think about it," says Tonchi, blue-skying it a bit. "You can create an education program, because so many people want to be photographers. We have the authority. We have the access. We can be a great creative agency."
Ultimately, though, and this is the core of the proposition for buying W, Tonchi and Hirschberg are both believers in print. "I spend all my time trying to get people to do video. I do other things, too, but without a print component it is very, very difficult," says Hirschberg. "This isn't only about W, but in general there's an enormous amount of clutter online. And print is clean. It gives you a kind of beautiful platform. Perhaps the people who own magazines don't care about the print version or the cover of magazines, but celebrities care enormously about having the cover of a magazine."
Tonchi continues the thought, rhapsodizing a bit: "The sense of resistance that the paper has. It's like, to be in a magazine, to be on a cover of a magazine, is something very tangible, and stays with you. At the end, you know, you want an edited version of reality, because you are overwhelmed by the quantity of information, of images, of things happening."
And W provides that. They hope to find a buyer by the end of the year. "Right now there is a big move toward digital," he says. "But we will be very soon in a kind of post-digital moment. Where people will say: 'Well, do I want to reach 10 million people who don't have a penny in their wallet?' "
*This article appears in the August 20, 2018, issue of New York Magazine. Subscribe Now!