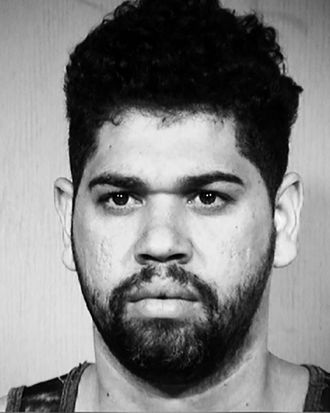 Fernando Negrete.
Photo: Maricopa County Sheriff's Office
After receiving an alarming call at an immigrant detention center in Phoenix, police have arrested a 32-year-old employee for allegedly molesting a 14-year-old girl who is being detained at the center, and on one occasion, entering the girl's bedroom multiple times in a single night.
The suspect, Fernando Negrete, works at the Southwest Key detention center in Phoenix. According to Phoenix's KPOH, the alleged victim's 16-year-old roommate was the first to raise the alarm: On July 25, she told officials at the facility she had witnessed Negrete kissing and inappropriately touching the girl in June. Later, police reviewed surveillance video that showed Negrete "approaching the victim's bedroom several times throughout the night" of June 27, per their report. On July 31, Negrete admitted to police that he had kissed and inappropriately touched the immigrant girl over her clothes.
In an interview with law enforcement, the 14-year-old said that Negrete intruded into her bedroom and kissed her on the lips, and that she "pushed him away and got away from [him]." Her roommate told police she had seen Fernando enter the room and kiss the victim "three or four times."
Horrifying allegations of abuse — both sexual and otherwise — in immigrant detention centers are well-documented; there have been reports of facility guards doing everything from stripping minors of their clothes to strapping them to chairs with bags over their heads. Centers run by Southwest Key — which the Department of Health and Human Services contracts to run more than 25 facilities for immigrant minors — have in particular been the sites of many such human-rights abuses. Just last week, The Nation reported that a 6-year-old girl had been sexually abused in another Arizona center overseen by the privately run company.
In a statement to KPOH, Southwest Key spokesman Jeff Eller said that Southwest Key will cooperate with outside police investigations, and is also conducting its own.
"When a child tells us of inappropriate behavior, we immediately call law enforcement and start an internal investigation as appropriate. That's what happened in this case," Eller said. "Southwest Key always works with law enforcement to bring the full force of the law to bear when it is warranted."
Negrete has been booked into jail on one count each of aggravated assault, molestation, and sexual abuse. His bond is reportedly set at $150,000.