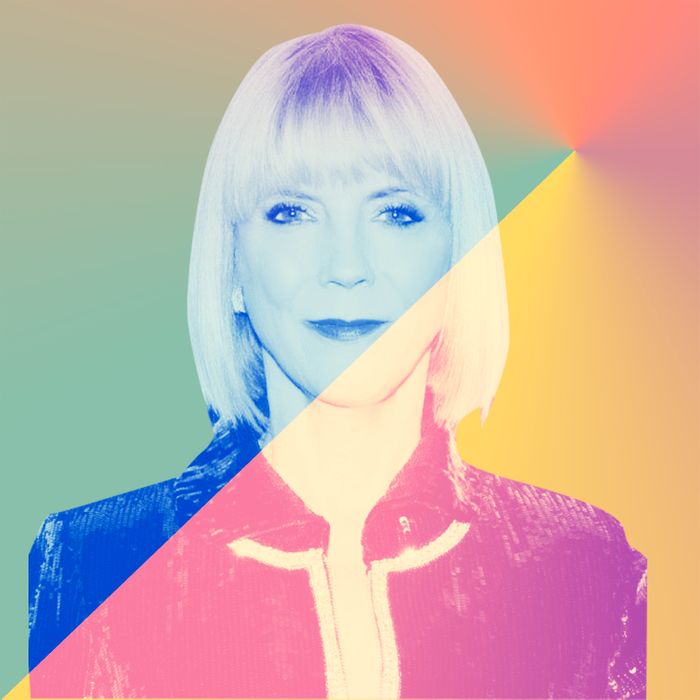 Photo: Courtesy of Carol Hamilton
Carol Hamilton was getting physical in a step class sometime in the late '90s when she came up with concept for Féria At-Home hair color.
"On the step in front of me was this beautiful African-American woman wearing a beigey-golden unitard. She had topaz eyes and had dyed her short hair this gorgeous golden shade. I became so enamored and fascinated with how pretty her hair color enhanced her skin and her eyes. No one had thought about that before."
And thus, hair color as a fashion statement was conceived. Féria encouraged men and women to think way past the standard constraints of black, brunette, redhead, and blonde tones. For only a few dollars more than most at-home color, the box contained better gloves, more conditioner, a more user-friendly bottle, and instructions that didn't look like they'd disintegrate in minutes. "We wanted to bring it as close as possible to the in-salon experience of hair coloring."
Hamilton, the division president of L'Oréal's Luxe Division, remembers the moment she received the faxes alerting her that the brand had surpassed Clairol thanks to Féria's success.
"My team and I were on some business trip and we had all gone to bed. Now, this was 1999, so there were no devices back then. I can still remember hearing the swishing sound of that envelope under my hotel room door at 11:30," smiles Hamilton. "We all got out of bed and met at the hotel bar to celebrate."
Hamilton's career began very Peggy Olson–like, as secretary to eight men on the creative side at Gray Advertising. After a couple years, her bosses began giving her script assignments. One day, the head of the department asked his team who had written the three scripts he had chosen for a Revlon Super Lustrous Lipstick campaign.
"They confessed that it was me," she smiles. "Next thing I know, I'm having lunch in the Oak Room at the Plaza with the boss."
She's been at L'Oréal for 34 years, having doubled the size of its luxe business since 2009, spearheaded such notable acquisitions as Urban Decay, It Cosmetics, and signing the Proenza Schouler fragrance license. In 2003, she created L'Oréal's Women of Worth program, which honors outstanding contributions by women in their communities. Having recently been named Chair for The Harvard Women's Leadership Board from the JFK School of Public Policy, it seems Hamilton never stops finding ways to connect with women of worth.
The Group President of Acquisitions spoke with the Cut about her penchant for real estate, going commando, and the time she boosted Mick Jagger's confidence.
Bath or shower? Bath with Kiehl's Midnight Recovery Oil. While it is for the face, I put a whole vial in each bath. It has a yummy lavender scent that makes each bath that much more relaxing.
Cleanser of choice: Glossier Jelly Cleanser and It Cosmetics Confidence in a Cleanser.
Eye cream of choice: Kiehl's Avocado Eye Cream. I practically drink it.
Mascara of choice: It Cosmetics Superhero. It stretches your lashes.
What, if anything, is usually on your lips: I change my lipstick all the time. My favorite is Urban Decay Vice 1993. It's the most amazing neutral. It looks good with everything, and it doesn't bleed. I always have it in my bag. When it comes to reds, my favorite is Armani 400.
What shade, if any, is usually on your toes and hands: Louboutin Prive, on both.
Bed linens of choice: Frette.
Purse of choice: Saint Laurent Rive Gauche bag. I love its multiple colors. If I have to condense bags for travel, it's small enough to stick inside another bag, but big enough to fit an iPad.
Work shoe of choice: YSL Tributes. I have 15 pairs. My favorite is red patent leather. I toured Tianmen Square in a pair of Tributes.
Casual shoe: I really love Asics sneakers. I also own a lot of Nikes.
Preferred fancy lingerie: Going "commando!"
What fashion look do you not get: Exposed midriffs.
What fashion look do you struggle with achieving: Anything super trendy — probably lace or netting.
Fashion item at top of wish list: A Gucci or Valentino gown.
What word or phrase are you known for saying? "Unacceptable" and "Awesome."
What word or phrase drives you crazy when others say it? "Great."
Form of exercise: Pilates.
Last great book: A Man Called Ove. It is a gift! It teaches you life lessons.
Best-selling book you could not get into: The Hunger Games.
What is always in your fridge: Seltzer water.
What do you do or take when you can't sleep: Ativan.
Favorite smell: Flowers. Especially roses.
Least favorite smell? Tobacco.
Who do you wish would run for president? ME! ;) A woman.
Favorite place in the world: My garden in Connecticut.
Describe your most starstruck moment: I was standing next to Mick Jagger backstage outside the press room at the Golden Globes. Only the Hollywood press was allowed there, but because L'Oréal sponsored the event, I was invited back there. Mick had just won for a song from the film Alfie and he was waiting to be interviewed. It was just the two of us leaning against a wall and he's in this blue velvet suit.
He takes a little mirror out of his pocket and looks at his face. I said, "You look great." He goes, "Really? Are you sure? Thank you so much." For me, the fact that it was so intimate and that I could make that comment to him and not follow it by handing him my business card, I think he appreciated. I cherish that moment of his vulnerability when he lacked confidence and I gave it to him.
Favorite meal and where: Sautéed shrimp at Oliva's restaurant in Bethlehem, CT.
Comfort food: Doritos in Cool Ranch flavor. I make the world's best guacamole, so margaritas, Doritos and guac and I don't need anything else.
Last binged TV show: This is Us.
Who, in your opinion, is currently crushing it? Time's Up and all of its founders.
What product in your domain is currently your favorite? We know that might change all the time, but right now, which one? It Cosmetics CC Cream. I love everything about it — the finish, the texture, the grapefruit scent. It feels like you are putting on a creamy moisturizer, yet gives beautiful coverage. In my opinion, it's much better than the leading tinted moisturizers. It's in a class by itself.
What do you foresee as the top beauty trends in 2019? Glowing, healthy skin, which can be achieved many ways. To be clear, it is not a minimalist or no-makeup trend. It can involve sophisticated skin-care regimens and procedures, as well as hybrid makeup/skin-care products to achieve the look. Glowing skin is the ultimate expression of wellness — a healthier lifestyle — which is today's new status symbol.
If you won the power ball tomorrow, what are the first five things you would do? (After, of course, donating the majority of it to your top charities.) Become a Harvard Fellow, buy a new apartment, spend time in Provence, become a landscape architect and take a safari in Tanzania!