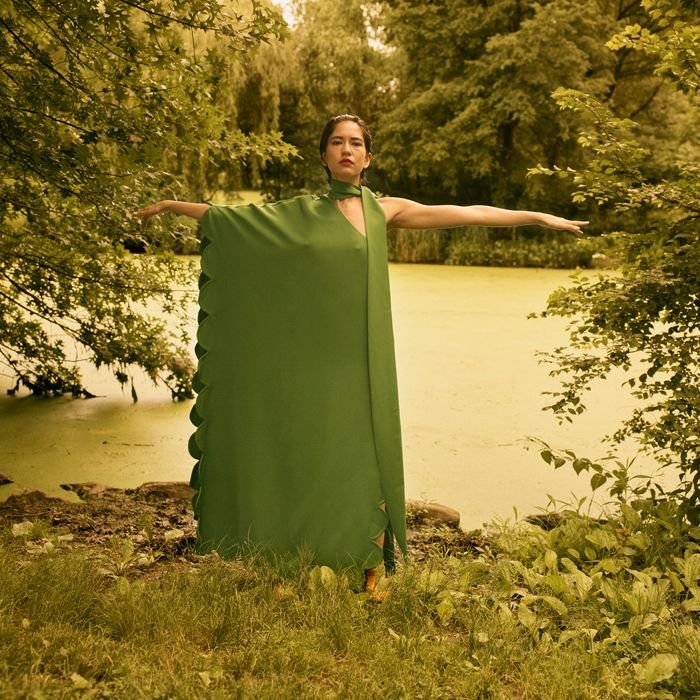 Crazy rich Asians? Sonoya Mizuno remembers her reaction when a friend mentioned the novel: I want no part of that. The Japanese-Argentinian-English actress, who plays Araminta in the groundbreaking film, thought it just sounded so far removed from her own world. But then director Jon M. Chu, who she first met at a K-pop concert, sent her the script. When she read the book, she said, she finally understood the appeal: "It was so funny and satirical, but in a loving way."
The frothy romantic comedy is the first major movie since The Joy Luck Club 25 years ago to have an all-Asian cast. Based on the New York Times bestselling book from Kevin Kwan, it tells the story of a Chinese-American woman (Constance Wu) who discovers her boyfriend (Henry Golding in his first acting role) is the scion of an insanely wealthy, secretive Singaporean family, complete with a disapproving mother (Michelle Yeoh) and one-percent hijinks (plastic surgery for fish).
Mizuno's new role as a bubbly heiress is different from the dystopian figure she's best known for playing: Kyoko, the robot who disco-dances with Oscar Isaac in Alex Garland's Ex Machina. (A former ballerina, she had a similarly silent-but-physical role in Garland's Annihilation.) Although the role of Araminta isn't huge, Mizuno has a scene so over-the-top that it elicited gasps at screenings, and early previews are already calling her out for her deft, comedic exuberance.
In person, Mizuno holds steady, inquisitive eye contact and speaks with a posh British accent punctured by curse words and laughs. Her career path is a testament to her boldness and focus: She danced for many years before burning her ballet bridges in a dramatic switch to acting. The same bravado seems to apply to her sense of style: She showed up to our interview with a pixie cut, explaining that she "just went into a London barber shop" and asked for the chop because she "figured they know how to do short hair."
In September, Mizuno will appear in the Netflix series Maniac, directed by True Detective's Cary Fukunaga and co-starring Emma Stone and Jonah Hill, and she's working with Alex Garland a third time on his new FX tech thriller. She's also the new global face of Shiseido. Below, she talks to the Cut about following her gut, meeting crazy rich Asians in real life, and the importance of Asian representation.
Well before your pixie, you played the role of Araminta – the supermodel heiress with the wedding of the year. The cast has described the making of Crazy Rich Asians as an incredible experience. What made it so magical?
It just felt different. You're in these foreign countries (we shot a lot in Malaysia and Singapore). It's beautiful and everything is delicious. We felt like we were making something rare and special. The tone of the film, it was very progressive — not every film is like that.
Then on the weekend, it was like summer camp. We would do karaoke and travel together. I loved the book and the way that Kevin satirizes the whole culture [of wealthy Singapore families]. It's very tongue-in-cheek and it's not cruel. I really liked Araminta. I thought, That's a person I could play. I have the accent and I kind of look like the part. But also, personality-wise, I am so not like her. She's the most far away from myself I've ever played.
Even more so than the robot in Ex Machina?
Yeah! Obviously, I'm not a robot. But Araminta's privilege is so far away from what I am. I started boarding at the Royal Ballet when I was nine. Nearly everyone at the school is there on some kind of grant or scholarship.
To get into character, I watched videos of socialite girls from East London on YouTube to get a sense of how they talked and did their hair — Chelsea girls. There are lot of those types in London and New York, who used to do reality shows from back in the day.
We had access to talk to Kevin and one of the things he told me is that these characters live such a life of privilege that they can't see beyond it. They're not purposefully doing anything wrong. For me, that's such a different way to be going through the world, living in a bubble.
You gave Araminta a madcap quality which I thought made her endearing. She's also one of the first to embrace Rachel, the outsider.
I wanted her to be madder but they pulled me back. I wanted it to feel like, She feels everything 110%. Everything. Maybe if we saw her on a bad day, everything would be a disaster. But on a great day, everything would be amazing.
I make physical character boards for roles and add images and words. For Araminta, one of the things I added was cheerleaders – those cheesy ones with huge smiles and bouncy ponytails. I felt like that was her energy, and lots of sunshine and flowers.
Have you met any real-life crazy rich Asians?
I didn't, but one of the girls — I don't want to say who — went on a date with one.
Do you get recognized from your sweet dance moves with Oscar Isaac?
No. Well, after the film came out, someone wrote on my Instagram, "Were you the girl eating the testers [samples] at Morrison's [a supermarket]?" Yeah. That was me. Thanks for recognizing me.
But even last night, we had a screening of the movie with Ronny Chieng and people were like, Congratulations. What character did you play? [Laughs.]
You started out in ballet. How did you get that big first role in Ex Machina?
I did want to be a ballet dancer, but then I found myself at 20, living by myself in Dresden, Germany, and working really hard, starting at the bottom of the ballet company there. I wasn't performing much, but when I was, I was doing it for old pensioners who wanted to see Swan Lake and not the interesting contemporary work I wanted to do. It became more and more meaningless.
I didn't have that bunhead mentality any more. I took time off and went to Japan and did modeling. I eventually went back to dancing and was offered a job with the Scottish Ballet. Again, I was living in fucking Glasgow and bored as hell. I was just going to the cinema by myself because everyone else was sewing their toe shoes.
One holiday, I thought, I'm going to try and see what happens. I still had a modeling agency in London and asked them for acting advice. They said they got an email about Ex Machina — it was one of those strange coincidences. The original audition was to be one of those girls in the closet.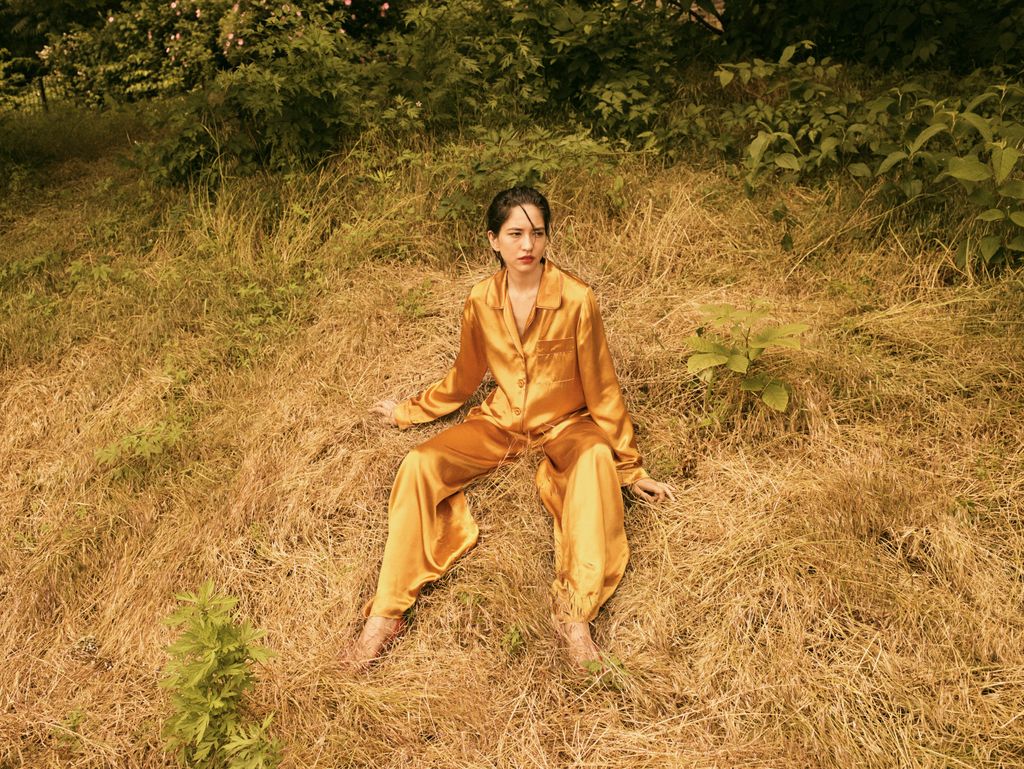 Did you have to dance in your audition?
For my audition, there wasn't any dancing — that came later. I had to get really angry and throw chairs around and collapse on the floor. Alex [Garland] said he liked me, but the director of the Scottish Ballet wouldn't let me take time off to do it.
Then Alex's team told me they wanted me to come back to audition for a bigger part. I had a deep understanding that I had to do it, which is something I don't have very often. I just knew I had to. Someone in the equity department of the ballet told me how I would be able to [leave the company] — but understand that there would no going back. My bridges would be burned. I had to get on a flight with a resignation email ready to send, send it, and then turn my phone off [and just be gone with no possibility of coming back]. I did that.
The next day, I went to audition for Alex. I had no place to live. Then I got the job! I was so lucky. Of course, years later, I went to the ballet with my friend in London. And the director of the Scottish ballet was sitting in the next row — for fuck's sake. [Laughs.]

So you're pretty much a prodigy.
Well then, I had a struggle after that just like anyone else. I couldn't get anything. I was 26, which sounds like nothing. But a lot of people told me I was too old and that it was too late to start acting. I didn't know anything. I was like, Oh fuck, and really scared. I did feel like I was too old.
People would also say, "You don't look really Asian but kind of Asian?" So I would be like, Should I dye my hair to be lighter? Should I curl my hair to look more European? Now I just don't do any of that. I look as I am, I am who I am. You can take it or leave it.
How do you think your race has impacted the way you're seen in casting?
It's just harder if you're not white. There are just fewer parts. It's definitely getting better. But when I first started going to auditions, they would be like, You have such an ambiguous look – in terms of casting that is not good. People are trying to cast in a particular way and if you are ambiguous, they can't put you in a box. I was constantly feeling like I was not right.
The jobs I've loved the most have been Ex Machina, Crazy Rich Asians, and Maniac, and they are all specifically Asian characters. I don't devalue my ethnicity. It's really given me a way in. If the part in Ex Machina wasn't for a Japanese girl, I couldn't have gotten it — same thing with Maniac. I love those characters so much. My Maniac character is so interesting, complex, and well-rounded; I was so glad she was Asian. It's great for representation — that this amazing person also just happens to be Asian but it's also not the only thing that defines her.
If a character is just there to be a token Asian, I'm not interested. There has to be a really good reason she has an accent or has a samurai sword. I feel disheartened when I see stereotypes because it's untrue and unfair. It just raises the level of inequality. It's damaging to all of us.
Representation and diversity are buzzwords, but why do you think it transcends being buzzy?
Just because it's true to the world we live in. I always want to do work that feels honest and that's harder to find than you imagine.
The entertainment industry has an effect on social consciousness. I never grew up thinking, Why aren't there any Asians? But then Lucy Liu came on and I was like, Oh my god, she is my favorite. I was nothing like her but I just loved her because she was the only Asian I saw. There was one Japanese principal in the Royal Ballet. Seeing someone like you is something you can grab onto.
There was some initial controversy about the casting of Crazy Rich Asians. Some people questioned whether the casting was "Asian" enough, as some of the actors are multiracial, and others objected to the casting of non-Chinese actors playing Chinese parts.
That kind of pissed me off. The reason it bothers me is because people don't have an issue with Australian actors playing American parts and English actors playing Polish parts. I don't have an issue with Margot Robbie playing those parts because she's terrific and she's the right person. So why can't an Asian person play an Asian part? It doesn't match up.
If I can't play that part, what can I play? A part that's half Japanese, a quarter English, and a quarter Argentinian? How many parts are there for that? It's hard enough as it is. Also, it's great in the film that there are so many different types of Asians. It's a celebration of Asian culture. I want to support people and feel like they're supporting me as well. There's no weirdness.
I don't want to ruin it for anyone, but there's a scene at the end of Crazy Rich Asians which teases that there could be another movie.
It is hinting for a sequel. Let's be real — it is basically going to happen.