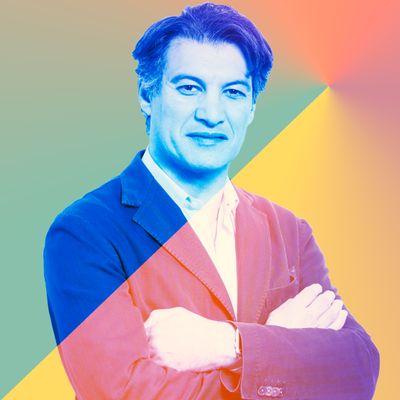 Photo: Courtesy of Frederic Fekkai
A handsome Frenchman moved from Paris to New York in the early '80s. Seemingly overnight, every woman in New York (Hillary Clinton, Martha Stewart, Demi Moore among others) suddenly wanted her hair cut by Frédéric Fekkai (and his name graced the door of the newly built sprawling salon atop Bergdorf Goodman).
The Aix-en-Provence native wasn't too tough on the eyes, either. Wearing the salon's signature crisp lavender shirt and black trousers, clients (like fine, me) melted in his presence. His glistening dark eyes would meet theirs in the mirror, and in the spirit of a sexy co-pilot, he would ask, "So. What are doing today?"
The notion of forking over $300 for a haircut in the late '80s raised eyebrows (which were probably also done at Fekkai). A luxury hair-care line quickly followed, as did a move half a block away (thanks to backing from Chanel) to a five-floor space that became Frédéric Fekkai Beauté de Provence Salon and Spa. Clients had to take elevators to get from their dressing room to their stylist or colorist. Salon owners Alain Pinon, Kao Hui, Susanna Romano, Julien Farel, and colorist Sharon Dorram are but a few who honed their skills at Fekkai.
Over the past three decades, his name remains synonymous with luxury hair care today, through both products and seven salons across the country.
But Fekkai himself has moved beyond hair. In 2015, he and wife Shirin von Wulffen purchased a beloved French classic, Cote Bastide. They trimmed the name, updated the formulas, and have resurrected the brand into a beauty and lifestyle collection inspired by the wellness of his native Provence, incorporating what he bemoans as the lost art of artisan and craftsmanship.
"The most beautiful people are the ones that don't try too hard and are just authentically themselves," says Fekkai.
Easy for him to say. Fekkai spoke to the Cut about his pride of Emmanuel Macron, the vegetable he'll never eat, and his weakness for eclairs.
Cleanser of choice: Bastide Figue d'Ete body wash/soap.
Who cuts your hair? Robert Sherman at the Fekkai Salon at the Mark hotel and Fabrice at the Fekkai salon in Soho.
Shoe of choice? Loafers from JM Weston.
Jeans of choice? Levi's 501.
Watch of choice: Apple.
Daily tote or carry-all of choice: The same leather briefcase I've had for 15 years.
Favorite smell: Verveine.
Least favorite smell: Anything too artificial.
Name a trait or talent you possess that few know about you: I pilot helicopters.
Most impressive meal that you make: Ratatouille, but only if the vegetables are from our garden.
Most requested meal your children ask you to make: Crêpes in the mornings.
What phrase or word are you known for saying? "Unbelievable!!!"
What drives you crazy? Unreliable people.
What is always on your desk? Large Post-it notes and my calligraphy pen.
What is always in your fridge? Coconut milk, yogurt, and lettuce.
What do you do or take when you can't sleep? I put a sprig of lavender on the windowsill and the breeze blows its scent in.
What did you want to be when you were growing up? A sculptor.
What should Pantone's color of 2019 should be? Terracotta.
What are you working on mastering? Maintaining the peaceful and slow-pace life of Provence when I'm in New York.
Comfort food: Hot chocolate with oat milk.
What food would you never eat? I really don't like red peppers.
Comfort music: The sound of cicadas.
Favorite spot in the entire world: Our country home, in Provence, playing soccer with my son in our yard.
Where do you go when you need quiet? The top of Mt. Saint Victoire.
What do you splurge on? Luxurious travel and experiences for my family. Yachting, sailing trips, discovering hotel gems such as Villa Treville in Positano, or getting fantastic seats at football matches in Europe.
Weakness? Espresso and chocolate eclairs.
What technology or app do you rely on most? FaceTime, to connect with my kids.
Favorite meal and where? The Vietnamese Bouillabaisse at Indochine. It's the perfect fusion of Vietnamese and French food.
Who has most recently surprised you? French President Emmanuel Macron for the positive energy he launched in France and Paris. He makes me proud to be French.
What do you wish you had invented? The cloud.
What product in your domain is misunderstood and should be a best seller? Body cream. It's especially amazing in Winter with dry heat.
What do you foresee as the top beauty trends in 2018? Ingestible supplements. Also, slow beauty regimens. By that, I mean slowing down our fast-paced lives and really taking care of ourselves. That's how you bring out your natural beauty. Rather than counting on products that promise overnight miracles, let's invest and take care of ourselves — eat organically, live well, enjoy life and spend as much time as close to nature as possible. It brings out an authentic, effortless beauty that is hard to mimic.
If you won the Power Ball tomorrow, what are the first five things you would do? (after, of course, donating the majority of it to your top charities…) Create a school for artisanal trades like baker, butcher, leather smith, hairstylists, and all the disappearing jobs. Check into a yoga retreat. Drive my 1971 silver-gray convertible Mercedes Benz through Western Europe. Take my family on a trip around the world. Go back to fine art school.