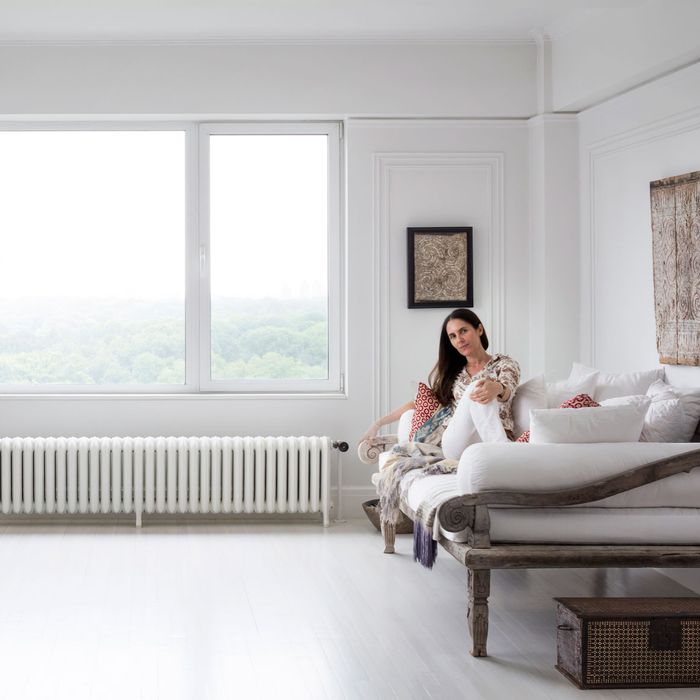 Andrianna Shamaris has not had a linear career path. She left drama school in London to work at Ralph Lauren's inaugural Bond Street flagship, where she was Princess Diana's personal shopper. Then she traveled the world for several years, picking up design inspiration and antiques. She sold antiques for a while, did a collaboration with Fred Segal, then finally started her own furniture collection. Her designs use beautiful organic materials, but she specializes in wood, sometimes adding resin or stone details. She sources her wood from Sumatra where her studio is and this year started producing a collection in New York. We spoke to her about The Crown, misanthropic tendencies, and never following trends (or using the word vintage).
How do you thank someone for a gift?
In person when I can, or via phone.
What would you never wear? 
Anything black. My roots are Greek, so I equate black clothing with death.
What's your dream vacation?
On a sailboat around the Greek Islands. I love the Ionian side, as it's less windy with lots of beautiful islands close together. It's such fun to wake up in a secluded bay for a 6 a.m. swim, then off to another island to dock for lunch, then another for dinner. My favorites are Ithaca, Meganisi, Kefalonia, or having lunch anchored off the island of Skorpios, the beautiful island once owned by the Onassis family. Then perhaps sail down to pretty harbor of Syvota for the evening. BLISS.
What's a good book on your coffee table right now? 
As a minimalist, I don't believe in coffee-table books. In fact, I don't even have a coffee table and I produce many incredible coffee tables! However, I don't mind keeping a few books on my nightstand. I'm currently reading The Goldfinch and The Subtle Art of Not Giving a F*ck.
Favorite piece of furniture in your apartment or office?
In my apartment I have a St. Barts ice-blue resin side table that is so multifaceted, it looks like a piece of jewelry. I never wear jewelry, so this to me is like my one piece of jewelry. Men take note!
Last show you binge-watched?
The Crown. It's divine. Great acting and I love the locations, especially as I'm from London originally. My brother, Kallis Shamaris, is the sound editor, and as I said to him, "Without you, the series would be basic."
What's your go-to dinner-party meal?
I'm a misanthrope so rarely have dinner parties unless it's Thanksgiving or Christmas, when I'll go all-out and make a feast of turkey with all the trimmings. Everyone raves about my homemade cranberry and orange relish.
What's your best antique find?
Multiple teak, low side tables from a tiny village in Sumatra where my studio is located. Very wabi-sabi.
Favorite place in the U.S. to shop for vintage?
I don't believe in the word vintage because it's just a new word for secondhand or used. However, my friend Rashida sells beautiful antique clothing outside the Mercer Hotel about three times a year, and I always find something fabulous from her. I have a large collection of Victorian white, cotton nightgowns that I'll wear with a denim jacket ,for example. I'm also in the midst of designing a clothing line that will combine beautiful, soft antique textiles. All one-of-a-kind.
What is a trend that you like right now?
I never follow trends. Ever.
Favorite museum or gallery?
The Met and Dia.
Shoes you wear most often?
Silver Nike Flyknit sneakers.
What's your favorite … 
Flower?
Wild roses.
Pajamas?
I prefer a white, cotton bias dress from my loungewear collection, Good in Bed. I established this label when I had my store in Malibu, California, and will be relaunching it spring 2019. It's perfect for sleeping or as a beach cover-up and handwoven from the finest cotton available.
Candle?
Rigaud Sunflower.
Scent?
Men's Christian Dior Eau Sauvage.
Sheets or bedding?
Frette. Only white.
Restaurant?
Le Bilboquet uptown and Bar Pitti downtown.
Suitcase?
Mandarina Duck.
Socks?
Hanes.
T-shirt?
Agnès B. and Vivienne Westwood.
Shop the Story
Photo: Courtesy of the Retailer
Photo: Courtesy of the Retailer
Photo: Courtesy of the Retailer
If you buy something through our links, New York may earn an affiliate commission.
This post has been updated to reflect where Shamaris sources her wood.