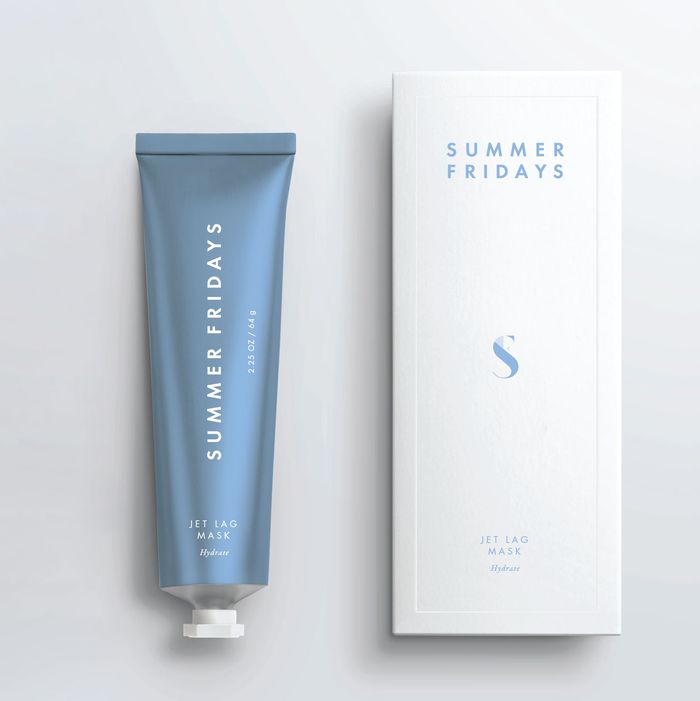 As a beauty editor, I get "Is it worth it" questions on a daily basis. "Is P-50 worth it?" "Is Glossier worth it?" "Is Fenty really that good?" The most recent question flooding my DMs: "Is Summer Fridays worth the hype?"
Since it was released in March, the face mask — created by influencers Marianna Hewitt and Lauren Gores Ireland — has become wildly popular on Instagram and Sephora. But can you really trust everything you see on the app?
To find out whether the mask lives up to all the buzz, the Cut had five staff members test it out. Read on to see how it worked on sleepless, hungover, and summer-cold-ridden skin.
Kelly Conaboy, writer-at-large
Last night I drank almost three glasses of red wine before going to bed. A mistake. To put my mistake to use, I tried using the Summer Fridays "Jet Lag Mask" as an overnight mask, a method suggested on the side of the box — a surprising bit of brilliance from sleepy and drunk me. I woke up feeling like I drank wine, but when I looked in the mirror I looked … fine! Slightly better than I normally do!
It was a small miracle, and I cannot believe this mask worked so well. It was very odd to feel hungover and look okay (how Jennifer Lawrence feels regularly, I assume), but it was an incongruity that I look forward to repeating the future.
I was also happy to see, at least so far, that the mask did not cause my acne-prone skin to incur any zits or oiliness. My skin was just moisturized and refreshed; it looked like I'd not only slept appropriately but also like I had drank enough water before bed, and also like I had a salad for dinner instead of a burrito. Pretty good.
Izzy Grinspan, senior editor
Before I had kids, I thought of myself as a person who didn't need much sleep to function. After having kids, I have a much sharper understanding of my sleep needs: It turns out that when my sleep is interrupted for long periods of time, I'm still relatively functional, but my entire face turns gray and droops gently toward the floor. This summer, both of my children have been waking up a lot, and I've been coping with my lackluster skin by wearing a lot of large distracting earrings — that is, until I tried the Jet Lag mask.
I'm generally skeptical of skin-care products that promise to make you look more awake (I've been betrayed by too many expensive eye creams), but holy cow does this stuff work, and work fast. As directed, I smeared a thin layer across my face and waited ten minutes. When I looked in the mirror, everything was firmer, plumper, and brighter. I looked like a person who did not have two children. Heck, I looked like a person who didn't have one child! Or a job, or anything more demanding in her life than a houseplant. That's how good the mask is: It will give you idle-rich-person skin.
I do have one minor caveats: I think the mask may have made me break out — but only a little, and honestly I'd prefer three tiny inconspicuous zits and overall radiance to no radiance and no zits.
Erica Smith, beauty writer
I'm currently suffering from the onset of a summer cold and struggling to keep up any semblance of a nighttime skin-care routine, so I was happy to try this mask. It was a little unnerving to slather such a rich formula all over my face when it's 90 and humid outside, but it was surprisingly soothing and absorbed fairly quickly. My face did stick to my pillow, which felt gross, but I also woke up the following morning with a very plump, dewy look, so I guess I can get over it.
I've always wondered what it'd be like to use an eye cream on my entire face, and that's what using this mask feel like. I think it's a little too rich to use on a regular basis. However, I can 100 percent see myself using this on cross-country flights, which always manage to suck the life out of my skin.
I have both dry and sensitive skin, so I appreciate anything that can hydrate my face without irritating it. I don't have any big trips coming up, so I decided to try it out at home (walking from my couch to the bathroom is a journey of sorts, right?).
I applied the mask and then sat on my couch for a few minutes. I was about to blindly take it off, and then said to myself, "Wait, read the directions first." I'm so glad I did, because it turns out, you aren't supposed to remove the masque. That sounded insane to me, but lo and behold, it worked so well! My skin felt tighter, hydrated and refreshed. Now I am excited to actually try this on my next long journey.
Emily Sundberg, Instagram editor
I'm always convinced face masks have to dry, burn, or itch to actually work. But after seeing this all over Instagram, I decided it was time to try a moisturizing mask.
I first used this while slightly hungover. My eyes were really puffy! I refrigerated it for a bit and put it on. That, plus drinking lots of water, was a great cure and make me look normal again.
When I tried it the second time, I mixed it with foundation. I was scared it was going to sweat off on the subway, but it actually felt really nice — not oily at all. I like that the company markets it to be many things: a mask, a primer, and a moisturizer. I'm not sure exactly how it works, but I will definitely keep using it. Thank you to Summer Fridays for ending the stigma that masks must be scary and intense!