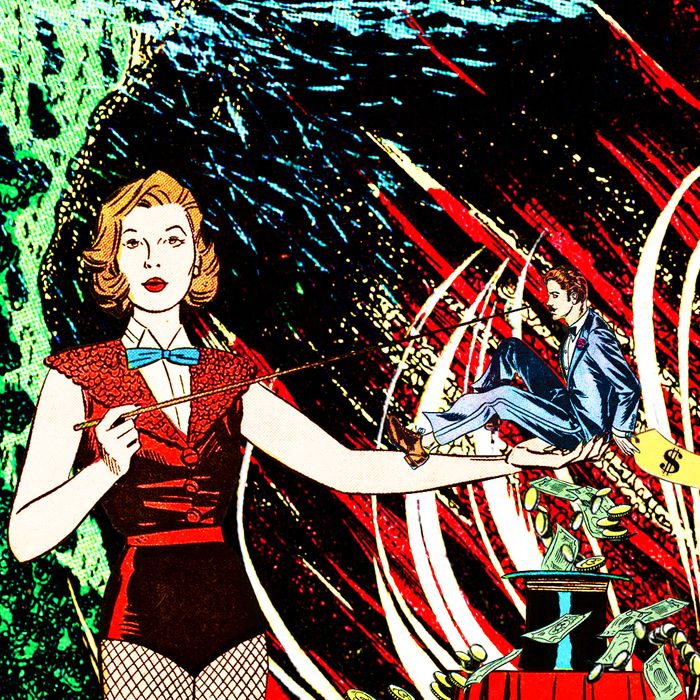 Welcome to It's Complicated, stories on the sometimes frustrating, sometimes confusing, always engrossing subject of modern relationships. (Want to share yours? Email pitches to itscomplicated@nymag.com.)
The eBay listing read like an eight-word short story: "Wool and silk blend; brand new with tags." But I could verify that this listing was indeed very real, because it was written by my ex-boyfriend. The Comme des Garçons tie he was selling was the same one I had given him for Christmas just 12 days prior.
A quick timeline of our breakup: I'd bought the tie around Thanksgiving, and then searched antique stores in Brooklyn for a fitting package before deciding on a vintage cigar box. That was right before I took a ten-day trip to Thailand, which I'd planned prior to our relationship; when I came back, things were off between us, noticeably and immediately. And then he told me, with the scents of sunscreen and airplane still on me, that I hadn't been pulling my weight in the relationship.
I left too many clothes at his house. I didn't put away my hair dryer. I did less of the shopping and cooking. Later, he would tell me that it wasn't any of those things; really, the issue was that he didn't know what he wanted out of life generally. But I had already taken his first explanation to heart. At any rate, whatever he wanted, I wasn't it.
There's something particularly disorienting about a relationship cut off in the honeymoon phase. January passed in a fugue state, as if my jet lag had never lifted.
One day, I got an email from eBay reminding me about my dormant account. And suddenly, an odd thought occurred to me. In the past, I'd seen my boyfriend auctioning off valuable possessions that he no longer wanted. I'd even printed the shipping labels for him at work.
It wasn't hard to figure out his username. He had listed the tie the night before.
My hands shook as I tallied my options. I could text or call. I could simply send him a screenshot of the listing. Or … I clicked "Buy Now." Congratulations, you have won this auction! the website proclaimed. Under "Note to Seller," I wrote my own eight-word story: "Only meant for one person, sorry. Love you."
That was my first ever eBay purchase. After that, a whole world opened up to me. I spent hours browsing vintage press archives, particularly drawn to photographs of modern architecture, with sleek, cool lines that felt like the opposite of the jagged heartbreak consuming my personal life. Packages arrived from Connecticut, Michigan, Iceland. I bought a lot of photos from a man named Skip, who packed them flat between scraps of cardboard. "Thanks again, Daisy!" he'd scrawl in sharpie, tucking the note into each package he sent. "Stay safe, Daisy!"
Skip didn't know that I cried myself to sleep every night. Or that I had recently undergone an inconclusive audit of my personal flaws to determine whether I was at fault in the termination of my relationship.
The tie never arrived. Eventually, my ex-boyfriend reached out, and we agreed to cancel the transaction. After that, we started to see each other again, off and on. Almost every time we went on a date, though, we would end up having a slightly different variation of the same discussion that had broken us up: What did he want from me? He didn't know. Where were we going with this? Who could say.
A particularly memorable version of this conversation happened on the Brooklyn Heights waterfront, under a 25-foot-tall sculpture called Understanding, by British artist Martin Creed. Like a beacon, the word "Understanding" — illuminated in red neon — slowly rotated above us. It was too perfect. My ex was frustrated. I cried. The cycle started all over again. I bought more things from internet strangers.
I've always been a sentimental person, one who struggles to let go of people and things. With eBay I didn't have to struggle — I could project my own narrative onto other people's stuff.
Or so I thought. At one point, I bought a stunning wedding photo of a couple being married in a mid-century modern chapel. But when I tracked them down in hopes of writing about the image, I found out that they ultimately divorced. This was not the romantic tale I had hoped for.
The woman in the photo had since passed away, but something the man said about the marriage really stuck with me: "It was not a non-love story, it just was not a lasting one."
Every time I went to my ex's apartment, I would sneakily check the tie to see if he had taken off the tags. He never did. But eventually, I stopped caring. The tie belonged to him now, and he could do whatever he wanted with it. It was his story to tell. And eventually, I allowed myself to hope for something better than the past: new love, never worn.