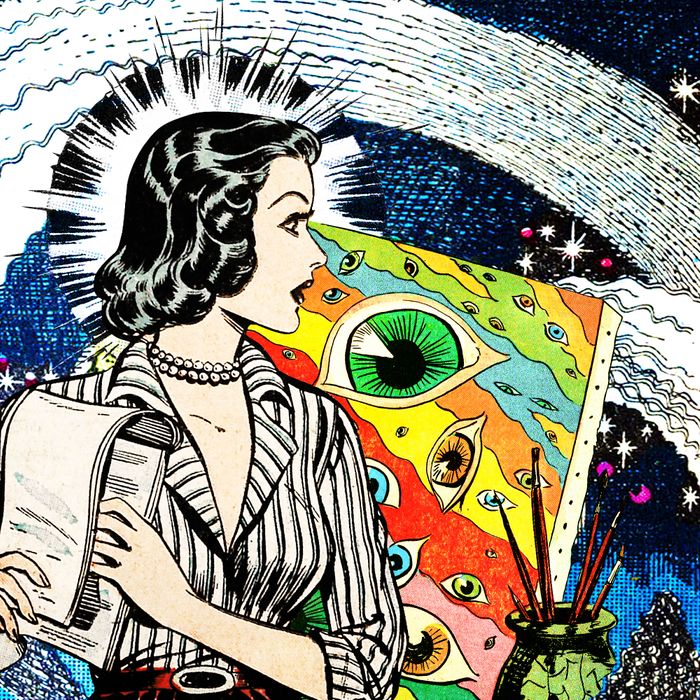 Welcome to It's Complicated, stories on the sometimes frustrating, sometimes confusing, always engrossing subject of modern relationships. (Want to share yours? Email pitches to itscomplicated@nymag.com.)
It was the early afternoon, and I was strolling around my neighborhood, coffee in hand, with Sam, a six-foot-three man who had an eagle tattooed across his muscular back. I hadn't actually seen said tattoo in person, but I knew about it from his Tinder profile, which prominently featured a shirtless picture. I had swiped on Sam because he was hot, yes, but that was only part of my interest. More appealing to me was the fact that his profile also mentioned his unique job — a sex therapist who incorporated hands-on work. My vanilla self immediately needed to know: What was it like to help people sort out their intricate sexual problems without traditional constraints?
"I have lots of women coming to me who have problems orgasming," he told me as we walked.
"Makes sense." I said. "Do you touch the women?"
"I'm not a surrogate," he said, referencing a type of sex worker that has intercourse with clients for therapeutic reasons. "There can be touching but no kissing. Mostly, it's just talking."
"What is the secret? What helps the women?"
"Emotionally letting go. Practicing that tends to help a lot," he said.
I was enthralled. There was no spark as far as I could tell, but still, I didn't want the conversation to end.  As far as I was concerned, it was a pretty good date.
My Tinder tagline reads, "Curious about myself, the world, and you." And I mean it: While I use the app for the typical reasons (love, lust), I've also come to think of swiping as my own form of anthropological research.
Who were all these fascinating characters shuffling across my iPhone screen? It seemed silly that I'd never find out just because we didn't seem like a romantic fit.
When I told my friend Wilburn about my habit of going out with men because I wanted an hour to interview them about their lives, he laughed and told me, "You're  like a Tinder tourist."
It wasn't an inaccurate description. In my pajamas, from the comfort of my couch, I could use the app almost like an atlas, to give me access to worlds I would never otherwise know. My matches spanned a crazy range: the highly Googleable and married tech CEO gazillionaire who erased and redownloaded his Tinder so frequently that I matched with him at least 15 times. The straight go-go dancer who was nationally renowned in gay clubs and had an Instagram following to match. The Harvard legal scholar and self-proclaimed therapy addict who grew up Hasidic and once spent a summer blessing meat at a kosher butcher in Berkeley just to be able to get a single session with a famous California psychoanalyst. The 40- year-old outdoorsman who had given up his cushy job to hitchhike around the country and live in hostels. A handful of reality-television alums: one guy from Survivor, another from The Bachelorette, two from American Ninja Warrior.
In 2013, when I first downloaded Tinder, the superficiality of swiping felt like a welcome change from the novel-length profiles of OKCupid. I became giddy with the ease of accumulating matches, picturing riding off into the sunset — or at least into bed — with each of them. But with each awkward first meeting, I began to realize more and more that chemistry was elusive, unpredictable — just as impossible to gauge from a photograph and tagline as from a longer profile.
"The problem with Tinder," my friend Jenny said, "is that there are too many people to sift through."
She swore by Hinge and Coffee Meets Bagel, apps that limited matches to friends of friends. But why would I want to limit my pool to only men who could be invited to the next house party I went to? The more I thought about it, the more I realized the true benefit of  Tinder: It gave me access to all these men I would never come across in my daily life. And even if I didn't want to date them, I wanted to meet them.
I stopped swiping only for chemistry — I'd be elated if I stumbled upon it, but it was no longer my primary goal.
And this was how I ended up paddle-boarding with a Greenlandic helicopter pilot who, over the sound of the waves, shouted stories of rescuing sled dogs in the middle of nowhere, Greenland. "I don't know how we got all 13 of them into the helicopter," he said. "The smell was almost unbearable."
And how I ended up examining shrapnel wounds on the arm of a war photographer over tea as he told me about the time he flatlined not once, but twice, while on assignment in Syria, and the PTSD that came afterward.
"You don't get a break like the soldiers," he said. "There are no tours. One war ends, and you just fly to the next one."
And how I ended up walking around my neighborhood with Sam, listening to how he had once been hired to give a progressive version of sexual education to an 18-year-old boy, including an exploration of kink. I hadn't felt particularly drawn to any of these men — at least not sexually or romantically — but they were kind and thoughtful, and together we'd had amazing conversations. Challenging ones, sometimes — Sam's openness about sex both scared me and fascinated me in a way that made me examine my own repressions.
And it turns out my Tinder strategy might inadvertently be a good one for finding an actual match, too. According to psychotherapist Ken Page, author of the book Deeper Dating, my two primary motivations to go out with someone from Tinder — novelty and curiosity — are powerful aphrodisiacs.
"It is more enticing for someone to hear, 'Tell me more about this part of you' than 'I really like you,'" he says. Like my friend Wilburn, Page likens my approach to tourism: Going out with all these different men is exciting and stimulating, like exploring a new foreign place. "Dating is an adventure of growth," he says, and even if I don't find a connection with a given person, I might find a certain appealing quality or attribute to incorporate into my understanding of what I want in a partner. Every date brings me closer to knowing what I'm looking for.
"You get to take a souvenir with you," he says.
I thought about the end of my date with Sam, the sun falling behind the buildings as we ate ice cream on a bench, the conversation turning to #MeToo and my own difficulties with sex. "I know what you mean," he kept saying. "I mean, I do and I can't."
And I felt understood — not such a bad thing to take away.