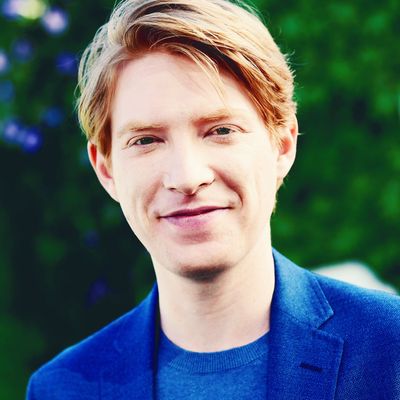 Photo: Emma McIntyre/Getty Images
As we head into Labor Day weekend — the night's darkness coming earlier, the excruciatingly hot days an obnoxious reminder of all we are about to lose — we must mentally prepare ourselves for what is to come. Visualize the changing leaves, stir excitement within our bones for chilly afternoons spent walking alongside the changing leaves, order an unnecessary pair of fall shoes under which we might crush the changing leaves, etc. But, of course, at the top of our pre-autumn to-do list is this: We must steel our soon-to-freeze hearts with a toasty autumn crush.
An autumn crush is not dissimilar to a spring fling or a summer love or a winter boyfriend in that it is a season with a romance-related word after it. However, I believe it is more necessary than all of the others, save for the winter boyfriend, which is both a necessary concept and a necessary example of what internet writing used to be. An autumn crush lifts the heart when it is in danger of sinking; an autumn crush pairs well with a new sweater and the smell of a fireplace; and autumn crush picks you up on its chilly wings and carries you into the new season, joyously. It's like a "Feu de Bois" candle, in that way.
Your autumn crush may be someone you know personally, or it may be someone you do not. Maybe it is someone you developed a hookup relationship with over the summer and now maybe you love them, but you are not sure if they love you back. Maybe it is someone you only know from Instagram. Maybe it's me! (I'm flattered.) My autumn crush, personally, is the Irish actor Domhnall Gleeson, and, oh my god, I love him so much. He's so charming and tall. Listen to him talk:
Ugh, he's so cute. Domhnall Gleeson. He seems like a guy who would always dress appropriately for the occasion. And if you were in a conversation that you didn't really know how to carry he — even if the other party is your acquaintance — would step up and carry the conversation. Like, "So, uh, whot do you do in that loine of work?" You know. Very charming. Definitely a fun wedding date. Likely a good texter. Cute and unmarried, leaving the possibility open that I may marry him one day. He is my autumn crush.
Can your autumn crush also be Domhnall Gleeson? Hm. I guess. I mean, I can't really do anything to stop you from making Domhnall Gleeson your autumn crush. My only stipulation is that when you speak of him in terms of him being your autumn crush you add, "of course you know he is also Kelly Conaboy's autumn crush." Then I see no issue.
Rather than focus on Domhnall Gleeson, though, maybe you want to consider, ah, you know. Who's a good one. Domhnall Gleeson is particularly good for a crush this autumn because he has a spooky autumn movie coming out, but a peg isn't necessary in your private life. Though there is Beto O'Rourke? Maybe you like him. And Tessa Thompson. But then obviously there's Mark Ruffalo, the kid from that movie who is just like Mark Ruffalo, and Bruce Springsteen. Courtney Barnett. Michael B. Jordan, obviously. Rami Malek. They both have movies coming out. Saoirse Ronan? I don't know, you can pick your own.
Thank you and happy choosing.