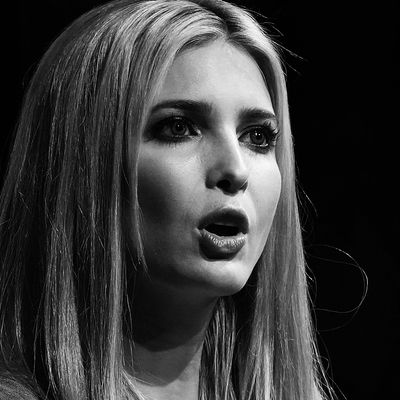 Ivanka Trump.
Photo: Alex Wong/Getty Images
Six weeks ago, President Trump signed a misspelled executive order ending his administration's cruel and inhumane family-separation policy, which ripped over 2,000 migrant children and babies away from their families at the U.S.–Mexico border. Six weeks later, First Daughter and senior adviser Ivanka Trump took a bold stance on the issue, calling this practice "a low point for me."
In an interview with Axios on Thursday, Ivanka said:
That was a low point for me as well. I feel very strongly about that, and I am very vehemently against family separation and the separation of parents and children. … I think immigration is incredibly complex as a topic, illegal immigration is incredibly complicated. I am a daughter of an immigrant, my mother grew up in Communist Czech Republic, but we are a country of laws. … we have to be very careful about incentivizing behavior that puts children at risk of being trafficked, at risk of entering this country with coyotes or making an incredibly dangerous journey alone. These are not easy issues, these are incredibly difficult issues and like the rest of the country, I experience them in a very emotional way.
This is the first time Ivanka Trump has publicly spoken out about the disastrous policy. However, she did privately tell her dad that the photos of children being held in cages were a "problem," and even went as far as to wonder, "Daddy, what are we doing about this?"
At the height of the outcry over the family-separation policy, she also memorably tweeted a photo of herself cuddling her 2-year-old son with the caption "My <3!"
Meanwhile, many separated children have yet to be reunited with their families. As of last Friday, only 1,442 of the 2,551 children over 5 who were separated from their guardians had been reunited. The administration also admitted in a court filing last week that 463 parents had already been deported without their children, and it is unclear how these families will find each other. Indeed, a "low point."