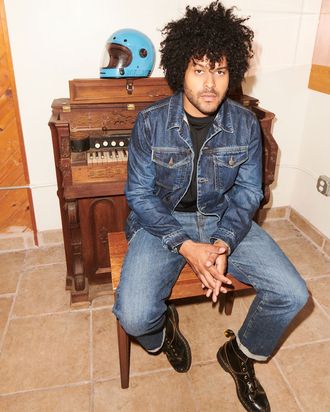 J Brand's sustainable men's collection.
Photo: Courtesy of the Retailer
One of the most oft-shared facts about sustainable fashion is that it takes 1,800 gallons of water to make one pair of jeans. J Brand is setting out to rectify that in a new capsule collection and initiative. The plan is to release a fully sustainable collection for spring 2020 (coincidentally the same year that Zara and ASOS have committed to more eco-friendly practices).
The ten-piece capsule, out now on the J Brand website, features four pairs of women's jeans, five of men's jeans, and one jacket (which is technically part of the men's collection, but is a cozy-looking staple). Each piece was made using 90 to 99 percent less water, on average, and uses recycled paper tags and sustainably sourced zippers and studs. The dyeing process also eliminates some harmful chemicals, including potassium. The women's jeans are made with a blend of recycled cotton and sustainably produced synthetic fabrics.
The brand partnered with the Jeans Innovation Center in Los Angeles to produce the collection. The center had previously worked with Uniqlo, though their capsule focused more on design innovation rather than sustainability. Check out the first women's sustainable styles from J Brand below, and keep an eye out for more to come.
If you buy something through our links, New York may earn an affiliate commission.