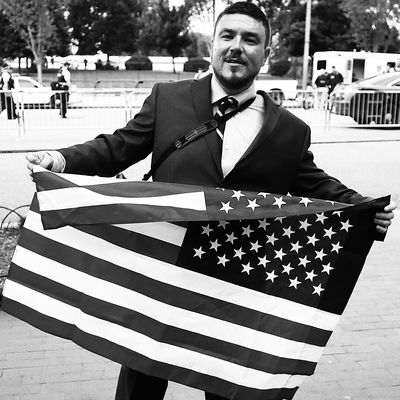 Jason Kessler.
Photo: Mark Wilson/Getty Images
Jason Kessler, the disgraced organizer of last year's violent "Unite the Right" white-nationalist rally in Charlottesville, as well as its under-attended follow-up this year, is suffering public humiliation yet again. In a clip from a June livestream that's currently making the rounds on Twitter, the self-described white-rights activist is shown discussing his anti-Semitic views with an avowed neo-Nazi, former Senate candidate Patrick Little, when his dad interrupts.
"Hey, you, get out of my room," calls a voice from outside the frame, interrupting Kessler's flow of alt-right conspiracy theories suggesting that white people are suffering from "ethnic cleansing."
"You got a drunk roommate, there?" asks Little, who recorded the livestream from a boat, which he calls his "bad boy" and apparently maintains "in case of eviction."
"Something like that," Kessler replies. "I've got somebody who supports Orthodox, uh, Israeli, like, is — we're at a crosshairs on that stuff."
His father, still offscreen, is not pleased. "I want this to stop in my room, Jason. This is my room."
Upon Little's asking if Kessler was staying "with an Orthodox Jew," Kessler admits it's his father, then complains about his family watching TV programs that show "constant anti-German propaganda."
"I'm stuck in a situation where I have to stay with my family because I'm paying for all these lawsuits, and I can't afford to do that without staying with my family. They're cucked."
Kessler and his cohort are facing a series of lawsuits from Charlottesville residents and businesses for the violence incited by last year's Unite the Right rally. Kessler, a 2009 graduate of the University of Virginia, sued the city of Charlottesville over its decision to deny him a permit this year, but dropped the suit the night before this year's rally, which drew more counter-protesters than neo-Nazi supporters.
Like other parents of white nationalists, Kessler's father, Eric, is struggling with the situation. He told The Washington Post he is "dismayed across the board … We've never identified with racial politics."
He said the two have had little contact since he learned of his son's radical views — except, of course, when he has to kick his son out of his room.