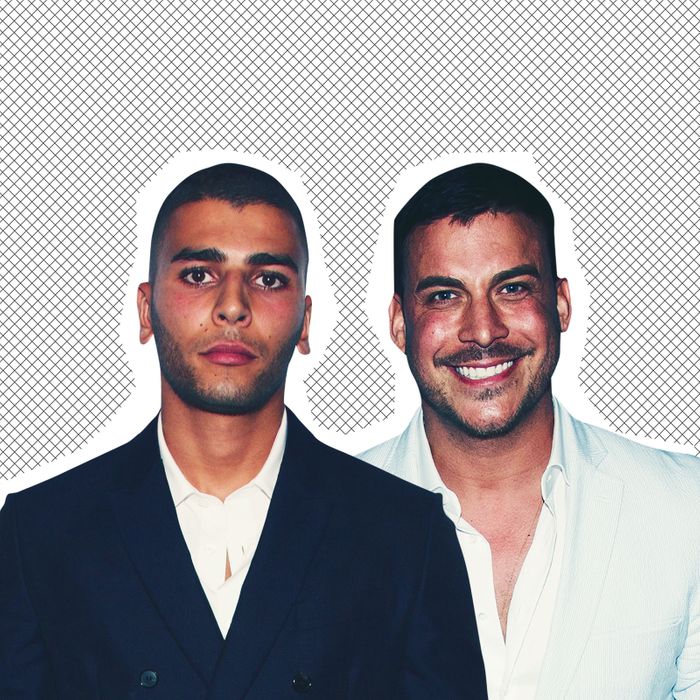 Younes Bendjima and Jax Taylor.
Photo-Illustration: Getty Images
Jason Michael Cauchi, more commonly known as Jax Taylor, 39, is a model, bartender, and sunglass thief who stars in Bravo's reality series about stunted growth, Vanderpump Rules. Younes Bendjima, 25, is a model and Kourtney Kardashian's now-ex-boyfriend, whom she reportedly broke up with after he left a rude comment on a bikini picture she posted. Though the two have a lot in common (modeling; reality TV; being rude to their girlfriends) I never pictured them crossing paths, but I see now that was naïve and that the universe has a grander, more complex plan than any of us can possibly imagine, as evidenced by Jax's Instagram story today.
On Tuesday afternoon, Jax posted a mirror selfie at the gym. Also pictured in the mirror: Younes, sitting on a piece of equipment I can't immediately identify, a bottle of Smartwater at his feet, checking his phone. Jax captioned the picture: "When Kourtney Kardashian dumps you and you have to slum it like the rest of us at a normal gym. No more figi (sic) diamond water either. Got to drink that smart water now."
Here it is:
I know Jax was just joking because he used that laugh/cry emoji, but honestly, that gym looks nice, and Smartwater is definitely good because it's made from Jennifer Aniston's blood or whatever.
Also, this does kind of seem like an invasion of privacy, because generally the only gym pics people should share are ones they take and post themselves to make their exes jealous and sad, but maybe the rules are different for Bravo stars and Kardashian-lovers. Or maybe Jax and Younes talked and Younes gave Jax permission to use his picture; we simply don't know and we need at least 300 percent more information.
While you decide if you think Jax's post was intrusive or not, here are some of the other Instagram stories he posted.
Thank you Goddess for this important crossover event. If only there had been camera crews present.