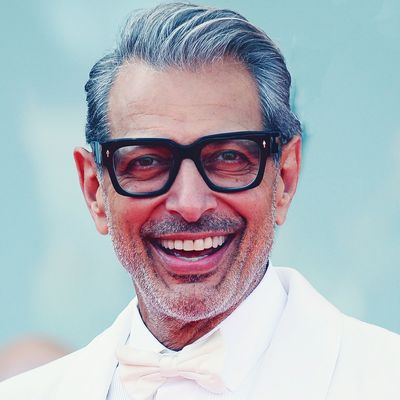 The Internet's boyfriend.
Photo: Eamonn M. McCormack/Getty Images
Jeff Goldblum, international sex symbol, has no problem with the internet's collective crush on him. While eating spicy vegan wings in white jeans on First We Feast's "Hot Ones," the actor was asked how he feels about constantly being called "daddy."
"It's sweet. Isn't that sexy talk? I think it means sexy talk," said Goldblum, 65, adding that he is an actual daddy to his two sons, 3-year-old River and 1-year-old Charlie. "Sometimes they say 'zaddy.' What's that mean?"
When host Sean Evans told Goldblum it typically means a very attractive "daddy," he was on board. "The spicy daddy. Yeah, sure. I like it. Zaddy!"
Goldblum also spoke of his fixation with "dad shoes," particularly the Balenciaga Triple S. He said when he first brought home a pair of the shoes in gray, his son and wife, Emilie Livingston, made relentless fun of him, chanting "dad shoe." But Livingston supposedly soon picked up a colorful pair of her own, and according to Goldblum, he "love[s] to see her in them. She's so sexy in them. She's a gymnast, she still possesses the most beautiful body I've ever seen in my life," he said, intermittently stopping to pant. "Her legs are just perfect sculptures. She puts on a socklet, and she puts on that shoe with a dress. We've been together 7 years, but I'm still … deeply fascinated."
Watch the entire interview below, in which Godlblum chokes back tempeh wings in an increasingly hot array of sauces, and croons lines like "garlic, so sexy to me" with his signature husky mumble. But maybe just wait until you get home from work.