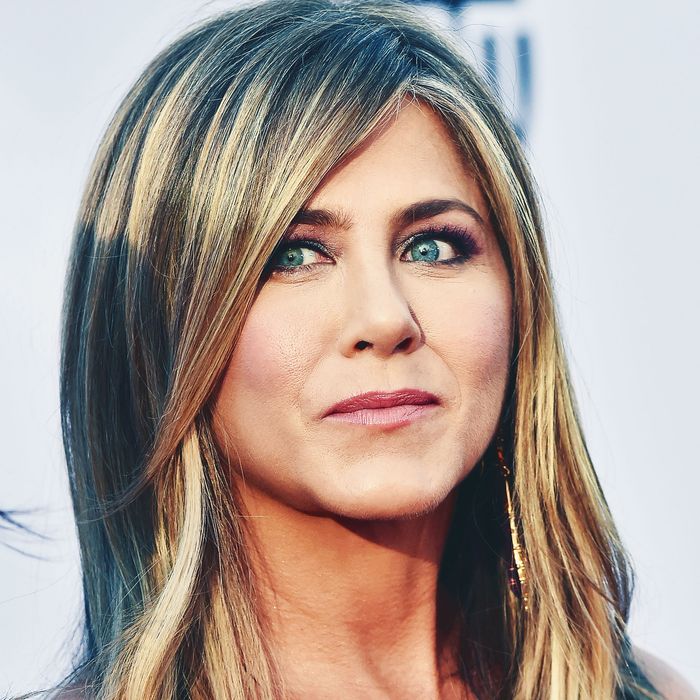 Jennifer Aniston.
Photo: Axelle/Bauer-Griffin/FilmMagic
Jennifer Aniston wants you to know that she's doing just fine. She said so several times in her InStyle interview with Molly McNearney, wife to Jimmy Kimmel and an old friend of Jen and her ex-husband, Justin Theroux. On the topic of Theroux and all the tabloid drama surrounding their split, Jen stated explicitly: "First of all, I'm not heartbroken."
But when Jen was asked about her workout of choice, she spoke of her love of boxing — and for its power to release pent-up aggression. According to Jen:
Boxing is a great way to get aggression out. You get a mental release of all this crap you're taking into your ears and eyes every day and have little fantasy moments imagining who you're actually punching. I'm just grateful it's not actually the person, even though there's one person. You know what I mean. It's all good.
Hmm, who could this mystery human punchbag be? Maybe Jen thinks about an ex who reportedly broke off a two-year marriage because he was "bored by [Aniston's] old Hollywood crowd," despite being a telegenic Hollywood star himself?
It's all good, though. Jen insisted she would never actually punch someone, even though she "had a moment where [she] totally wanted to do it." She's "too zen for that," McNearney says. Instead, she continues starring in films like the upcoming Dumplin', in which she plays a former pageant queen; playing with her dogs; and mastering sculpting. Well, and boxing, of course.