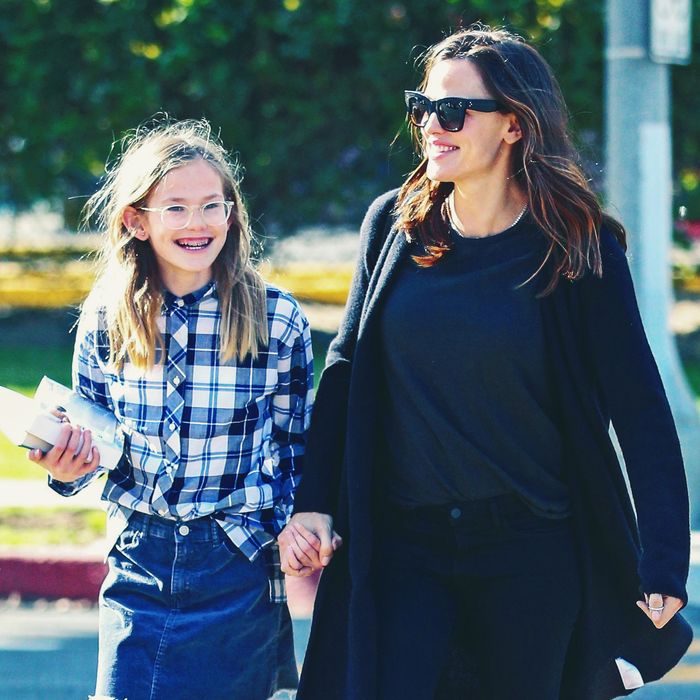 Violet Garner and Jennifer Garner, on solid ground.
Photo: MIXY, JASA, SHAM, RAAK/Dream team / BACKGRID
Folks, we are gathered here today having narrowly avoided a great tragedy. This weekend, actress and Ina Garten's friend Jennifer Garner was nearly lost forever to the murky, cold depths of the Baltic Sea when she and her daughter Violet, 12, got lost while kayaking outside of Stockholm.
In an Instagram post yesterday, Garner said their adventure was part of a "pre-middle-school sneak away," and then asked and answered the following series of questions.
"Did I get us lost in a kayak? Yes.
Did we paddle as hard as we could for 100 hours and end up in a shipping lane? I'm afraid so.
Did we have to be rescued? Yup."
The pair were heroically rescued from the Stockholm shipping lane by a handsome man named Mattias Persson who works at Långholmen Kayaks, where Garner rented her kayak/death trap. In an Instagram post, the company wrote:
"Mattias, one of the champions of the Långholmen kajak team, got a call from Jennifer Garner one evening. She was lost on the waters of Stockholm with her daughter in one of our double kayaks. Mattias got into a kayak of his own and started searching for them. Fortunately he found them not too far away and was able to guide them back to our rental. Quite an adventure!"
Here are Jennifer and Mattias looking very cute together.
That was a close call. What do you think, should celebrities be allowed to enjoy fun outdoor activities? Or, for their own safety, should they be held in the Greater Los Angeles area and kept alive on a healthy diet of green smoothies and Pilates classes, lest they be swept away by the powerful grip of Poseidon?